EOS has been making a lot of noise lately, and people all over social media are talking about it. In fact, per Santiment's social trends explorer, EOS's social volume has spiked up of late, justifying the assertion.

What's the EOS hype all about?
Well, there are a couple of reasons why EOS is trending. On Sunday, the EOS platform began registrations for its imminent Yield+ incentive program, which intends to attract dApps that generate user returns.
It is worth noting that the TVL on EOS has been rising of late, and in just the past 24 hours, the same is up by 14% to $137 million. Per the official announcement, the incentive above program will start distributing rewards for TVL on 28 August. Per the EOS's blog post, the "eligible liquidity" will initially be restricted to only EOS and Tether.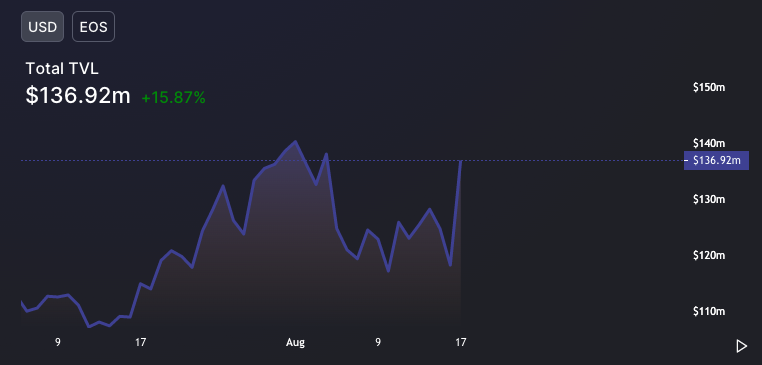 So, users who wish to claim rewards will likely start depositing more assets on the protocol. Thus, over the next few days, not only would the TVL rise, but the demand for EOS will likely incline alongside. If the same materializes, the token's price will be positively impacted.
Key levels
The token's price created a local low of $0.815 towards the end of June. Earlier during the day, the alt attained a daily high of $1.87, resulting in a 120% appreciation.
So, the next question is whether the pump period will prolong. Technically, the EOS market is overbought, for the RSI is above 70 already. So, over the short term, a pullback can be expected.
In fact, from the daily high created, the token had already retraced by roughly 15% and was trading at $1.524 at press time. So, if bears continue dominating, the token could fall to $1.38 [0.23 Fib level] and subsequently to $1.1 [50 MA – red].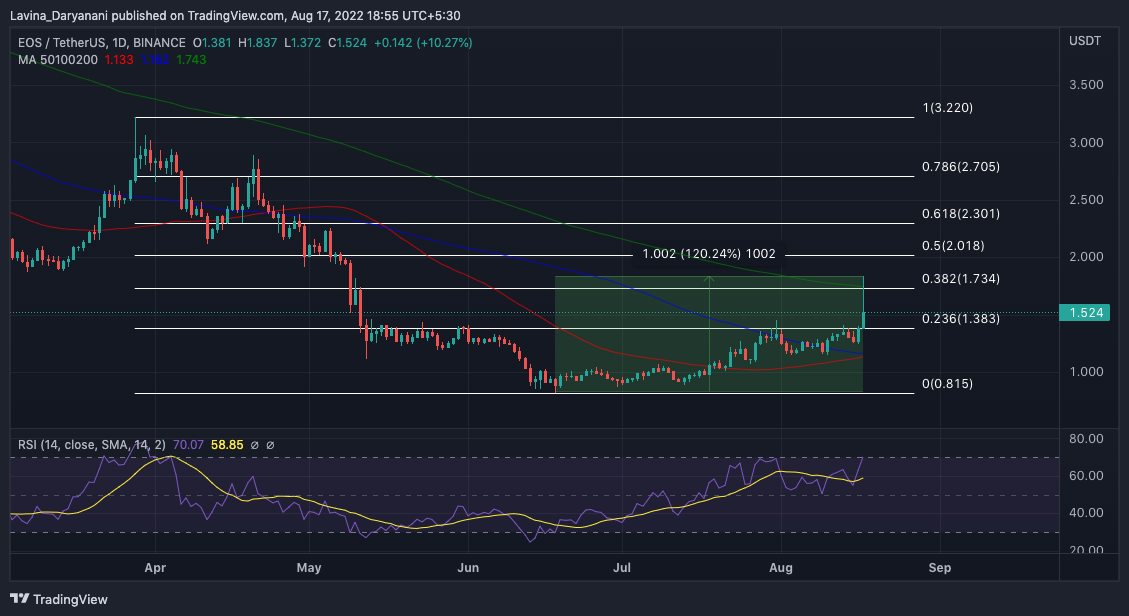 However, over the mid-term, EOS can be expected to continue to rally, for the demand is likely to increase. It is worth noting that EOS is set to rebrand to EOSIO later this week. After that, the v3.1 consensus upgrade called Mandel is scheduled for next month, which will take place via a hardfork.
Community sentiment usually flips to positive in and around network upgrade periods. And as highlighted above, the token is already the talk of the town, implying that it's either directly or indirectly on the radar of traders/investors. And with the incentive program likely to push up demand, EOS can be expected first to revisit $0.1837.
Doing so will open the doors for the token to rally to $2, which coincides with its 0.5 Fib level. If the momentum continues to be favorable, EOS can jump to $2.3 before being tested again.