After reaching a low of $55,600, Bitcoin is slowly recovering in the charts. At press time, BTC was valued at $58,840 and there were some bearish concerns surrounding the largest digital asset. However, its on-chain metrics indicate that Bitcoin is more than capable of rallying above $64,000 in the long term. We are looking at three fundamental metrics in this article, which explains the investment and the market catalysts.
Bitcoin and Tether/USDC inflows
After Bitcoin dropped under $60,000, it caused a thermic effect in the ecosystem. Multiple changes took place, and one of the most important ones took place with Tether and USDC. Right after BTC's collapse, Tether registered its highest exchange inflows of $773 million for 2021. It took place a couple of hours after the crash. Similarly, USDC also followed suit, and close to $450 million exchange inflows were noted.
This is a massive bullish signal. For instance, whenever stablecoins enter exchanges, it means buyers are looking to take other digital assets out of circulation. On close observation, a similar spike in USDT inflows caused Octobers' bullish rally as well.
Bitcoin's Long-Term Holder SOPR(Spent Output Profit-Ratio)

Bitcoin has declined by more than 10% over the past couple of weeks, but long-term holders have not budged. The long-term holder SOPR indicated a lack of profit-taking but the investors, as the indicator remained under overheated levels(chart above). The LTH-SOPR value was higher during the 1st-2nd quarter of 2021 when BTC's price crashed by more than 40%. However, long-term holders have stayed firm during the recent price corrections.
Coinbase spot premiums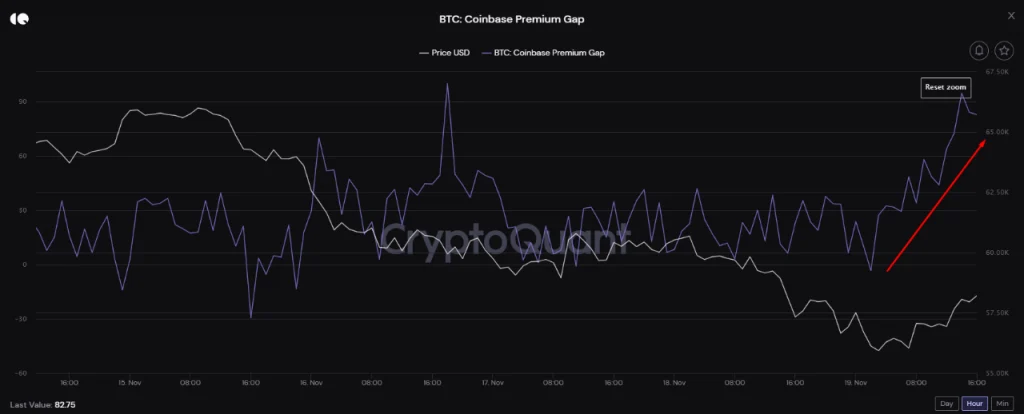 Another important metric that is identified with trend reversals is Coinbase's premium. A lower Coinbase premium indicates a lack of buying or declining spot volumes for BTC on Coinbase. However, a higher premium suggests investors remain interested in Bitcoin spot orders irrespective of price corrections.
In conclusion, Bitcoin's narrative is still pretty much bullish. Its immediate target remains closing a position above $60,000 after which the digital asset should continue moving higher in the charts.