The back-to-back collapses of crypto firms from the space came as a surprise to most community members. With billions of dollars wiped out of the ecosystem, the need for transparency started being emphasized upon.
The Proof of Reserves concept started garnering traction in the aftermath of the collapses. However, that was also the time when accounting firms and other related entities started washing their hands off crypto companies.
Post the FTX episode, Mazars Group, the accounting firm that Binance hired announced it was no longer working with crypto companies. Leaving aside the top-crypto exchange, Mazars had also been working with other prominent names from the space including Crypto.com and KuCoin. Despite the tie cut-off, Binance remained committed to providing additional transparency to users.
Several companies with their feet immersed in the crypto space have targeted the Big Four Audit firms PwC, KPMG, EY and Deloitte for being either unwilling or unequipped to take care of the books of their complex business. In a recent conference in London, Noah Perlman, Binance's Chief Compliance Officer, said,
"They want nothing more than to work with Binance and other players in the industry. But when they go to their internal risk committees, some of them face obstacles in terms of can they work with us, do they want to work with us."
However, a recent survey by Bloomberg conflicted the argument. Out of the companies that disclosed details about their current auditor, 46% of them revealed they are working with one of the Big Four companies. Specifically, Bloomberg pointed out,
"Their roster includes the likes of crypto exchanges Coinbase and Bitpanda, stablecoin operator Circle, crypto brokerage Galaxy Digital and blockchain payments firm Ripple — indicating that Big Four firms do have both the desire and the capacity to audit crypto businesses."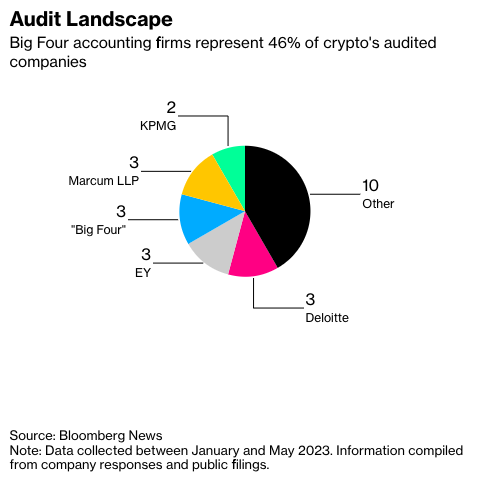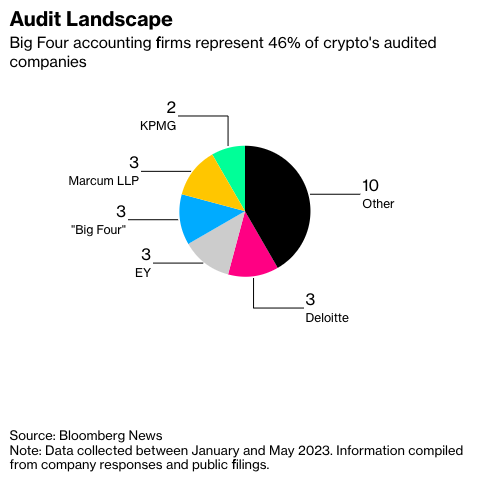 Not working with a Big Four: A red flag?
Binance is currently working with another firm. However, not working with a Big Four company does raise questions and could be a "red flag of sorts," Bloomberg highlighted. Commenting on the survey findings, Rusty O'Kelley, co-leader of the board and CEO advisory practice at Russell Reynolds Associates, said,
"If I'm an investor, and 40% of the crypto firms already have one of the Big Four, my question would be, why are you part of the 60% that doesn't?"
Several top executives have time and again spoken about the incompetence of big accountants, for they are allegedly still not familiar with the technicalities of the crypto sector. Because of that, they've argued in the past, that an agreed set of standards for facets like price volatility is not in place. Parallelly, executives have also stressed on how many audit firms are "kind of scared" to work with crypto businesses because they don't essentially know how to audit user assets, different blockchains.