Many predictions have been pouring in as Bitcoin [BTC] struggles to form proper support. The adoption rate of crypto has witnessed prominent growth. However, the ongoing bear market was a real letdown to many. Despite this, analysts began throwing predictions about how BTC could drop to $10K, and some even suggested that the king coin would go as low as $1K. But a panel of 53 crypto experts has a more realistic approach regarding the fate of the king coin.
According to the Finder's panel of fintech experts, believe Bitcoin will be worth $25,473 by the end of 2022. However, there is no rainbow without rain. Therefore, BTC could witness a short-term slump which is expected to push its price down to $13,676. As seen in the chart below, several in the panel were inclined toward BTC, hitting the $13K range.

While $25K is a more realistic approach, the panel believes that Bitcoin has the potential to go up to $35,484 by the end of the year.
How far can Bitcoin go by 2025?
Bear markets are not forever. The world's largest cryptocurrency has been struggling to witness any significant surges. While the survey conducted in July suggests that BTC would increase by only 22 percent this year, these numbers could be spruced up in the coming years. The panelists predict that Bitcoin could land at $106,757 by 2025, following a 413 percent surge.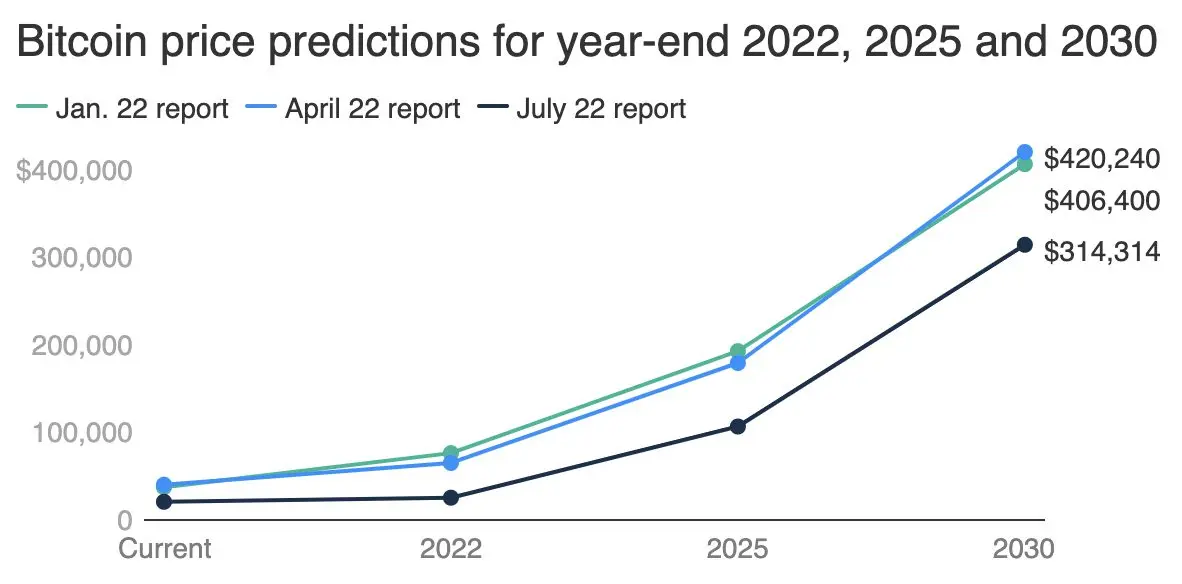 This decade looks like a promising one for Bitcoin. The king coin may witness a 1,411 percent raise and reach $314,314 by 2030.
Sadly, this wasn't the case a couple of months ago. The latest crypto crash brought Bitcoin down to $20K; however, in July 2021, the predictions were very different. The panel expected BTC to hit $706.3K by 2025.
Is this the time to buy?
While most of them despise the bear market, specific individuals seem to like it as they intend to buy the dip. As the community remains confused about what to do with their Bitcoin, the panelists gave their insights. About 50 percent of them urged the community to purchase the king coin. However, 40 percent advised HODLing, and a dainty 10 percent pushed the community to sell.

The above predictions of BTC hitting $106K by 2025 by the panelists suggest that pocketing BTC now would be a good idea.
BTC was up by 6.22 percent during press time, and its price landed at $23,386. The asset's latest price change comes as great respite for many as Bitcoin struggled to push past $22K.