Another day, another stablecoin lost its stability. Although for the time being, this recurring occurrence is raising alarms in the crypto-verse. On Sunday, Polkadot-based decentralized finance [DeFi] platform Acala's stablecoin, aUSD depegged, fell 99%. The de-pegging occurred after hackers exploited a bug in a newly deployed liquidity pool to mint 1.28 billion tokens. However, the platform reportedly burnt this minted supply by the hackers on Tuesday and pushed the value of the stablecoin close to a $1 peg.
As per the network, a misconfiguration of its newly launched iBTC/aUSD liquidity pool led the hackers to mint 1.28 billion in the stablecoin, causing it to depeg.
Acala and aUSD
Acala is a layer-1 smart contract platform that allows developers to leverage the aUSD ecosystem. aUSD was launched earlier this year and held its soft ped to the U.S. dollar until the hack. After the hack, aUSD went crashing to 0.009, as can be visible in the chart below.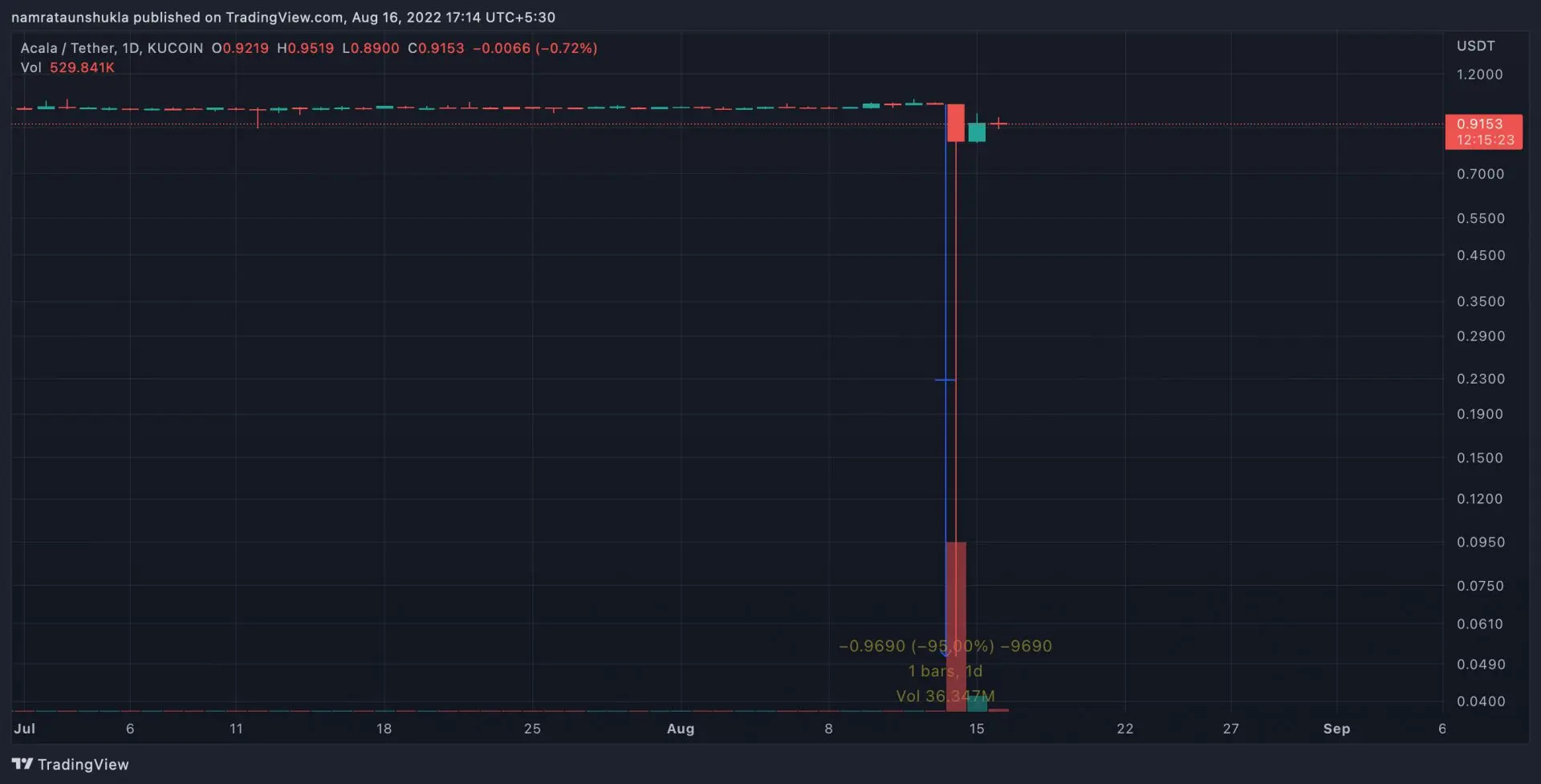 This sudden drop in aUSD pushed the network to halt trades following an urgent governance vote. The community members voted on Monday on a proposal suggesting the burning of the 1.2 billion aUSD minted by hackers to compensate. After the burn, aUSD almost regained its peg as the asset traded at $0.91 at press time.
Reports suggested that 99% of the exploited aUSD remained on Acala while a small amount has been swapped for ACA, the native token of Acala, and other tokens. This small proportion has been transferred out from Acala parachain.
Nevertheless, the Acala network added that "more trace reports" were underway to identify erroneously minted aUSD swapped to other tokens or added to liquidity pools. Meanwhile, ACA was also facing some heat in the market as it was down 0.18% over the past 24 hours. After the burn process, the ACA market recovered, and the asset was traded at $0.00051.