Ethereum's most significant upgrade, The Merge, changed the protocol's consensus mechanism from Proof of Work [PoW] to Proof of Stake [PoS]. The latter model is comparatively more eco-friendly. In the days following the Merge, Ethereum's energy usage and carbon footprint was slashed down by approximately 99.99%.
Regardless, skepticism still prevails. Crypto exchange Paxful, for instance, recently delisted the largest Altcoin. Ray Youssef, the CEO Paxful said that Ethereum is not decentralized. He went on to stress that it is controlled by a small group of people and warned users that one day they will need permission to use it.
Youssef then pointed out how BTC frees billions of people and opined that ETH's shift to PoS defies the same. He added,
"Proof-of-work is the innovation that makes Bitcoin the only honest money there is, whereas proof-of-stake has rendered ETH essentially a digital form of fiat."
Thus, despite Ethereum shifting to PoS, it is evident that PoW has not become irrelevant. Concerns regarding mining energy consumption do linger still. Governments have been placing moratoriums to conserve power, but the game is still on.
The list of PoW coins that are relavant and exist today are endless. In this article, however, we will discuss the top 5 PoW coins.
Bitcoin Leads The Show, Dogecoin Follows
Ethereum's PoS transition cleared the way for Dogecoin to become the second largest proof of work project. The likes of Litecoin, Monero and Ethereum Classic follow Dogecoin, while Bitcoin solely precedes it.
Even though Dogecoin ranks second on the PoW list now in terms of market capitalization, it remains to be miles behind its top counterpart—Bitcoin—on the on-chain front. Consider this: Dogecoin settled transactions worth $184 million on its blockchain over the past day [$67.59 million – adjusted volume]. Bitcoin's number, on the other hand, stood at a $6.13 billion [$2.90 billion in adjusted volume] in the same timeframe.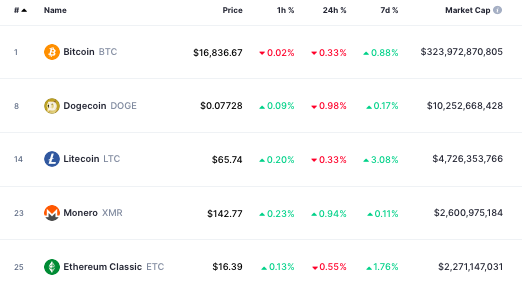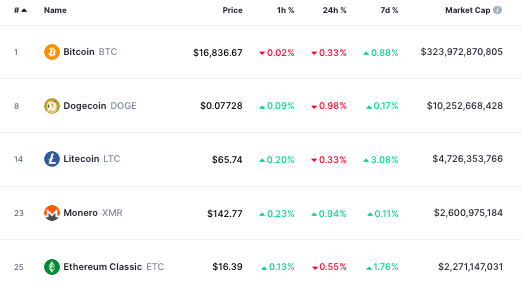 Litecoin, Monero and Ethereum Classic trailed behind the leaders and occupied the third, fourth and fifth position respectively. Ethereum's transition to PoW turned out to be a boon for these networks. More so because, most of them registered an outright surge in hashrate, hinting at the possible entrance of new miners into the networks' ecosystems.
Read More: Hashrate of Ethereum Classic, Ravencoin soars post Merge