The crypto market has been in its recovery mode over the past few days. Yesterday, however, a couple of new records were created. Exactly after a month, Ethereum managed to surpass the $1.8k mark. Cardano, on the other hand, re-claimed the seventh spot, post-flipping Binance's native stablecoin.
Role of institutions
Over the past week, institutions have been diverting funds towards Ethereum and other alts. And perhaps, the same has contributed to alts' being able to pull off a sustainable recovery of late.
Per data from CoinShares, Ethereum's weekly flows summed upto $16.3 million. Solana, Cardano, and XRP also noted minor flows that ranged in the $0.2 to $0.6 million bracket. Outlining the reason for Ethereum's surge, the report noted,
"Ethereum saw inflows totaling US$16m and is enjoying a near 7 consecutive week run of inflows totaling US$159m. We believe this turn-around in investor sentiment is due to greater clarity on the timing of The Merge…"
Alts usually follow the path of Ethereum, and with the community sentiment remaining favorable at the moment, they're likely to continue benefitting from the same.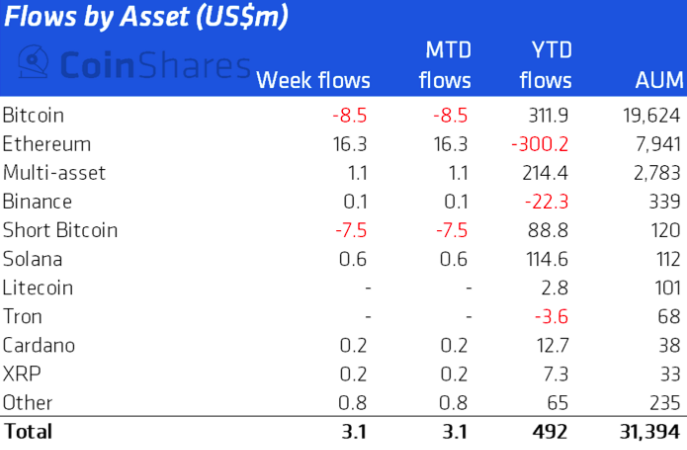 The '94 peak': Ethereum-powered Alt season is here?
Per the thumb rule, if 75% of the top 50 coins outperform Bitcoin in a period of 90 days, it is considered to be an Altcoin season.
Blockchain Center's Altcoin season index has peaked and is currently at 94, the highest so far in 2022. In fact, as illustrated below, such levels were last seen during 2021's April-May rally when Ethereum and other top alts went on to create new highs on almost a daily basis.
Well, the current reading clearly means points to the fact that alts have been faring better. So, does this give them an extra edge over Bitcoin?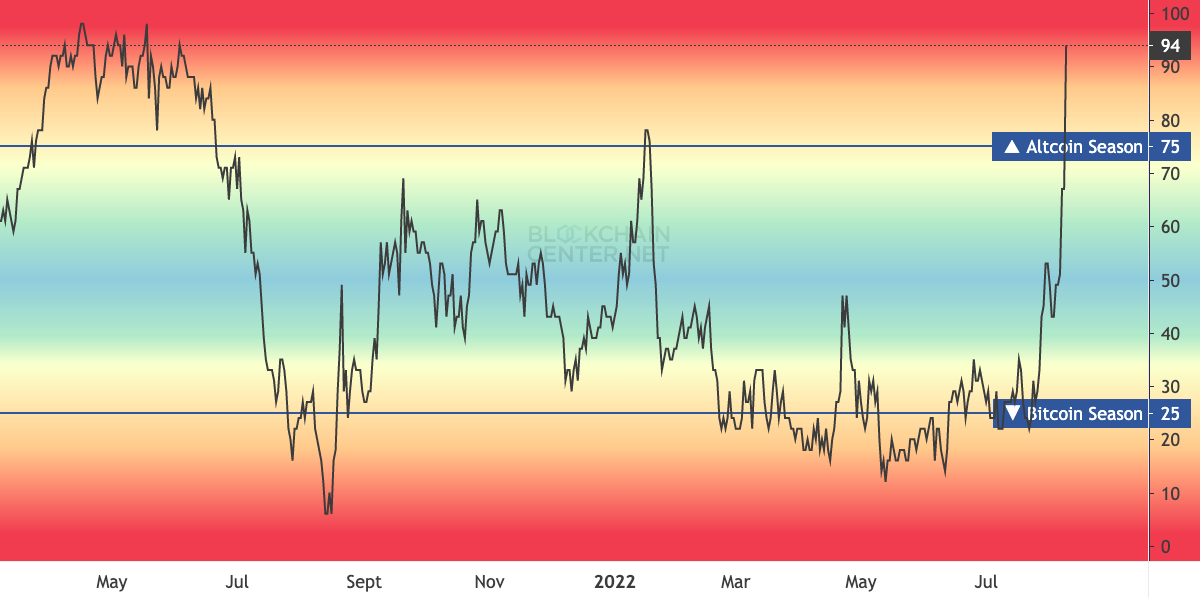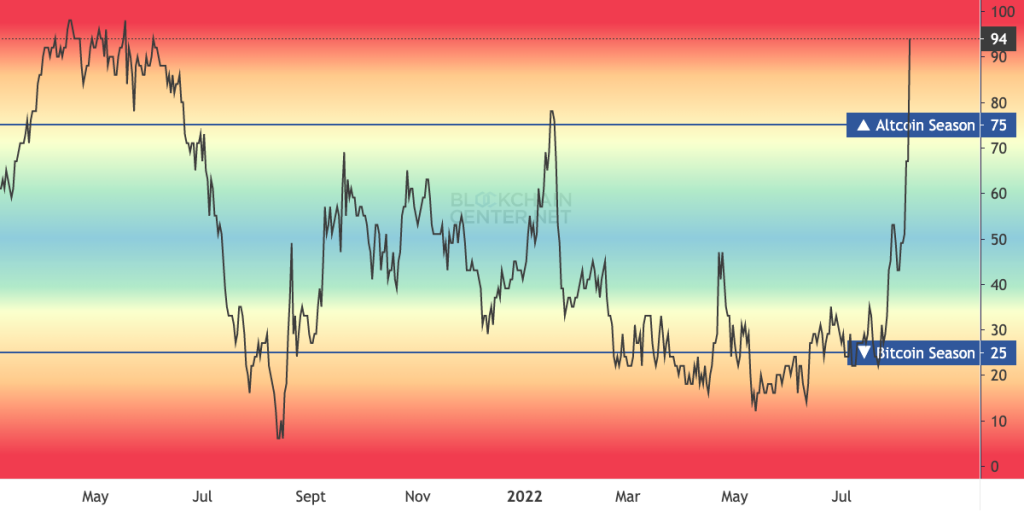 Which Alt stands to benefit the most?
A quick look into the correlation matrix would give us an idea about which token has an extra edge relative to others. Now, as observed, the correlation that Cardano, Solana, and XRP share with, both, Ethereum and Bitcoin are above 0.7, indicating that the whole landscape is closely knit at the moment.
However, on closer inspection, it can be noted that Cardano and XRP have a higher correlation with Bitcoin than the alt leader. On the contrary, Solana shares a better bond with Ethereum than the king coin.
So, if Ethereum's Merge-hype pump continues, Solana is likely to be the one to benefit the most when compared to Cardano, XRP. Having said that, it also means that Solana is at an equal risk of shedding more value relatively if Ethereum briefly pulls back over the short term.