Leaving aside a few exceptions like Dogecoin, MATIC, and the FTX token, Altcoins—as a whole—have been following the monotonous cues of the broader market. The weekly returns of the top ten crypto assets showed not more than 5% deviations at press time on Monday. Even so, Altcoin Dominance currently stands at a critical juncture.
Simply put, the higher the Altcoin market capitalization, the more Altcoin dominance is at play. In June, from around 12.02%, the same spiked by 19% to create a local high. At the moment, the cumulative dominance of all the Altcoins is currently hovering around the same number [at 12.17%], hinting at a potential bounce back.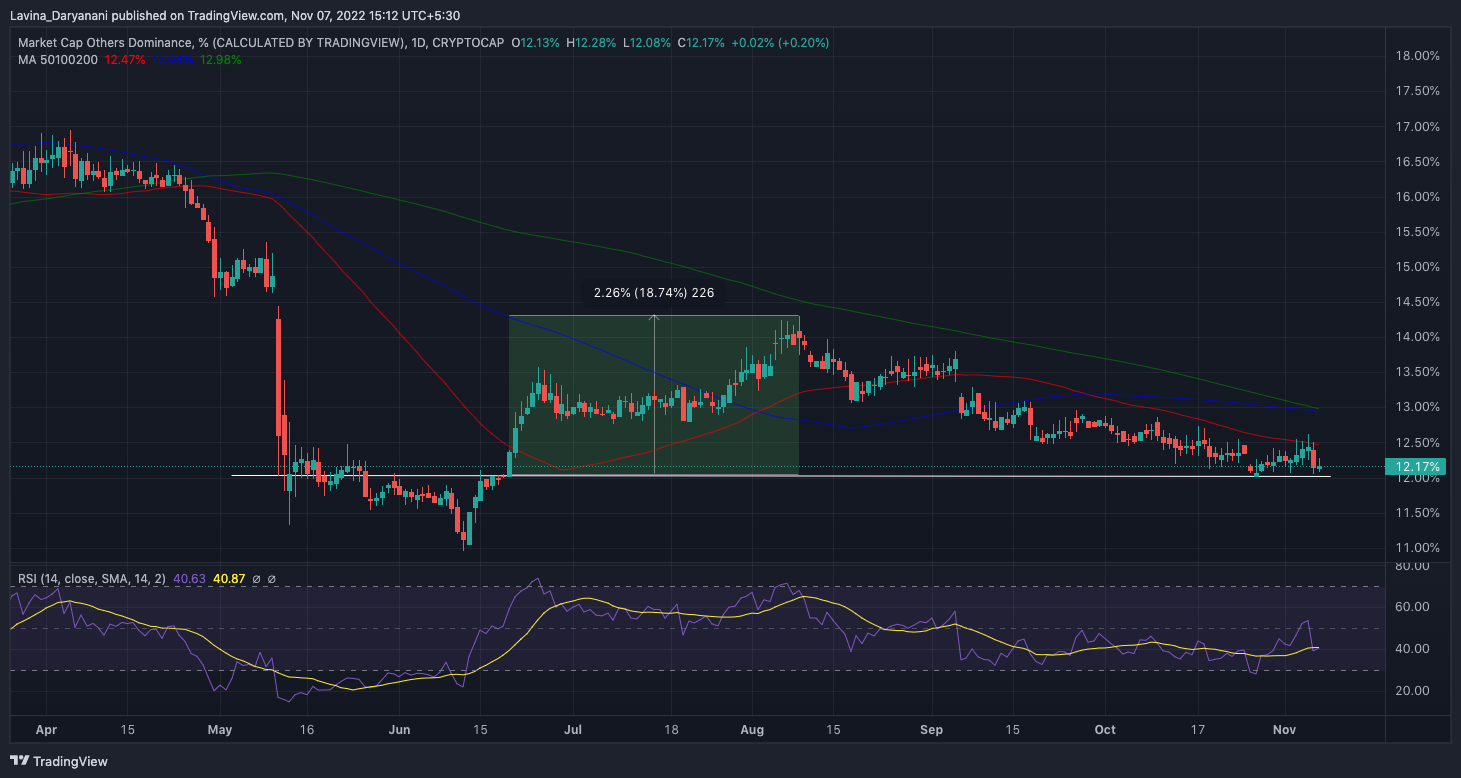 The week ahead is quite important. Right from the U.S. mid-term elections to the U.S, China CPI data release, a bunch of significant events are lined up, paving way for volatility induction into the crypto market.
Alts looking to create Higher Lows?
Per crypto analyst Michaël van de Poppe, the Altcoin basket is eying a higher low before continuing to move. Opining on what to expect, he said,
"Maybe we get one more correction and then we'll continue the run."
Chainlink, on its part, has remained inert over the past week. After noting a minor 0.5% dip on the weekly, the 21st largest crypto asset was trading around $8.4 at press time. Per the analyst, the LINK would first drop back to $8, before attempting to head toward the $11 benchmark.
Unlike other cryptos, most investors have scooped up Chainlink at low prices and are essentially LT HODLers. Per data from ITB, more than three-fourths of LINK HODLers are in profit at the moment. As a result, the token currently faces only a couple of minor resistances and has enough room to glide up.
At an average price of $8.8k, only about 11 million Chainlink has been bought by participants. On the other hand, at an average price of $11, over 50.3 addresses have bought 74.6 million tokens. Thus, if enough buying pressure steams up, $11 will be attainable for Chainlink before being tested by the latter cluster of HODLers.