Back in September 2021, the Alonzo upgrade opened the doors for smart contracts on Cardano. At that time, the community was quite excited about NFTs being introduced on the platform. During the initial days, people did try to test out the roll-out. However, it failed to gain much traction, as users were still reliant on other blockchains like Ethereum, Solana, and Polygon to trade their jpeg collectibles.
Nevertheless, Cardano currently stands in a much better position. Even though the aforementioned networks retain the top positions along with ImmutableX and BNB Chain, Cardano has been able to manage to rise above Arbitrum, Flow, Ronin, Avalanche, Fantom, Algorand, Cronos, and Tezos by settling more volume via sales in the past 30 days.
While the gap between Ethereum, Solana, and Polygon's numbers seemed to be quite wide for Cardano at press time, it was merely a couple of million off of BNB Chain's figure. The same is tabulated below.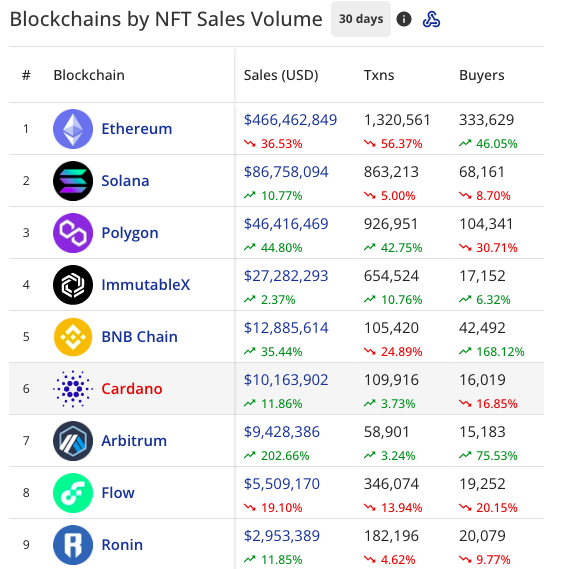 Also Read: Ethereum or Polygon: Which is Preferred for Web3, Blockchain Gaming?
On Cardano, the number of buyers has dropped by around 17% over the past month. In fact, on a quarter-over-quarter basis also, the number has dropped from 2.8k to 2.1k. The number of sellers, on the other hand, has risen from 86 to 123. According to a recent Messari report,
"Daily NFT transactions declined by 27% QoQ, and daily unique buyers decreased by 23%. The decrease in activity was not only due to fewer unique buyers but also to fewer average transactions per buyer. Daily unique sellers, on the other hand, increased by 43%."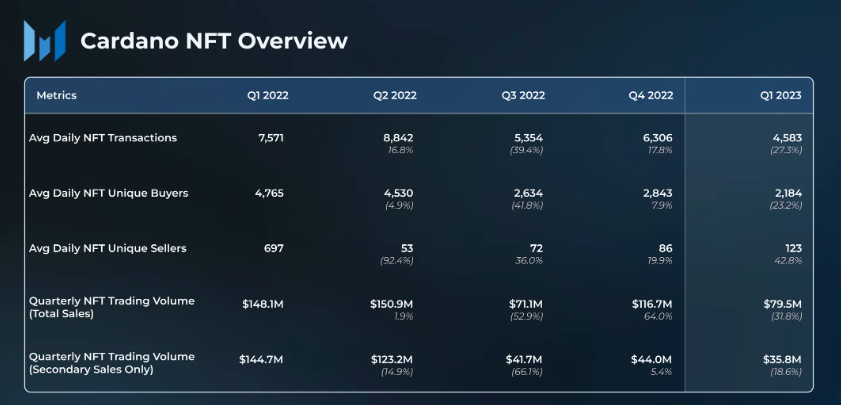 The big picture
ImmutableX has been giving Cardano neck-to-neck competition. Elaborating on the said tussle and the latest Q1 flip, Messari's report highlighted,
"In Q4 2022, Cardano was the fifth largest network by NFT secondary sales volume with $40.5 million. On some days, Cardano generated more secondary sales than Immutable X, which finished Q4 as the fourth largest network by secondary sales volume with $56.7 million. However, Cardano's secondary sales volume decreased 18.6% to $35.8 million in Q1, and Immutable X pulled away, increasing by 18.7% to $66.3 million."
In the same period, the average secondary sale price on Cardano was $85.84, much higher than on competing NFT networks like Flow [$17.65] and WAX [$2.62]. Owing to the afore-highlighted difference in the average sale price, Cardano is ahead of chains like Flow and WAX in sales volume rankings, despite lagging behind on the total transaction, unique buyer, and unique seller front. Despite the fall in buyers and rise in sellers, there's a silver lining. Highlighting the same, Messari pointed out,
"The number of unique buyers greatly exceeds the number of unique sellers despite the recent uptick in unique sellers. A relatively small number of sellers continues to sell to a larger number of buyers, which may indicate that more new users are entering the market."