Ukraine's Deputy Minister of Digital Transformation, Alex Bornyakov, took to Twitter to announce on Monday that its Aid for Ukraine crypto fundraising campaign sold a donated CryptoPunk NFT. By doing so, the government raised over $100,000 to support its side against its war with Russia.
CryptoPunk #5364 was donated to the Ukrainian crypto fund in March. The fund sold the NFT to an anonymous buyer for 90 ETH yesterday, and the amount of ETH would have been worth around $250,000 in March.
Even though the minister stated that the crypto community continues to support Ukraine, the 'first wave' of crypto donations has subsided. Ukraine managed to amass nearly $135 million in crypto till now.
Punks take off
The value of the CryptoPunks' NFT collection has substantially soared over the past few days owing to the news of Yuga Labs hiring Christie's Web3 expert, Noah Davis, as their brand lead. Davis was notably the man behind Beeple's prominent 'The First 5,000 Days' NFT that was auctioned for $69 million at Christie's in March last year.
On shelling out around 49-50 ETH, a collector could acquire a punk collectible until last week. However, now, the number revolves around the 70 ETH threshold.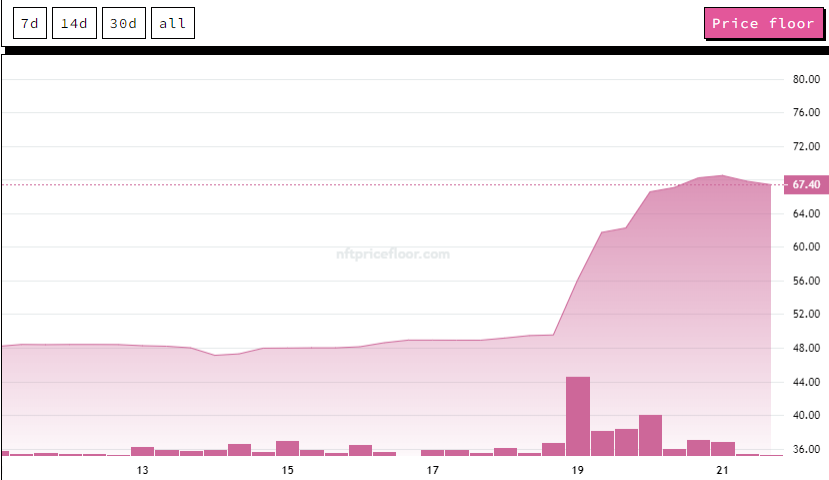 Taking Twitter to announce his transition, Davis outrightly conveyed that he would not deal with the "Punks" anymore. Further stressing the essence of community guidance and what he has in store, Davis added,
"If you're a Punk holder and you care about the legacy/future of the brand I wanna talk one on one. I'll be at the Punks Brunch during NFT NYC and will begin scheduling sit-downs immediately. Wherever Punks go, the community will help guide us."
The exec concluded by exclaiming,
"Onward, upward and Long Live the Punks."
Thus, with a fresh vision in place, it looks like it's time for CryptoPunks to get sun-soaked. From delivering on the SoV front and helping Ukraine during challenging times, it can be safely said that the collection is merely fuc*ing around.