Leading Oracle solution provider Chainlink released a blog outlining its roadmap and giving a glimpse into how it plans to use staking to scale security. Alongside, it also went on to define other long-term goals and shed light on how the implementation of the same would mark the commencement of the Chainlink 2.0 era.
Getting into the nuances of Chainlink staking and other intricacies
Staking has been on the cards of Chainlink for quite some time now. By enabling the same, ecosystem participants would get directly involved with the network by staking LINK to support the performance of oracle networks. Also, by staking LINK, the ability for nodes to earn fees on the Chainlink network would be enhanced and the ecosystem would reap from the "increase in cryptoeconomic security and user assurances."
Concerning the long-term and short term goals of implementing staking, the blog post clarified,
While the initial implementation of Chainlink staking is designed to minimize risk for participants and create a strong foundation, the long-term goals revolve around scaling Chainlink into a global standard with a growing and sustainable user base, which in turn offers greater opportunity of rewards for stakers who increase the network's cryptoeconomic security and user assurances.
The staking rollout would happen cross-version, in phases. The initial v0.1 release is set to happen later this year. After full validation from production use and community feedback, the v1 release would instigate additional functionalities to strengthen the protocol and incorporate user fees as rewards. The same would set the stage for v2, with more comprehensive features.
The roadmap also introduced Chainlink Proof of Reserves. With the same, crypto HODLings and other asset reserves of a company can be audited via an automated process that would utilize the transparency of blockchains, smart contracts, and oracles.
Per the blog, doing so would ensure that user funds are protected from "unforeseen fractional reserve practices and other fraudulent activity from off-chain custodians."
Chainlink whales rejoice
Alongside, the news of the rollout it is interesting to note that Chainlink whales have been amassing LINK tokens. A recent tweet from Santiment brought to light that large participants have been "capitalizing" at this stage. In fact,
"After dumping began on March 30th, they began accumulating again after prices dropped in early May. They hold 25%+ of the supply for the 1st time since November."
Also, as illustrated below, addresses HODLing 100k to 10 million LINK have bought up 1.7% more of the total supply since the beginning of May.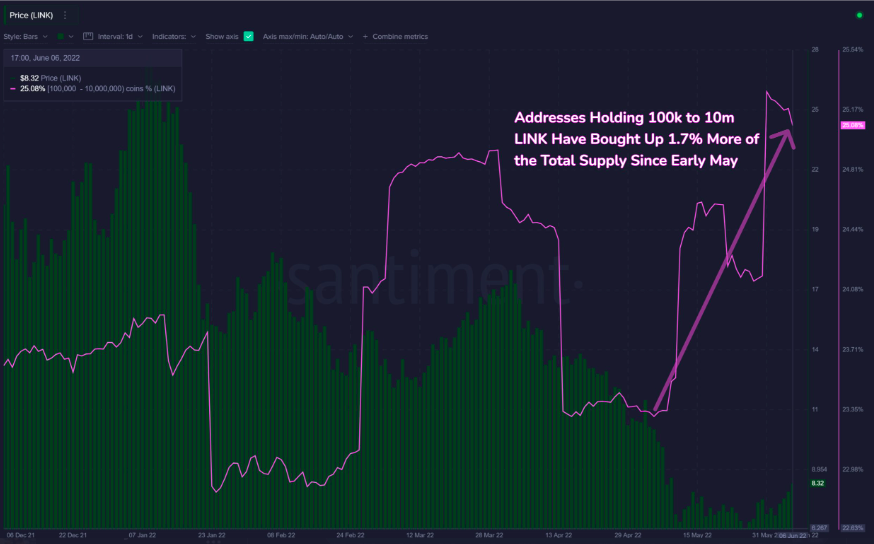 Resultantly, LINK has reacted quite well to the said buys and has been inclining in value of late. After noting a 12% appreciation over the past 24-hours, LINK was trading at $8.46 at press time. Notably, it was the highest gainer in the top 100 list on Wednesday.