SafeMoon isn't listed on top trading platforms yet and investors' are eager to see it get listed on exchanges soon. Holders are repeatedly reminding exchanges to consider listing SafeMoon and open the floodgates to new investors. Australian holders have contacted CoinSpot on Twitter asking them to look at SafeMoon and get it on board for trading.
Australia's cryptocurrency exchange platform CoinSpot took to Twitter and acknowledged the SafeMoon army's commitment towards listings. A Twitter user tagged CoinSpot saying, "@coinspotau wen list #SAFEMOON?"
CoinSpot responded saying that they don't "have a timeframe when SafeMoon will be listed" on their platform. Their official Twitter handle also stated that the message will be passed on to the appropriate team to look at SafeMoon.
"Hi, it's great to see a community interest behind listing SafeMoon. We do not have a timeframe when SafeMoon will be listed on CoinSpot but we will pass all your interest onto the appropriate teams," the tweet read.
"I look forward to the next update about what the @coinspotau teams say regarding #SAFEMOON," said a user. While another commented, "It'll be a wasted opportunity to not list it."
At present, CoinSpot offers a wide range of cryptocurrencies to trade and they include Bitcoin, Ethereum, Dogecoin, Shiba Inu among others. The Australian exchange recently listed KIN and AMP on their platform. CoinSpot currently offers users to transact more than 300 cryptos on their app.
They also have a 'Request A Coin' tab on their website where users can recommend the team to consider specific tokens. "Is there a cryptocurrency you would like to see on CoinSpot? Vote on any coin below if you would like to buy on CoinSpot in the future," the tab read. The app boasts of over 2 million users.
No Major SafeMoon Listings in 2021
During a Q&A session with holders on Discord, CEO John Karony was if SafeMoon would be listed on exchanges by the end of 2021. Karony confirmed that there will not be any exchange listing by the end of December 2021.
"Are we looking at any new exchanges," asked the user and Karony replied, "Good question. No, technically no new exchanges by the end of this year."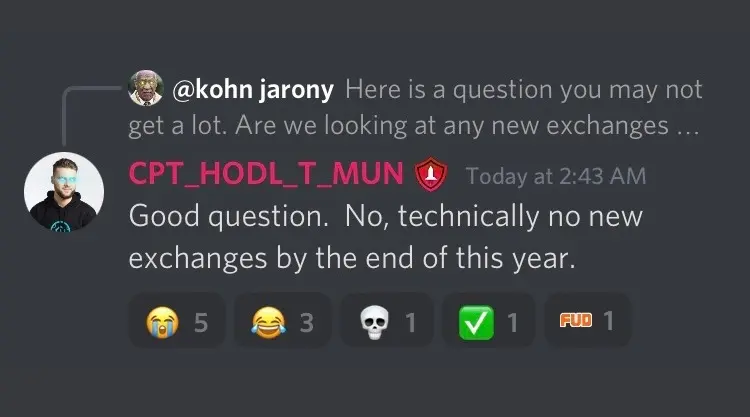 SafeMoon would soon upgrade to V2 and the development is in it final stages. The launch of V2 can happen anytime but the transition date is not confirmed by the team.
At the time of publishing, SafeMoon was trading at $0.00000163 and is down -4.5% in the 24-hours day trade. The DeFi token is down -59.5% since the last 30-days and down -47.8% since the last 14-trading days.