Ava Labs Inc, the creators of the Avalanche Blockchain, is in the process of raising funds that would value the company above $5 Billion, potentially making it one of the biggest crypto startups in the world.
According to Bloomberg, Ava Labs is set to raise $350 Million in a new funding round which would take the firm's valuation to a towering $5.52 Billion. The raise, if successful, would make Ava Labs a more valuable crypto firm that the leading crypto exchange Binance, which was valued at $4.5 billion during the first week of April after a $200 Million seed round.
Although it's unclear exactly how Ava Labs intends to use the new funds, the cash injection would likely bootstrap the Avalanche ecosystem, which directly competes with the likes of Ethereum, Cardano, and Solana with its smart contract offerings. Currently, Avalanche is ranked 10th on the crypto ladder, below its peers. A mammoth $10 Billion separates Avalanche's market cap from its next closest rival, Terra.
Avalanche's ecosystem has been making large strides of late. A $290 Million incentive program was announced in March to fast-track its subnet technology. Subnets offer a unique form of scaling that allows users to create their own permissioned Layer 1 blockchains.
More recently, Avalanche was involved with an alliance with Terra after the latter's parent firms bought over $200 Million worth of AVAX tokens, half of which was added to Terra's stablecoin (UST) reserves. Both projects are also currently working together on a gaming subnet project, the details of which will be made public at a later date.
AVAX Hourly Chart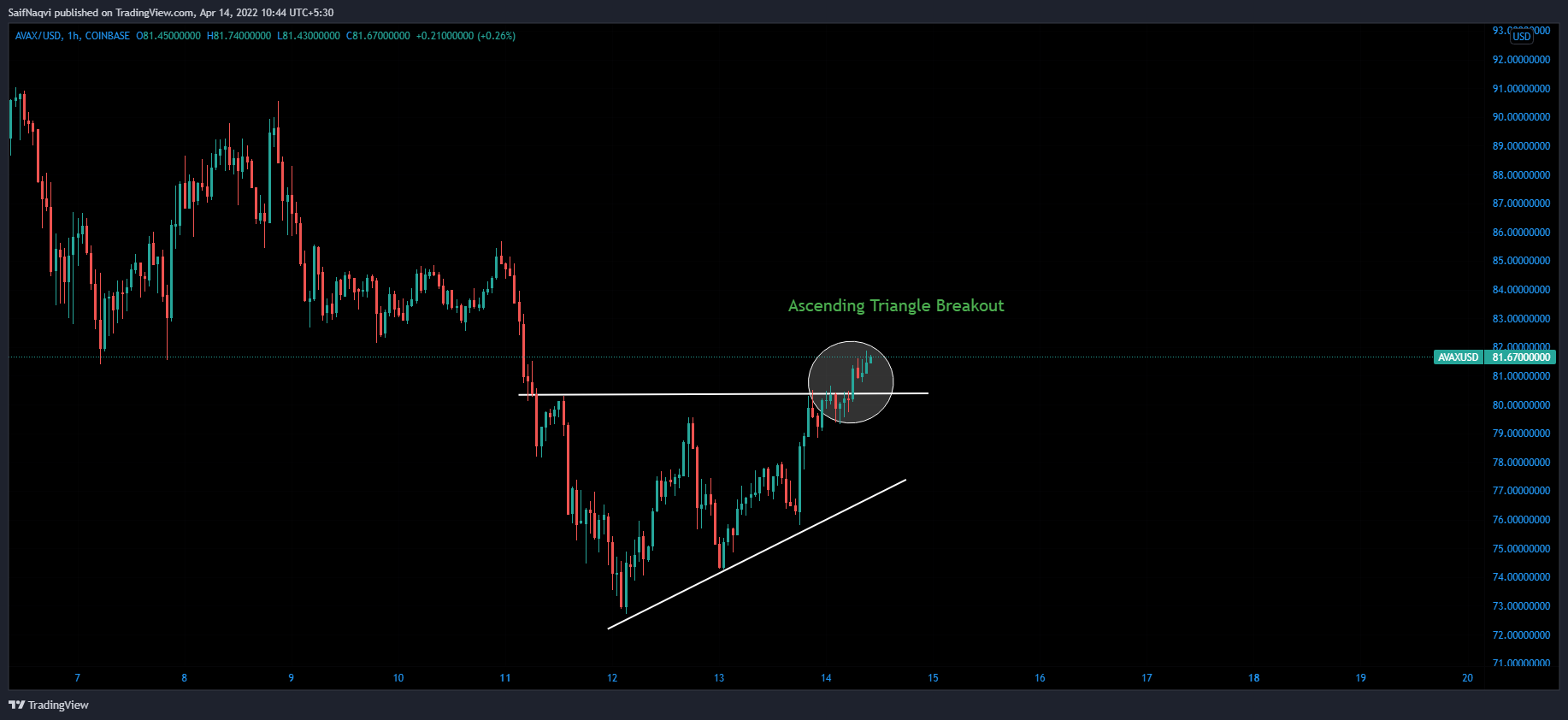 Ava Lab's latest cash injection comes during a relief period for AVAX's price. Since the correction on April 11, AVAX's price has recovered by 13%. Its candles closed above a bullish technical pattern on the hourly chart, indicating more positive price action in the days to come.