Ava Labs has partnered with BLDR to launch its first Web3 game. Notably, the former is the software company providing support to the Avalanche blockchain and its ecosystem. The latter, on the other hand, is a subsidiary of Japanese gaming house and internet media company GREE.
On its part, GREE has been making high-engagement Web2 games, that include the development of a host of popular games, including Naruto and multiple mobile versions of Final Fantasy.
Avalanche's developer Ava Labs will, notably, help "spur" BLRD's growth into blockchain gaming. It'll do so by "providing technical, marketing, business, and ecosystem support." The official statement noted that with the latest partnership,
"BLRD plans to make a broad entry into Web3 gaming, including game development and distribution on Avalanche, NFTs, running validators, and investing in third-party games."
The new Web3 game is set to launch next year. Commenting on the same, Eiji Araki—Director at BLRD—affirmed,
"We will deliver a brand new game which will be enjoyed by players for long years as we have done in web2 games."
The big picture
As part of its broader plans to participate in the Avalanche primary network and gaming subnets, GREE now runs more than a dozen Avalanche validators. It now also HODLs the Avalanche token, AVAX, "marking a milestone" for a publicly traded company in Japan.
Ed Chang—Head of Gaming at Ava Labs—highlighted that GREE had a decade-plus track record of making games. Commenting on the partnership, he added,
"We're thrilled that they'll be building on the gaming chain, Avalanche, and partnering to make its future even brighter. Ava Labs has all the tools to help GREE grow into a Web3 gaming powerhouse."
Alongside, BLRD plans to collaborate with Ava Labs and the Avalanche Foundation on other projects, including joint investments with Blizzard, the Avalanche Fund.
Avalanche, however, did not essentially react to the said development. After noting a 1.12% decline in the last 24 hours, the 16th-ranked crypto was priced at around $17 at press time.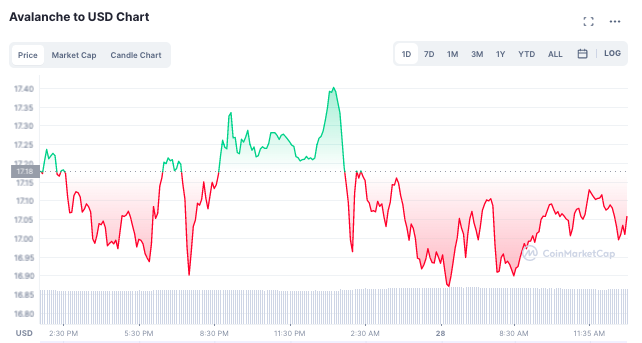 Also Read – Avalanche: Q3 Total Revenue dips by 94%, Ava Labs drama to be blamed?