It seems as if Baby Doge Coin buyers were unfazed by the recent bearish assault on the crypto market. While the up-and-coming meme token copped up a full 50% decline between 20-23 January, investors chose to aggressively buy the dip rather than offload their tokens amidst broader FUD. As a result, BABYDOGE mounted a 36% climb in the last 24 hours- the third-highest percentage increase for the day so far among meme coins.
Baby Doge Coin 4-hour time frame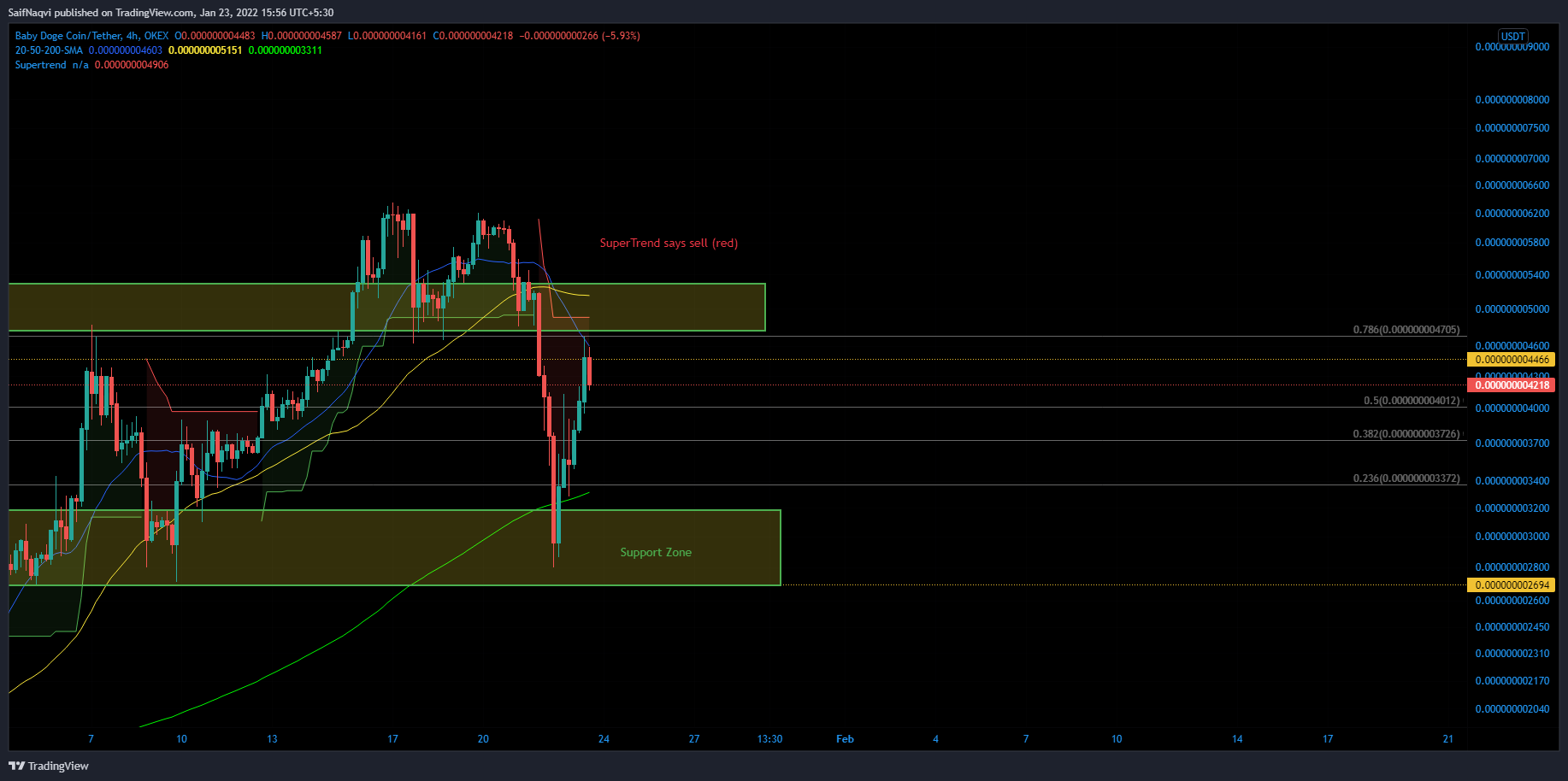 In order for Baby Doge Coin's rally to mature into a steady uptrend, its price had to close above some taunting barriers. The 4-hour 20-SMA (blue), 78.6% Fibonacci, 50-SMA (yellow), and $0.000000005224 were spaced out within a 12% gap, which BABYDOGE had to close over the next few sessions.
A bearish rejection at these levels would likely see BABYDOGE head back to an area of demand between $0.000000003200-$0.000000002694. The area was backed by both – the 4-hour 200-SMA (green) and daily 50-SMA (not shown), making it a significant defense. Early cut-offs can be anticipated at the 50% and 38.2% Fibonacci levels but the same regions contained lower probabilities of a reversal.
Indicators
Surprisingly, the SuperTrend indicator, which presents buy and sell signals, continued to remain bearish. The index suggested that BABYDOGE had to climb by an additional 20% for a buy signal to be generated.
The MACD was less pessimistic and observed a bullish crossover on the lesser timeframe. Although fresh long positions could enter the market, BABYDOGE had to close above its price barriers to expel a large chunk of selling pressure. Until then, any buy signals should be discounted.
Conclusion
Even though Baby Doge can capture a quick 36% jump, bulls cannot afford to take their foot off the pedal. If a series of price barriers reject the bullish effort, BABYDOGE would move south until hitting a support zone between $0.000000003200-$0.000000002694.