Launched in July 2021, Baby Dogecoin is a relatively new entrant in the cryptocurrency market. The meme coin, based on its 'father' Dogecoin, captured media attention after an Elon Musk tweet went viral. However, the token saw over a 1000% increase between early September to late October during the broader market bull cycle.
An ETH bridge formed in November also turned more heads towards the token. Sadly, its price action since then has been rather dull. Broader market woes have kept Baby Doge within a persistent down-channel. Fortunately, the emergence of a symmetrical triangle could turn its fortunes, provided bulls overcome a key swing high.
Baby Dogecoin 4-hour time frame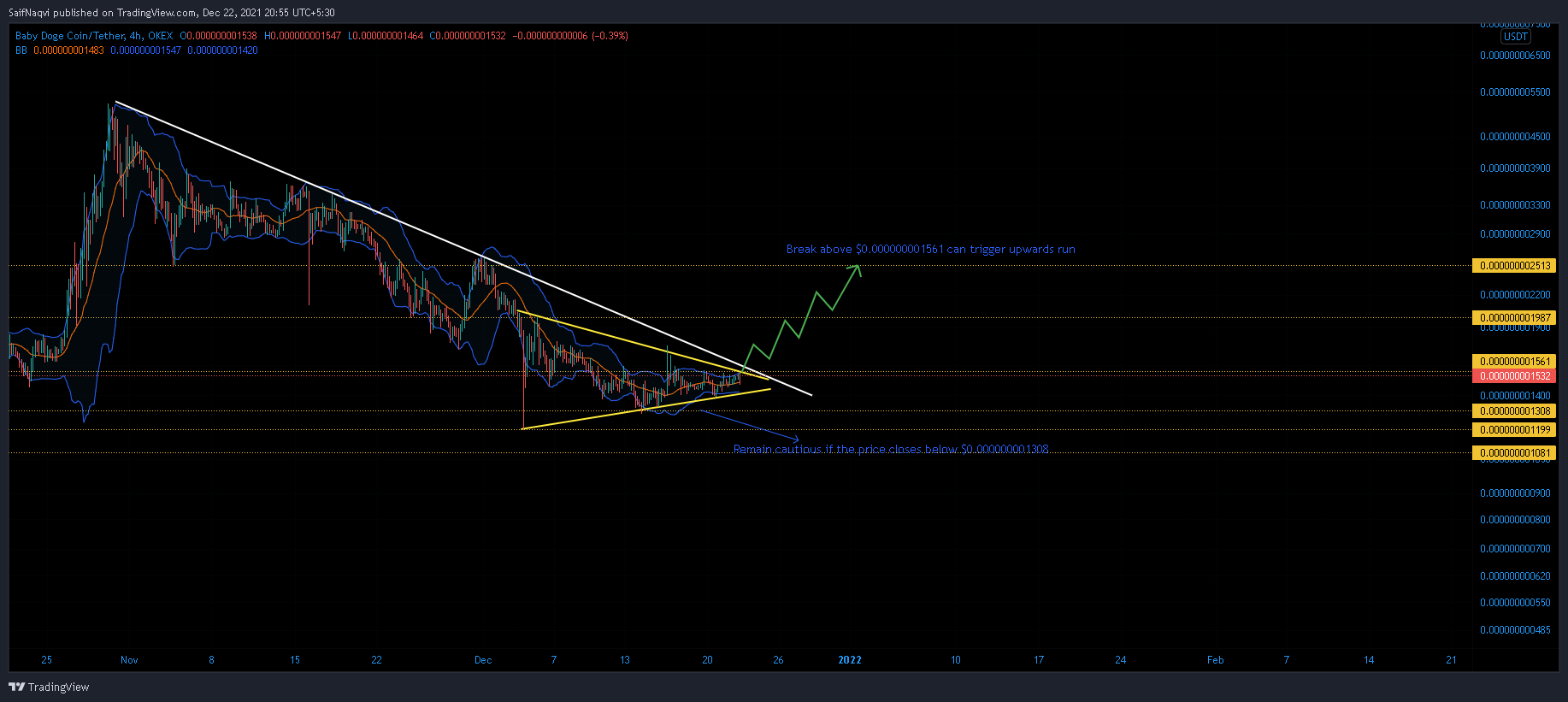 Chances of an incoming price swing stemmed from a symmetrical triangle on Baby Dogecoin's 4-hour chart. The pattern usually denotes a breakout following the final consolidation phase. Now according to the 4-hour Bollinger Bands, the price was trading rangebound for the last 3 days. Once this phase comes to an end, Baby Dogecoin would need to scale beyond a crucial swing high to set up a breakout.
For an optimistic outcome, bulls would need to establish a leg above 17 December's swing high of $0.0000000011561. This would trigger an upwards run which carried a potent surge to $0.000000001987.
However, bears were given preference since the price traded below a major descending trendline (white). A close below $0.000000001308 could trigger a southbound move. In such a situation, newly established support levels of $0.000000001199 and $0.000000001081 would take center stage.
Conclusion
If you're HODLing Baby Doge, stay put for the moment. A timely Elon Musk tweet would initiate a fervent upwards run. Traders can cash out at $0.000000002513 resistance. Those wishing to enter the market must wait for the price to close above $0.0000000011561. In case the price dips below $0.000000001308, consider selling and re-entering once the price tags the abovementioned support levels.