The crypto space boasts of thousands of projects. A majority of them are legitimate and maintain the sanctity of fundamentals. The remaining few bootlegged ones, however, manage to tarnish the reputation of the space.
Illegitimate projects usually scam their targets via malicious maneuvers like rug pulls. Here, developers tend to abandon the project and run away with investors' funds.
More often than not, investors are lured into project arenas by founders and their teams who artificially drive up the price of an asset within hours. Essentially, this trick is meant to stir in FOMO. Eventually, more people fall into the trap by investing in such tokens.
Promises of lofty gains might be enticing, but there's always a possibility for one to get caught holding the bag. Baby Musk Coin [BABYMUSK], the #5436 ranked crypto exemplified quite a similar behavior pattern recently.
As per its description on CMC,
"BabyMusk is a tribute coin to Elon Musk. Its community has one main goal: to catch Elon's attention such that he will join the project."
Outlining the series of events in the Baby Musk Coin rug pull
Until a couple of days back, Baby Musk Coin seemed to be the new big meme-coin to invest in. Like most other cryptos from this space, even BABYMUSK appeared to offer fancy gains. It also mingled well next to other prominent names like BabyDoge and Dogelon Mars.
From 4 February to 9 February, this coin kept climbing up the ladder on its price chart. However, during the last few hours of 9th, Baby Musk Coin witnessed a free fall, shedding almost 100% of its value. Since then, it has been trading around the newly created lows only.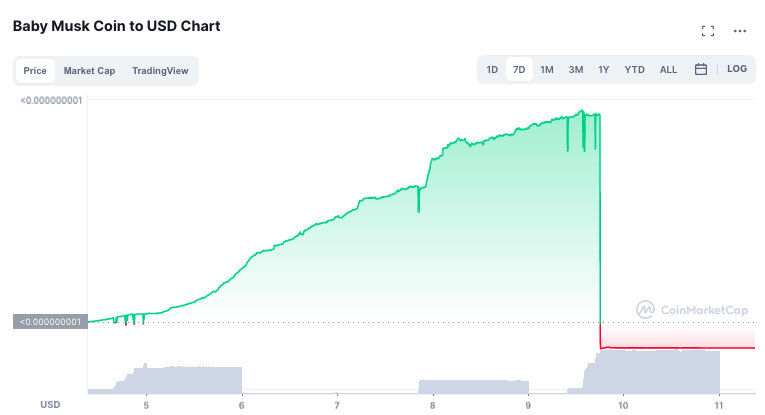 Through its successful ICO, the project had reportedly raised $2 million. The said funds were supposed to be largely be used for marketing efforts, and probably entice more people. Baby Musk Coin touted pronounced itself to be "the biggest dreamer." Owing to the returns fetched in the short term when the prices of major assets were dwindling, the community interest on social platforms too started brewing.
However, a couple of users were quick to bring to light the red flags. Pseudonymous user "NOSHIT" underlined the large-sized BABYMUSK holding by developers and the fact that users couldn't sell. As such, NOSHIT labeled it a honeypot scheme. The pseudonymous user also targeted CoinMarketCap for giving the scam coin undue spotlight.
As of now, the project's Twitter and the official website have both vanished. Nevertheless, CMC's overview page continues to exist.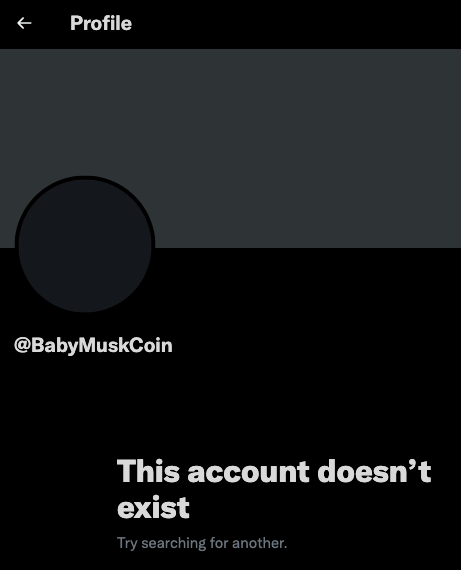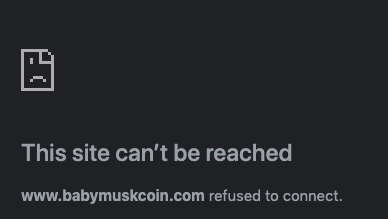 Crypto auditing firm CertiK also took Twitter to issue a warning. It did not hesitate to use the "rug pull" label to describe the project. The firm also brought to light that developers were dumping the crypto into mixers to launder the funds.
In all, the rug 1571 BNB rug pull was worth approximately $660k. Apart from CertiK, other people from the space too confirmed the nature of the scam on Twitter.