"The next Shiba Inu is here!" The BabyDoge community was seen celebrating after their favorite cryptocurrency went on to break several records. From price to the number of tweets, the BabyDoge coin scored big these last couple of days.
From barely being recognized by prominent crypto data aggregators to landing listings on major exchanges, BabyDoge was on an upward trajectory. Earlier this week, the meme coin was all over Twitter after it broke past its previous all-time high and recorded a brand new one.
The network, through its official Twitter handle, notified the community about the same. The tweet read,
This, however, didn't last long. BabyDoge plummeted by about 18% after attaining a new ATH. During the time of writing, the meme coin was trading for $0.000000005177 with a 14.9% drop over the last 24-hours.
Despite, this major price drop, the popularity of the altcoin remained intact. BabyDoge's 24-hour trading volume was at $96,875,404. Close to $100 million, the meme coin's hot streak persisted.
BabyDoge's popularity on an upward trend
Right after the meme coin hit an all-time high, it was discovered that it recorded a whopping 183k tweets. The only other coin that was on the list was the fifth largest cryptocurrency, Cardano [ADA]. The disparity between BabyDoge and Cardano in terms of price as well as market cap is extremely high. However, the mood of the meme coin's supporters was clearly more elevated.
Moving on to crypto exchanges, BabyDoge topped the list there as well. Leading crypto exchange, BitMart announced that the meme coin was the most searched coin on the exchange over the week.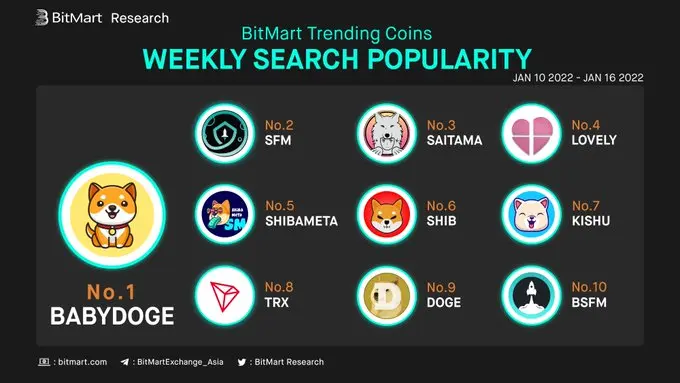 Furthermore, BabyDoge had clearly surpassed prominent meme coins like Dogecoin as well as Shiba Inu to emerge as the most searched asset.
New listing underway
Prominent crypto exchange, CoinEx Global gave the BabyDoge Army another reason to celebrate. Earlier today, the exchange announced the listing of the meme coin against the world's largest stablecoin Tether [USDT]. The meme coin was reportedly onboard to "improve transaction speed and adorableness."
Further elaborating on the listing, the exchange stated,
"To provide you with more trading options, after rigorous reviews, CoinEx will list BABYDOGE and support deposit and withdrawal & Automated Market Making (AMM) on Jan 18, 2022 (UTC). And its trading pair BABYDOGE/USDT will be available on the same day."