The Bank of Canada has shared its Financial System Review, with key statistics showing Canadians' favor of crypto assets. According to the new data, 13% of Canadian citizens owned Bitcoin in 2021, which was up from 5% in 2018–20.
According to the Bank, this increase occurred following "widespread increases in the savings and wealth of Canadians during the pandemic." Fintech companies in Canada also began offering cryptocurrencies to invest in alongside traditional products. This expanded the platform for citizens to learn about and invest in crypto, particularly Bitcoin.
The Bank of Canada adds that it has been studying Bitcoin since 2016. It uses surveys to understand Canadians' relationship with this crypto asset. The results of the 2021 Bitcoin Omnibus Survey show that the cryptocurrency continues to grow in the country, and more citizens own it after the pandemic.
In addition, the survey also covers additional questions, like Canadian citizens' familiarity with Bitcoin.
The Bank's data shares the following about this subject:
For instance, we asked them whether they agreed with the statement that Bitcoin is backed by a government (which is false). Based on the answers to three such core questions, we found that 40% of Bitcoin owners in 2021 showed a low level of Bitcoin knowledge, which is a higher percentage than in previous years (Chart 2). Also, 66% of Canadians who did not own Bitcoin showed a low level of understanding of how this cryptoasset works.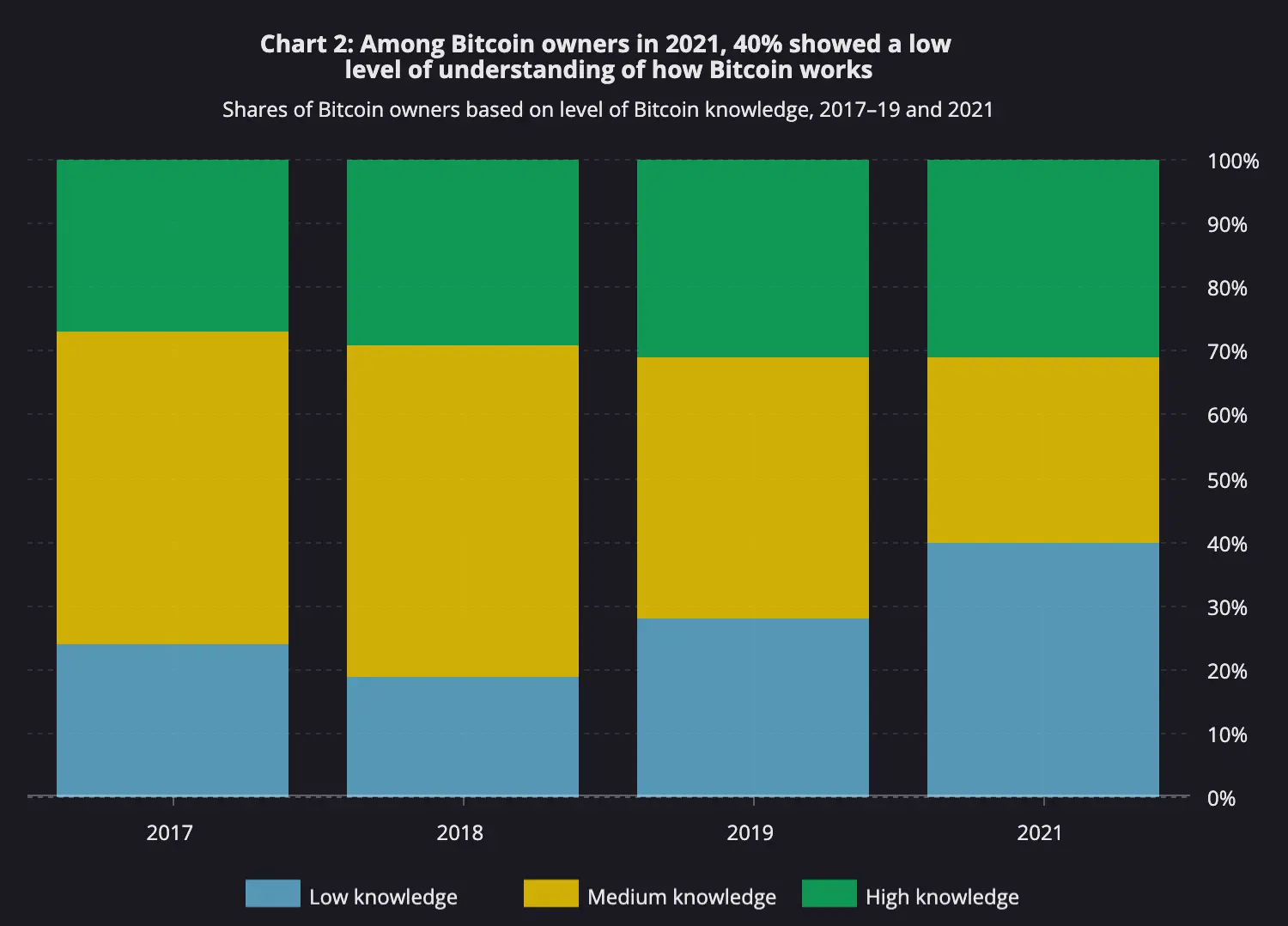 While Bitcoin holdings are growing in the country, the Bank of Canada data shows that inversely, more citizens who own the crypto have low knowledge of it. Despite the number of Bitcoin owners possibly rising in 2022, it appears that those owners aren't as affluent in their knowledge of the coin. This is something to keep an eye on considering that crypto adoption is expected to grow even more in Canada by 2024.