Regulators from across the globe have their eyes on the cryptocurrency industry. Earlier today stablecoin issuer Paxos succumbed to increased scrutiny from the Securities and Exchange Commission [SEC] and the New York Department of Financial Services [NYDFS]. While Paxos was asked to stop issuing Binance USD [BUSD], Binance and Binance Coin [BNB] seemed to be impacted.
While BUSD was slowly slipping from its $1 peg, BNB dipped below $300. At press time, the asset was trading for $293.49 with a 4.99% daily drop. It should be noted that the altcoin plummeted to a low of $289.85 all the way from a high of $320.23.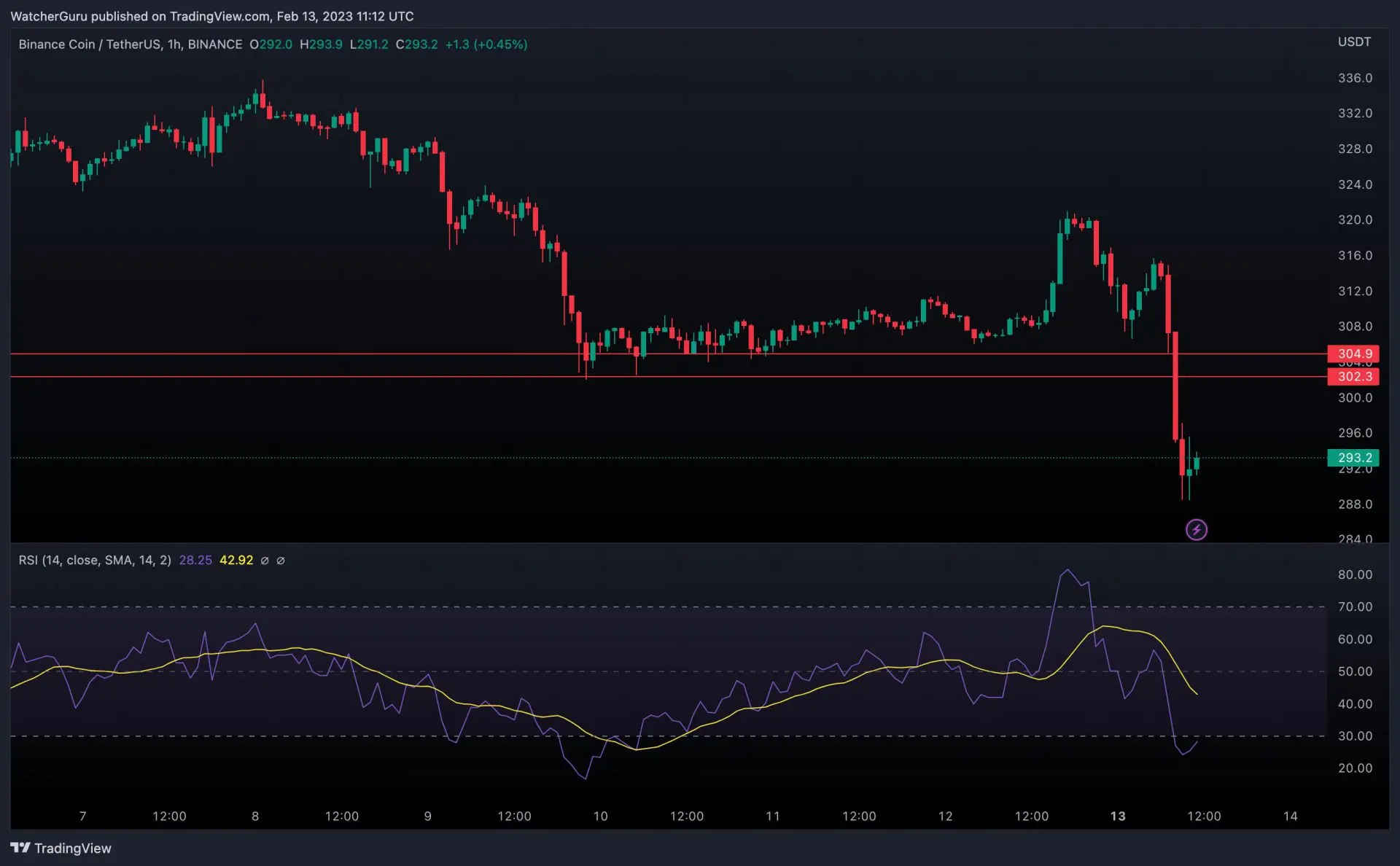 The plummet is clearly visible on BNB's one-hour price chart. The ongoing tension between Paxos and the regulators over the issuance of BUSD is said to have prompted this drop. BNB broke two prominent support levels at $304.9 and $302.3 before reaching its current state.
The Relative Strength Index [RSI] indicator highlighted the increased selling activity in the BNB market. As per the RSI marker, BNB was currently being oversold. This is a bearish signal as inflated selling activity could further push the price of the asset downwards.
Binance's CEO CZ Clears the Air
Binance is often dragged into immense FUD. Soon as the news about Paxos being sued broke out, several began speculating the fate of Binance. This clearly impacted BNB's price. Therefore, Changpeng Zhao, the CEO of the exchange took to Twitter and poured cold water on all the rumors. Noting how BUSD's market cap might decline, CZ tweeted,
Bringing out the worst-case scenario, CZ said,
" "IF" BUSD is ruled as a security by the courts, it will have profound impacts on how the crypto industry will develop (or not develop) in the jurisdictions where it is ruled as such."
Nevertheless, he assured that Binance would continue supporting BUSD for the "foreseeable future." He even highlighted how there might be instances of users switching to other stablecoins. But Binance has it covered as they will be making required product adjustments.