Dubai has been driving cryptocurrency adoption. Throughout 2022, in the midst of a bear market, several Middle Eastern regions were seen embracing the digital asset sector. As Dubai thrives to be the crypto capital of the globe, a university in the region was aiding this move alongside Binance.
According to a recent tweet, Binance is reportedly working with Canadian University Dubai to boost cryptocurrency adoption. The exchange revealed that it now allows the university's existing as well as prospective students to pay their fees with cryptocurrencies. The Canadian University Dubai will employ Binance Pay as a payment gateway.
The university further wrote,
"CUD is now accepting Crypto as a payment method! Canadian University Dubai (CUD), in collaboration with @binance, have adapted to the transforming digital payment space. Binance Pay is a contactless, borderless, and secure #cryptocurrency payment technology."
Additionally, on Wednesday, the world's largest cryptocurrency exchange visited the Canadian University Dubai. This was part of the Binance University Tour.
This isn't the first time that the exchange was veering into the education sector. The firm has been actively funding Web 3.0 and blockchain literacy initiatives.
In order to provide students with the chance of garnering free Web 3.0 education, Binance Charity gave about $2.2 million in BUSD to projects in France, Senegal, Nigeria, Australia, Germany, Cyprus, Ukraine, South Africa, and Brazil in 2022. Furthermore, to provide Web 3.0 materials for these courses, Binance Academy has been collaborating with Binance Charity as well as other vocational universities.
Binance Coin [BNB] slumps with the rest of the market
BNB, like its counterparts, was down by 2.45% over the last 24 hours. At press time, the asset was trading for $322.17.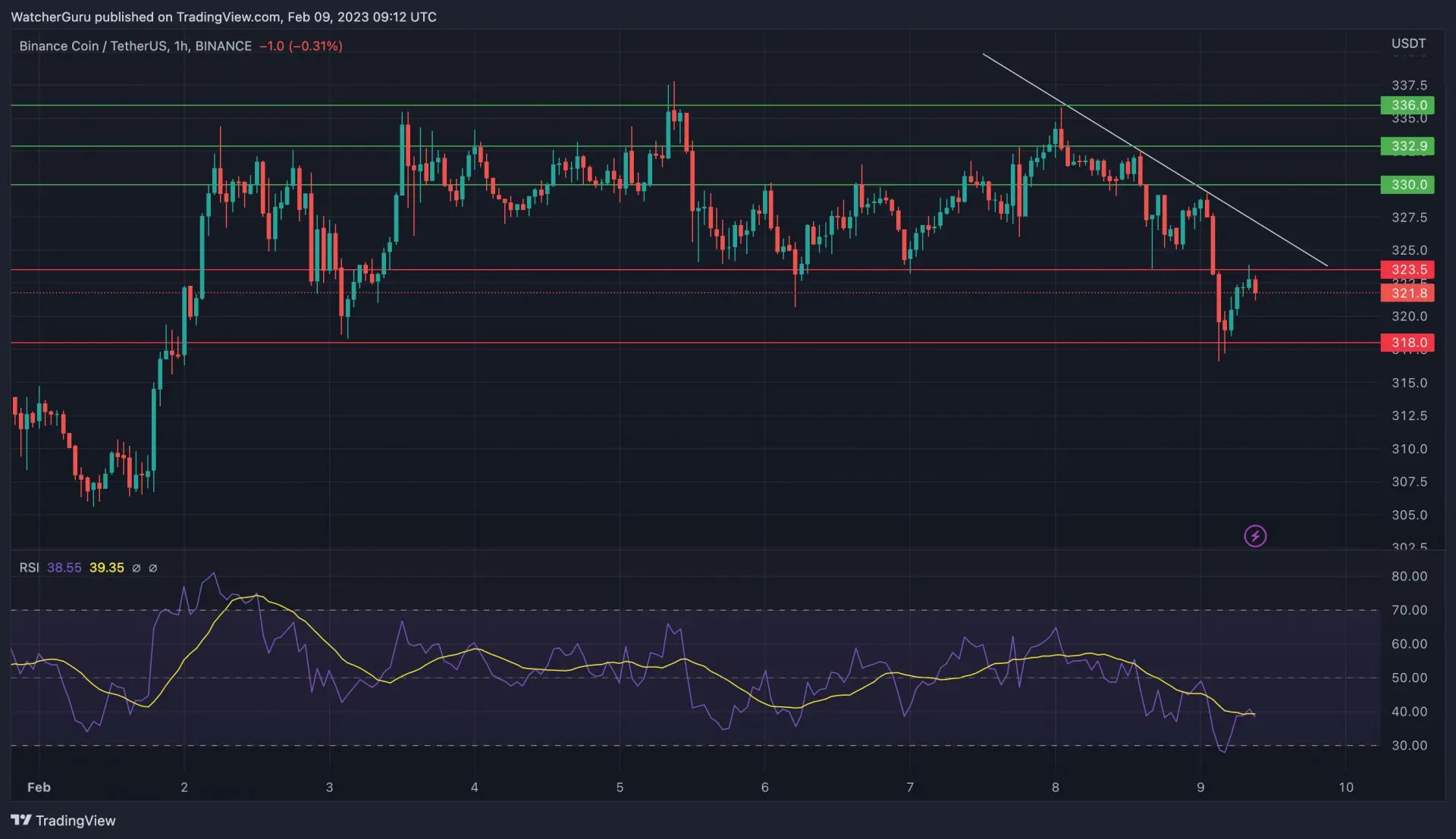 BNB's short-term price chart suggests that the asset could prolong its ongoing downtrend. The asset is trying hard to break a prominent level of resistance at $323. If the asset breaches this level, BNB could move to a high of $330.
Additionally, the Relative Strength Index [RSI] suggested that the sellers in the Binance market outweighed the buyers. Therefore, BNB might endure a short-term drop.