With the crypto space growing at a fast pace, regulators all over the world have shifted their focus on protecting consumers. To do so, various impositions and sanctions are placed now and then. A couple of weeks back, Canadian exchange Newton released a blog post outlining how the net buy limit for alts had been restricted to $30,000 (CAD).
Now, in what is the latest development, Newton, and BitBuy, are imposing the said "buy limit" for "restricted coins" for customers based in Ontario to "protect" them.
Bitcoin, Ethereum among excluded coins
Notably, four free cryptos do not count towards the limit, meaning that users can trade however much crypto they want. The coins in the said list include Bitcoin, Ethereum, Litecoin, and Bitcoin Cash.
Elaborating on how the buy-sell mechanism works, Newton's blog post revealed,
"When you buy restricted cryptocurrencies, you use some of your limit. Selling restricted cryptocurrencies will add space back to your limit (to a maximum of $30,000.)."
If you buy $20,000 of Solana, restricted crypto, you would have used $20,000 of your $30,000 annual limit. So, if you want to purchase more crypto, you are limited to buying a maximum of $10,000. But then, you sell $10,000 worth of SOL, increasing your net buy limit to $20,000.
Alongside, you buy $40,000 of Bitcoin and sell $10,000 of Ethereum. Your limit will remain unaffected because the said coins are unrestricted cryptos.
The $30,000 limits will be reset every year, and the afore-highlighted limits have been put in place by the Ontario Securities Commission (OSC) and the Canadian Securities Administrators (CSA).
The limits, however, do not apply to users residing in British Columbia, Alberta, Manitoba, or Quebec. However, users of the following provinces will fall under the limit ambit: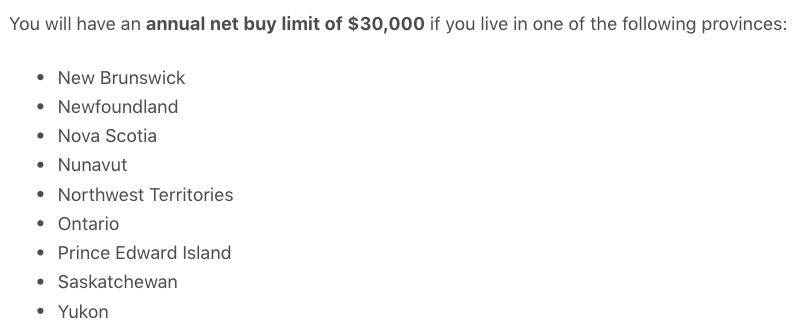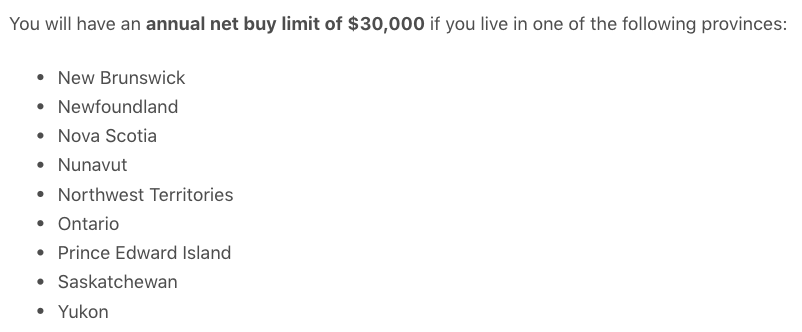 On Wednesday, Newton revealed that it has formally registered as a "restricted vendor" within the province of Ontario. This means that now it's bound to honor the rules set by the Ontario Securities Commission.
The said restrictions are, however, only for retail investors, and the amount is higher for eligible investors, while accredited investors have no limits.
Elaborating on how investors will be categorized, BitBuy's blog highlighted,
"We are required to ask you a few questions regarding your financial profile to determine whether you qualify as a Retail, Eligible or Accredited investor. Depending on your responses, appropriate limits will apply, pleases reference the table below."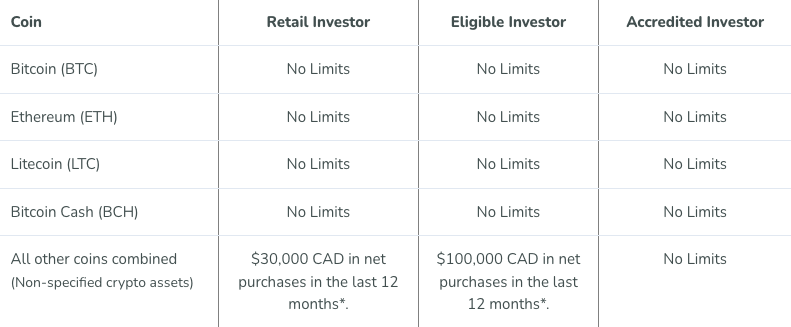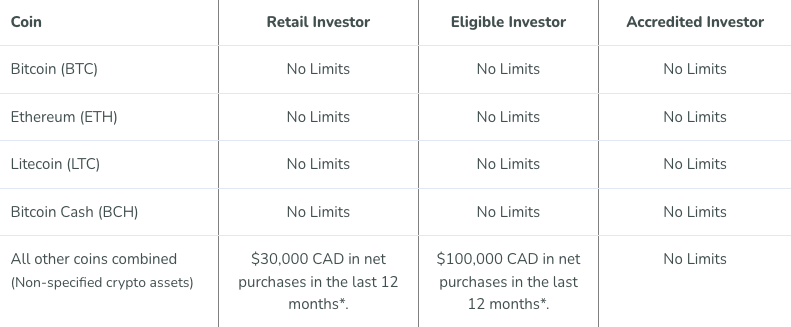 Touching upon why these additional measures were being put in place, Newton revealed,
"These changes are to protect crypto investors, like yourself, and to make sure investors are aware of the risks associated with investing in crypto assets."