Bitcoin and the collective market marched into October with a positive start to Q4 2021. The narrative has not been the same this month. Bitcoin and Ethereum are currently in the green but a majority of the Altcoins faced strong corrections.
Cardano dropped below $2, while XRP has not managed to continue on its bullish part. In this article, we will analyze the performance of classified crypto groups, and contemplate whether the cooling-off period is temporary or prolonged.
Bitcoin and Co; Not as bad as it looks?
In order to evaluate the overall market, we will be analyzing Weiss Crypto Index to estimate performance. The market has been correcting for 4-days straight since Monday. However, collectively the weekly returns are still positive.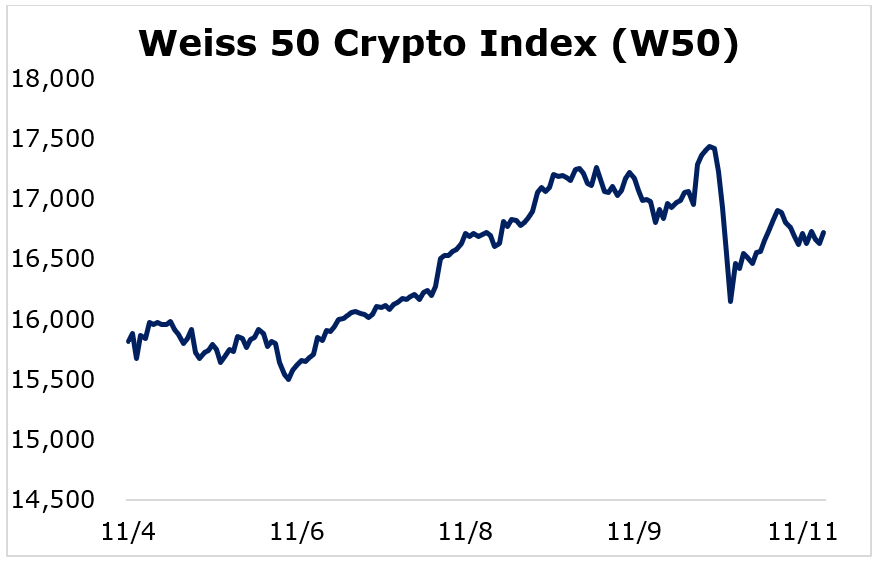 The Weiss 50 Crypto Index, which comprises the top-50 crypto tokens gained 5% over the past week. The top-50 tokens excluding Bitcoin underperformed slightly, recording around 4.80% weekly at press time. However, it was the small-cap asset and mid-cap assets which stole the show.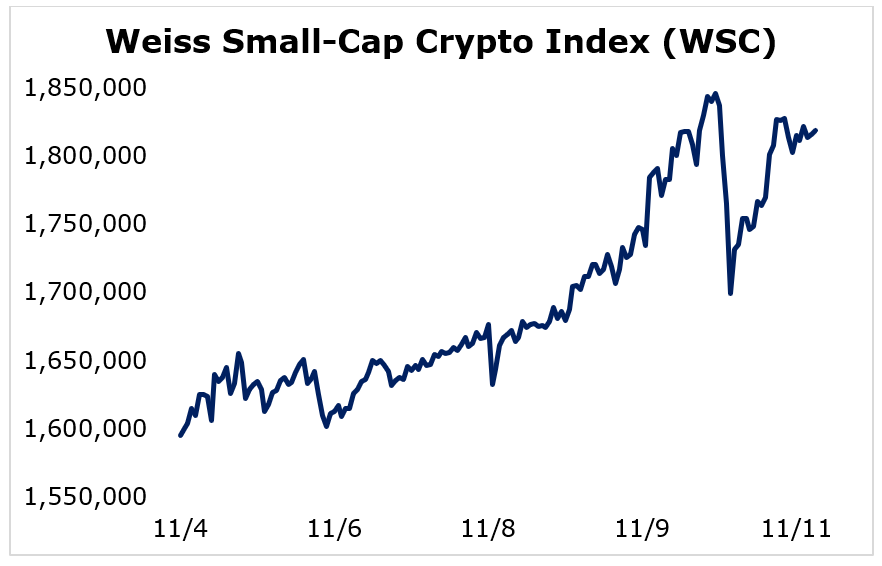 Weiss Mid-Cap Crypto Index witnessed a 6% rise, as the recovery was more immediate for these assets. The Weiss Small-Cap Crypto Index climbed by a whopping 15%, topping the performance index for the week. However, it is important to note that small-cap assets have low liquidity and market cap hence they recoveries are usually objective to the large market trend. Yet, small-caps recovering immediately also illustrate that bullish momentum remains in the market.
Why did the markets drop in the first place?
On 10th November, the hottest inflation report in 30-years surfaced in the industry. According to the report, Consumer Price Index surged up to 6.2% in October 2021, the most since December 1990. Hence, the Dow fell 0.6%, the S&P 500 dipped 0.3% and the Nasdaq Composite inched down about 0.7% on the week.
Momentarily, the crypto market was affected as well, with Bitcoin dropping by 3% on Monday. While recovery hasn't been cohesive, it is important to note that U.S dollar inflation may actually help crypto assets in the long term.
Bitcoin proponents have rallied behind their digital assets to be considered as an inflation hedge for years, and with the cost of living rising in the market, many retail investors may turn their interest towards the likes of Bitcoin, Ethereum, and other top assets. However, prolonged corrections in the traditional market may witness further declines for the crypto market before any recovery is manifested.