During the last quarter of 2021, several predictions were made w.r.t. how Bitcoin might double its peak and attain $100k by the end of the year. Even though the first box was checked, the second remained unchecked.
After creating a new high of $69k in November, BTC stepped into its bear-cycle, and has not yet been able to set-itself free from the trap. The trend-reversal is not going to happen over-night. It will likely take a few more months at least for the fractured set-up to rebuild itself.
When that happens, a set of ripple effects will likely follow. Keeping the focus on energy consumption, we will be discussing the same in this article.
Bitcoin energy consumption
As reported in an article earlier today, Bitcoin's transaction fee dropped below $1 for the first time in two years during the weekend. The fee usually fluctuates depending on the network activity. So, when Bitcoin's value surges, will the fee fall down or go down? And, will the same make a difference to miners in terms of energy consumption?
A recent report by Arcane Research outlined a rough set of estimates. Penned by Jaran Mellerud, the report modelled out three hypothetical scenarios. In a bullish scenario, Bitcoin's price could incline linearly to $2 million by 2040. In a neutral scenario, BTC could attain $500,000. On the other hand, in a bearish case, the 2040 target would be $100,000.
Now, as illustrated in the chart below, the future energy consumption differs massively depending on the price of the asset. Per Mellerud,
"If the bitcoin price reaches $2 million by 2040, Bitcoin may consume 894 TWh per year – a 10x increase from today's level. This energy consumption is equal to 0.36% of the estimated global energy consumption in 2040, which implies a considerable increase from Bitcoin's 0.05% share today."
However, Bitcoin's future energy consumption will be much lower in less bullish scenarios. If the neutral path is followed, Bitcoin will likely consume 223 TWh per year, slightly more than double the current level. On the other hand, if the $100k path is followed, Bitcoin's yearly energy consumption will revolve around only around 45 TWh, or 0.02% of the global energy consumption. Explaining why so, the author noted,
"Like in the neutral scenario, this is the magic of the halving."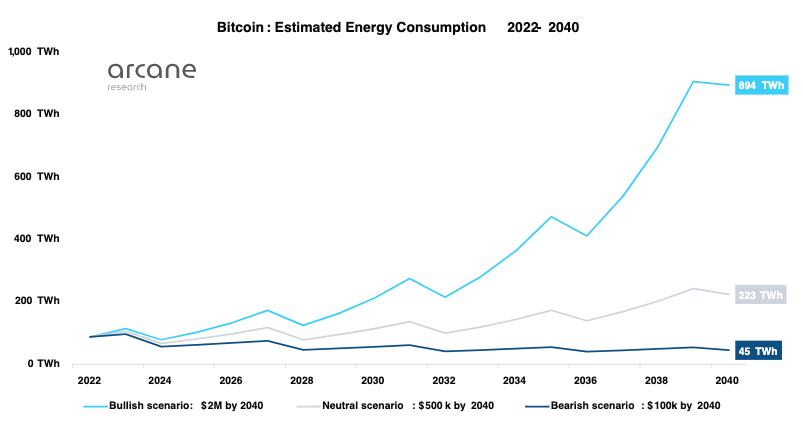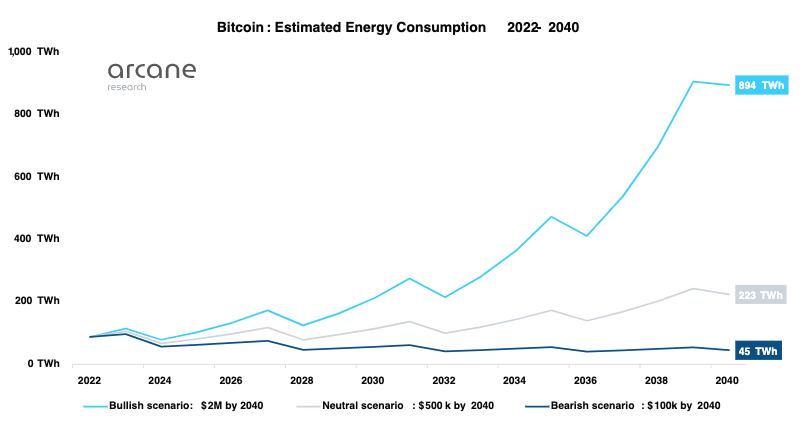 The transaction fee factor
Notably, the transaction fee per block will also vary alongside Bitcoin's price and have an influence on energy consumption. As illustrated in the table below, at $2 million, BTC's fee will have an "enormous impact" on Bitcoin's energy consumption. Per Mellerud,
"For each extra 0.1 bitcoin in transaction fees per block, Bitcoin's energy consumption increases by 150 TWh, or almost twice the current energy consumption of 88 TWh."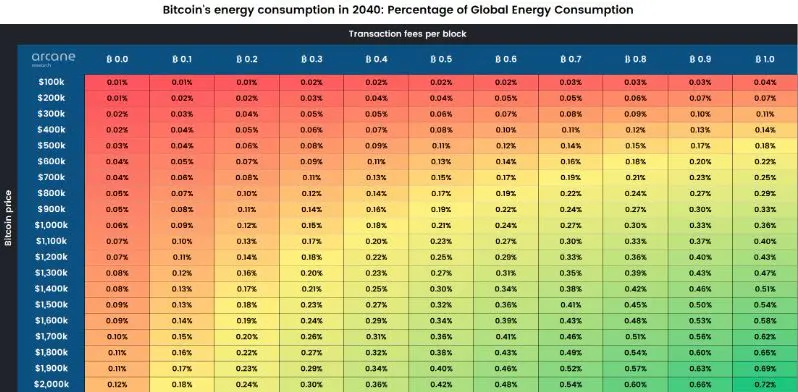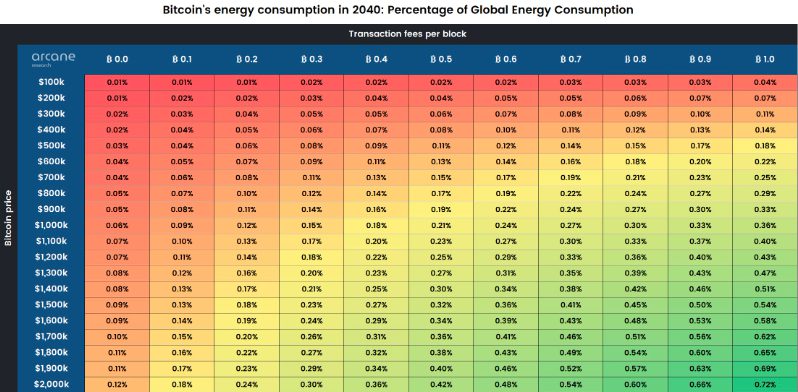 Bitcoin's future energy consumption remains to be quite uncertain at this point, but the said numbers give a ball-park estimation of what to expect going forward. However, per the author one thing is certain,
"Still, one thing is sure: Bitcoin will only become a significant global energy consumer if its price reaches several million dollars."