The "announcement of an announcement" strategy is quite often used by people and entities from the cryptocurrency space. It allows for procreating hype, keeping the audience on their toes. In fact, community members have crowned Justin Sun to be the master of the same.
Well, this time, it was an agency that chose to adopt the said strategy. Less than 24 hours ago, the Department of Justice initially revealed that it will "announce a major, international cryptocurrency enforcement action" on Wednesday. Its statement also asserted, "The U.S. Department of the Treasury will also announce an action in this space."
Initially, there were speculations, that something "huge" will be announced, and the same was expected to have a substantial impact on the price of top assets.
When it was time for the actual announcement, it was revealed that the government had taken action against the crypto exchange Bitzlato. Anatoly Legkodymov, a Russian national and co-founder of the exchange was charged for allegedly conducting a money-transmitting business that moved and transmitted illicit funds.
Bitzlato doesn't ring a bell, right?
Well, community members outrightly claimed so on social platforms.
Some outrightly called the announcement "bizarre," and a "nothing-burger," while others questioned if the latest action was meant to distract people from the fact that they did not suspect anything about FTX.
Bitcoin & Co. react
On the price front, when the initial "announcement of the announcement" was made, prices dropped due to the temporary FUD. However, once the actual announcement was made, a slight bounceback was registered. Chalking out the same, one of Santiment's latest tweets noted,
"Speculation led to a -4.1% Bitcoin price drop as traders feared the DOJ were honing in on something more drastic. Prices have now mildly come back."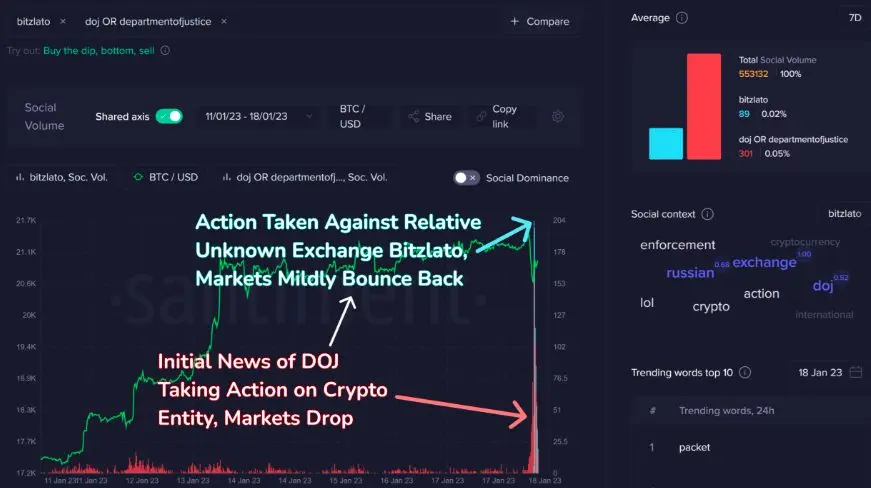 Most other Altcoins like Ethereum, XRP, Cardano, and Solana also followed the same path. The pre-announcement and announcement phases were characterized by long red candles, but a mild rebound was registered right after. In fact, even at press time, the said coins were seen making up for the losses.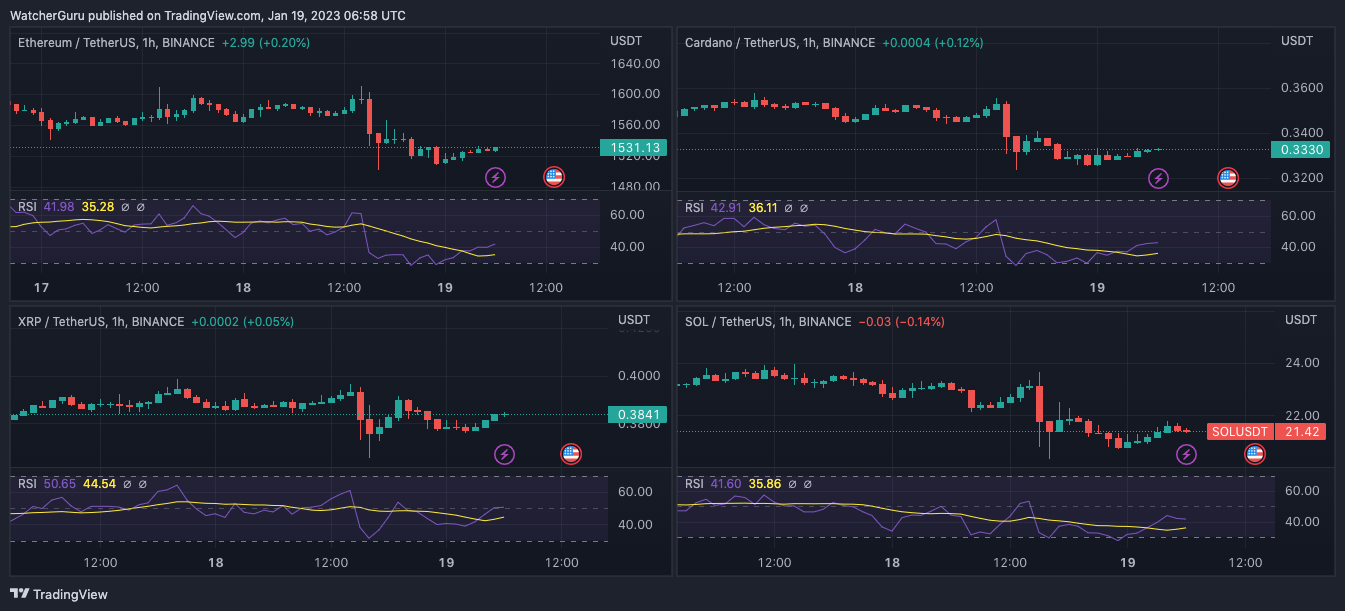 Investors did not hesitate in branding the same as "market manipulation."
On the positive side, however, Ripple's General Counsel for its ongoing case against the SEC highlighted that this was a step in the right direction. Stuart Alderoty opined that the DOJ's actions make it "clear" that there is no room for crypto crimes. He also explicitly exclaimed that the same is "good policy."