Bitcoin's (BTC) block number 800,000 has just been mined. The original cryptocurrency has come a long way since its debut in January 2009. According to Glassnode data, 19.437 million BTC coins have been minted so far. Moreover, 268.7k BTC has gone out to miners as fees.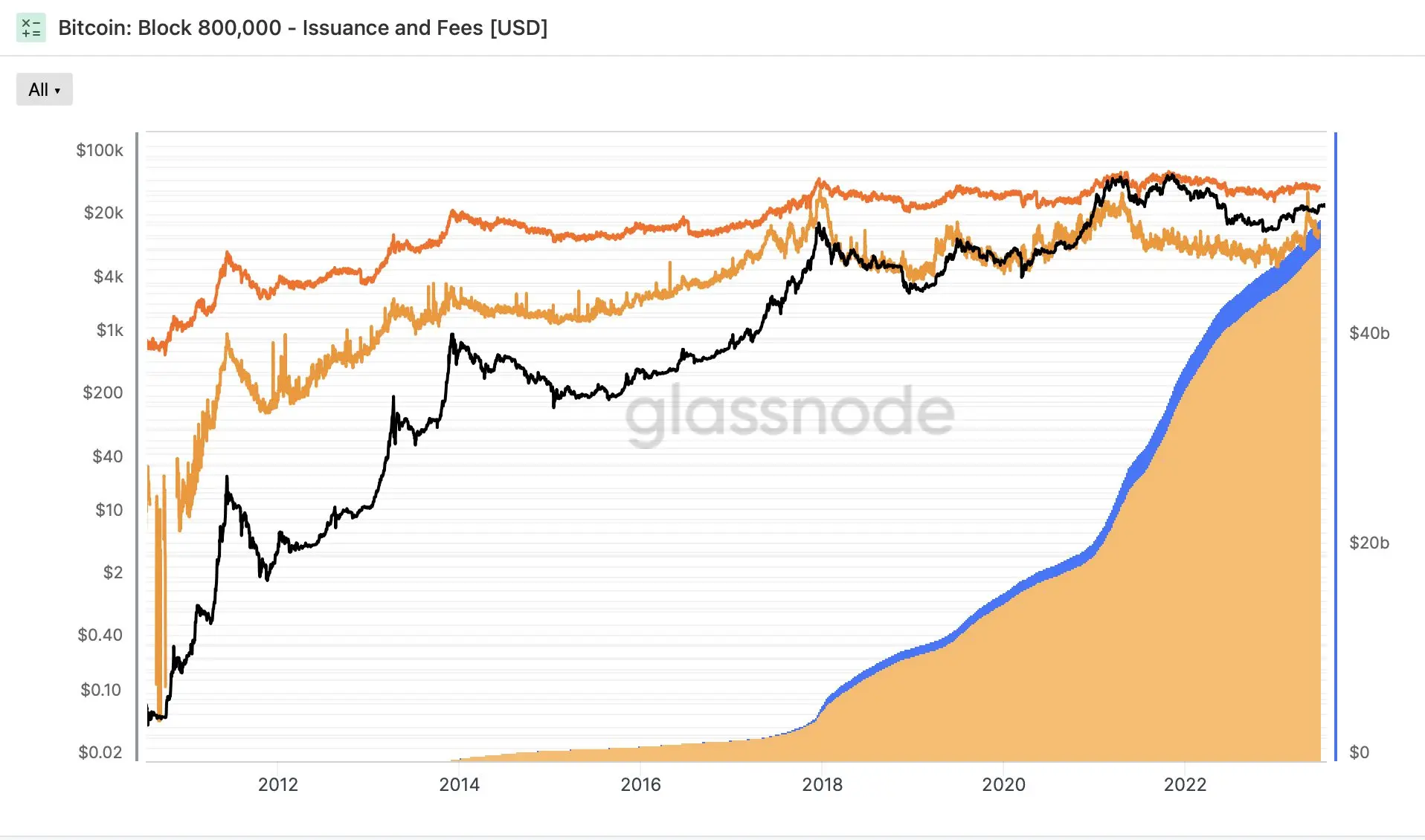 According to the Twitter user "Checkmatey," Bitcoin (BTC) miners have received $52.593 billion in revenue, with 94.5% subsidy and 5.5% fees. Over the course of 800k blocks, this equates to about $65.7k per block.
Also Read: Comparing the Potential of Bitcoin ETFs vs. Gold ETFs
Additionally, Checkmatey noted that of the 19.437 million BTC minted, 1.45 million coins have never been spent. This could mean that these coins are lost. 14.505 million coins (or 74.6% of the minted BTC) are held off exchanges, while 2.25 million are held on exchanges.
Furthermore, in its 14-year history, the Bitcoin (BTC) network has processed 867 million transactions, with an average of 1,084 transactions per block. The figure translates to about $126.4k being transferred on each transaction.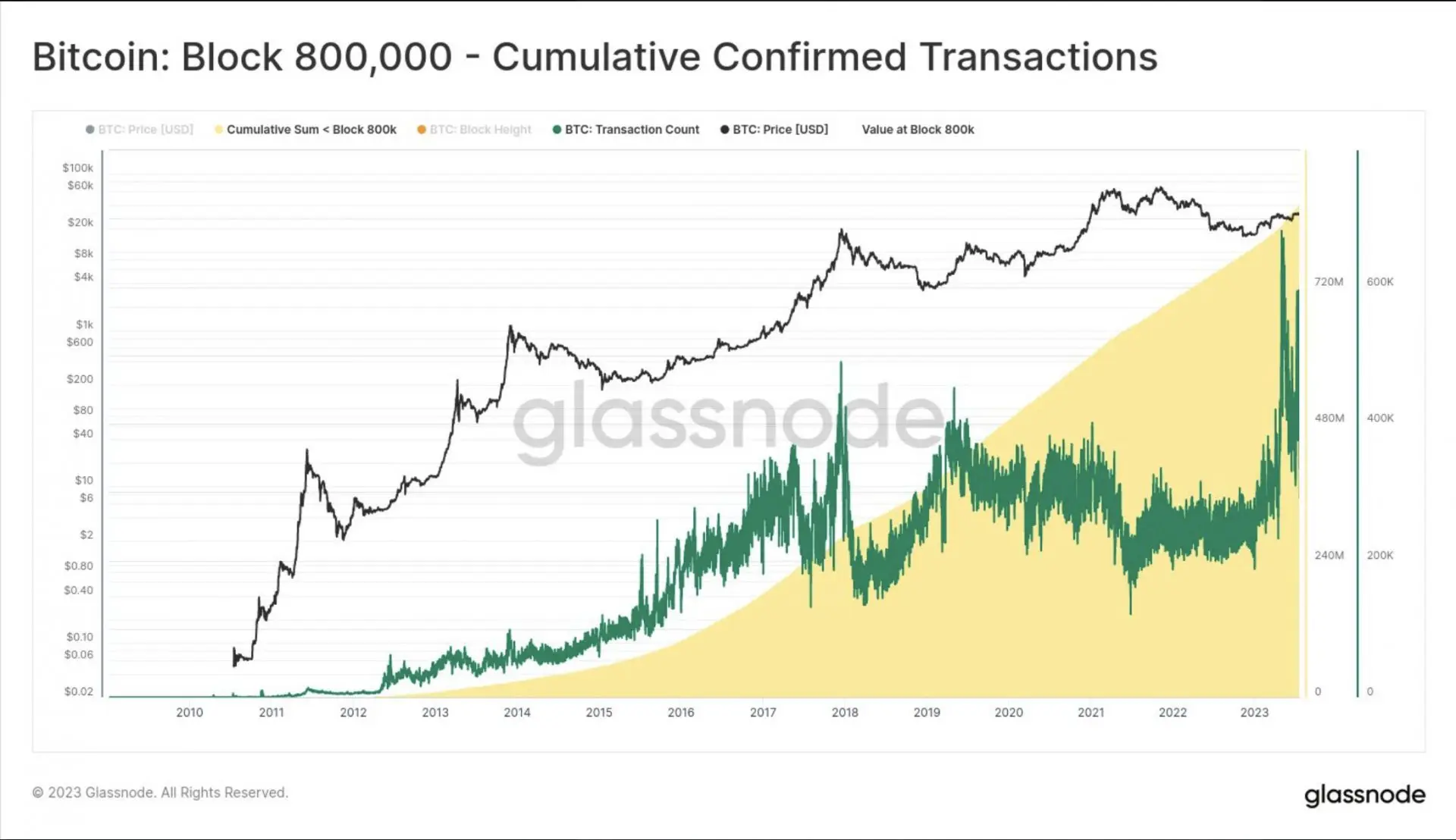 However, one of the most impressive things is that all the data within the Bitcoin (BTC) blockchain is contained in a 497 GB package.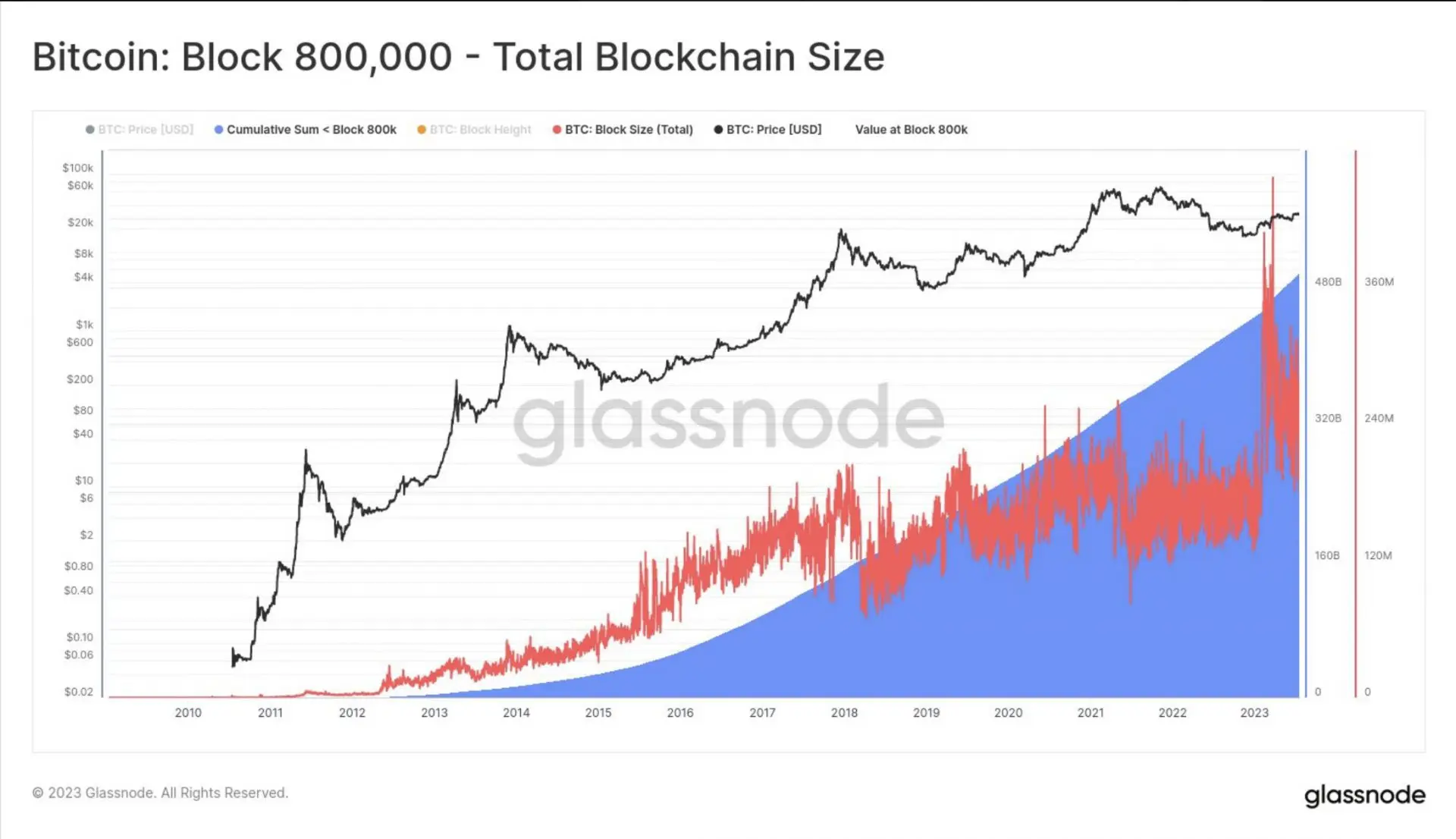 Why did Bitcoin fall below $30k once again?
Despite positive network fundamentals, BTC's price plummeted below $30,000 after briefly crossing the level. It is possible that investors are being cautious as the Federal Reserve plans to introduce another interest rate hike this month. According to some reports, this could be the highest rate hike in 22 years. A rate hike is usually preceded by a sell-off of risky assets.
Moreover, House Republicans have introduced a bill to regulate the crypto markets. The bill also aimed to increase the collaboration between the SEC (Securities and Exchange Commission) and the CFTC (Commodity Futures Trading Commission). This might have caused some worry among investors as well.
Also Read: US House of Representatives Unveil Crypto Oversight Bill
Nonetheless, inflation in the US is slowly decreasing, getting closer to the Fed's 2% target. Many expect Bitcoin (BTC) prices to skyrocket by the end of this year, or by 2024. At press time, BTC was trading at $29,798, down by 0.6% in the last 24 hours.