The 2022 slump pushed Bitcoin [BTC] down to a low of mid $15K level. Even though January brought about some recovery to the asset, it was once again pushed down below $20,000 last week. Just when the market was losing hope, the king coin pumped by 10% over the last 24 hours. This further led to the community that the bull market was here.
Arthur Hayes, the co-founder of prominent cryptocurrency exchange, BitMEX, was quite optimistic about the current state of the market. Hayes believed that the bull market was finally here after the dreadful bear market.
Several factors like the collapse of institutions like the Silicon Valley Bank and the rise of BTC could have prompted Hayes to make this comment. Even though many believe that Bitcoin's latest increase was a mere bull trap, a few others were positive about an incoming bull market.
Robert Kiyosaki, the best-selling author of the business book "Rich Dad, Poor Dad," went as far as to urge the community to buy the king coin. Once again, Kiyosaki advised his followers to purchase silver, gold, and Bitcoin in order to protect themselves from the perils of what he perceives to be an unstable economy. He tweeted,
"BAIL OUTS begin. More fake money to invade sick economy. Still recommend same response. Buy more G, S, BC. Take care. Crash landing ahead."
Can Bitcoin hit $23K anytime soon?
At press time, Bitcoin was trading for $22,108.21 with a 7.76% daily surge. The asset surged from a low of $20,529.44 all the way to a high of $22,728.52.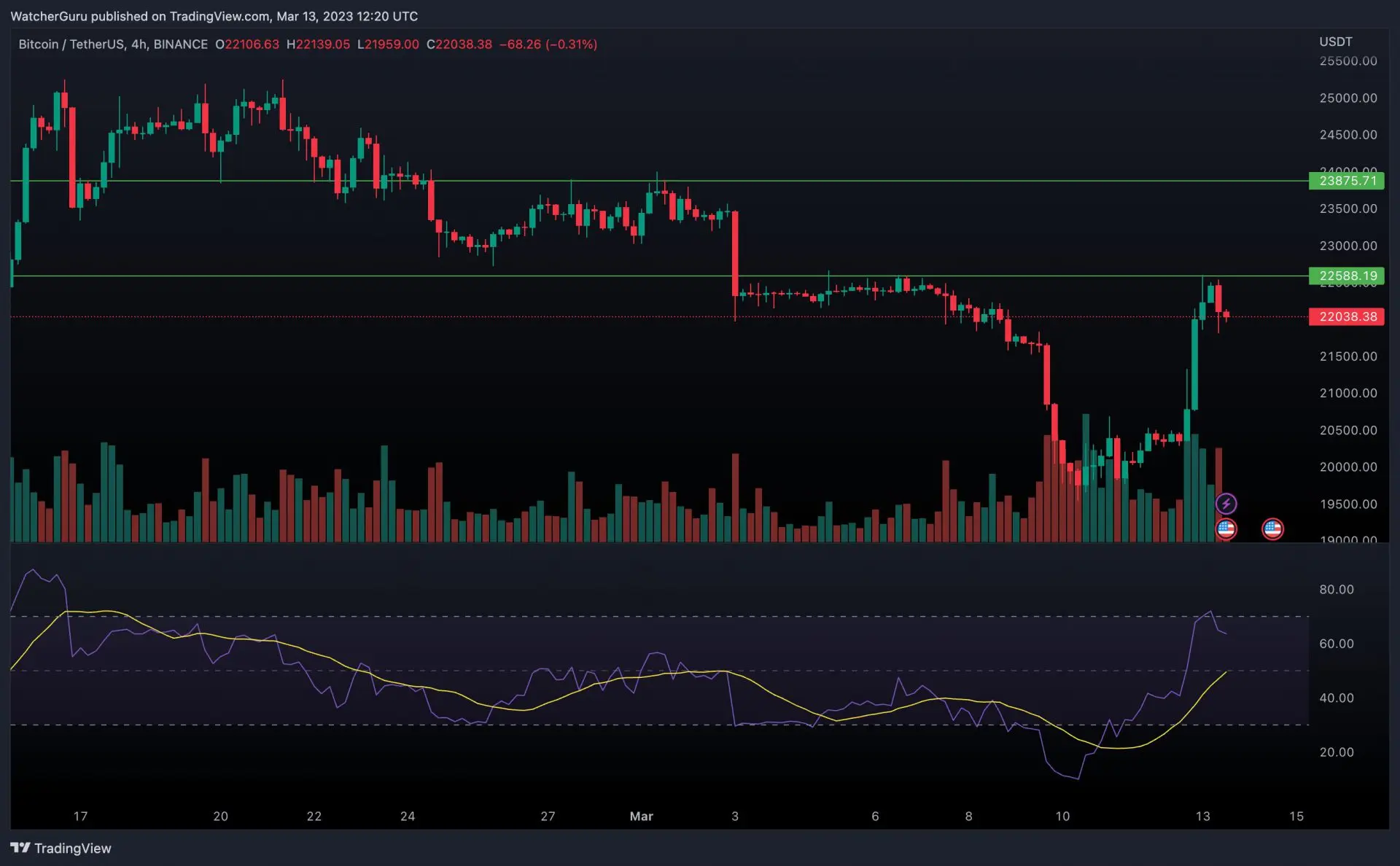 As seen in the above chart, there has been increased buying activity in the BTC chart. The Relative Strength Index [RSI] indicator suggested that Bitcoin was being overbought earlier today. The asset continues to be increasingly purchased.
The king coin tried to push past a prominent level of resistance at $22,588. But it failed to stay put or move forward. If Bitcoin manages to surge past this zone, the next resistance line is at $23,875.