It is almost the end of 2021, and one of the things people tried to understand was cryptocurrency. However, despite the waves of crypto technology overwhelmed the readers as the focus this year was not on the largest cryptocurrency, Bitcoin.
So what made it to the readers' crypto reading list?
Bitcoin, were you looking for…?
There was no doubt that Bitcoin and other cryptocurrencies were among the widely discussed topics this year. However, retail interest in Bitcoin dropped as the worldwide searches for Bitcoin reached yearly lows.
The CEO of CryptoQuant Ki-Young Ju noted this decline in Bitcoin search volume and explained,
"Google search volume for #Bitcoin just hit a year-low.
If you're still interested in crypto, you might have a belief in the future of the crypto market.
Historically, the remaining folks until retail interests bottomed out eventually have won this game."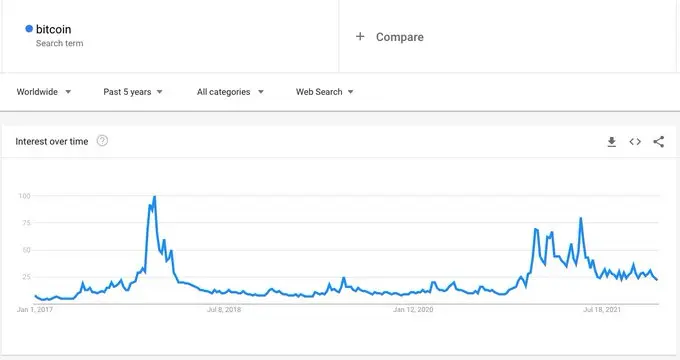 But what caught people's attention were non-fungible tokens [NFTs].
The google search trends help determine the ongoing sentiment in the world of the internet. This behavior and sentiment prediction was an important tool for the crypto industry as most often than not, the volatility is driven by the community beliefs.
An appropriate example of this could be when China imposed a blanket ban on crypto and Elon Musk of Tesla spoke about the energy consumed by mining. The Bitcoin price took a massive hit and remained under consolidation between May and July. However, even as the price activity picked up, the google searches did not align with the rising value.
So much so, that the queries have dropped to the lowest level seen this year alongside falling searched to "buy bitcoin."
People want NFTs
As the attention shifted to NFTs the adoption picked up. Many prominent personalities from around the world entered the NFT space from even outside the crypto space, leading to a boom.
NFTs provided users to engage more with their celebrities and sports teams, which led it into the mainstream. This access pushed NFT searches on Google higher and still maintains a top position. It hit an all-time high in terms of Google search recently, leaving the memecoin, Dogecoin behind.
As 2022 approaches more is expected to come out of the Metaverse. It would be an interesting time to be a part of the crypto and tech world and spot what new trends are going to be a part of people's life.