2022 is nearing its conclusion, yet the market has not been able to initiate a recovery. Bears, alongside critical macroeconomic conditions, have been roadblocking Bitcoin's path.
Nevertheless, there are some interesting signs that have been emerging on the board. Bitcoin dominance is currently at a critical juncture. As shown below, it is being tested by the level it was rejected in October this year.
Bitcoin dominance is the ratio of BTC market capitalization to the rest of the crypto market. A rising figure usually indicates that the asset is adding value to its market cap at a faster pace and vice versa.
Bitcoin dominance visited the afore-highlighted level a handful of times even during the initial half of the year. At that time, however, the same acted as a support and helped in market recovery.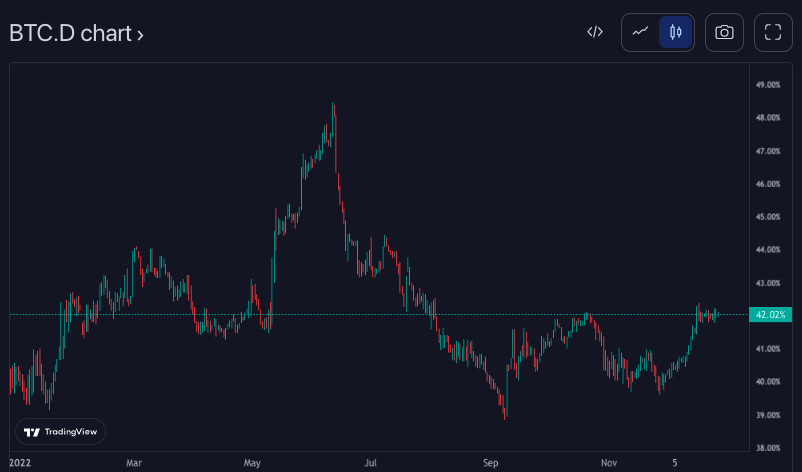 Also Read: Bitcoin Mining Companies Together Owe $4B In Debt
Outlining The State Of Other Factors
However, a rising Bitcoin dominance has had an inverse correlation with the overall crypto social volume in the past. With the former recovering, the latter is not in such good shape at the moment. In fact, a recent tweet from LunarCrush pointed out the said trend.
The lackluster crypto social engagement has already started reflecting in the trade volume. Evidently, the numbers are pretty humdrum at the moment. The total trading volume of the crypto market dropped below the $20 billion threshold on Christmas and has been hovering around its 2019 lows.
Furthermore, transactions greater than $100,000 just hit a new yearly low of 8040, bringing to light the malnourished institutional and whale interest. Recoveries in the past have been fuelled by large transactions. Now that they are in deficit, Bitcoin is feeling the strain. This is possibly one of the reasons why the largest crypto is not able to sustain rising dominance.
Also Read: Bitcoin beats Shiba Inu, Dogecoin as the most searched Crypto in 2022