All attention is currently directed toward Bitcoin [BTC] exchange-traded funds [ETFs] and their interaction with the Securities and Exchange Commission [SEC]. Many are hopeful about the approval of the recent wave of Bitcoin ETF applications. While analysts maintain a 65% optimistic outlook regarding the approval of these funds, the aftermath could potentially invigorate the entire crypto landscape in the U.S.
According to Eric Balchunas at Bloomberg, the U.S. has the potential to account for an overwhelming 99.5% of the worldwide trading volume in crypto-related ETFs. This case, however, hinges on the condition of an approved spot Bitcoin ETF. At present, the trading volume of crypto ETFs is dominated by North America, accounting for 97.7% of the total ratio.
Also Read: Spot Bitcoin ETF Approval Odds at 65%: Bloomberg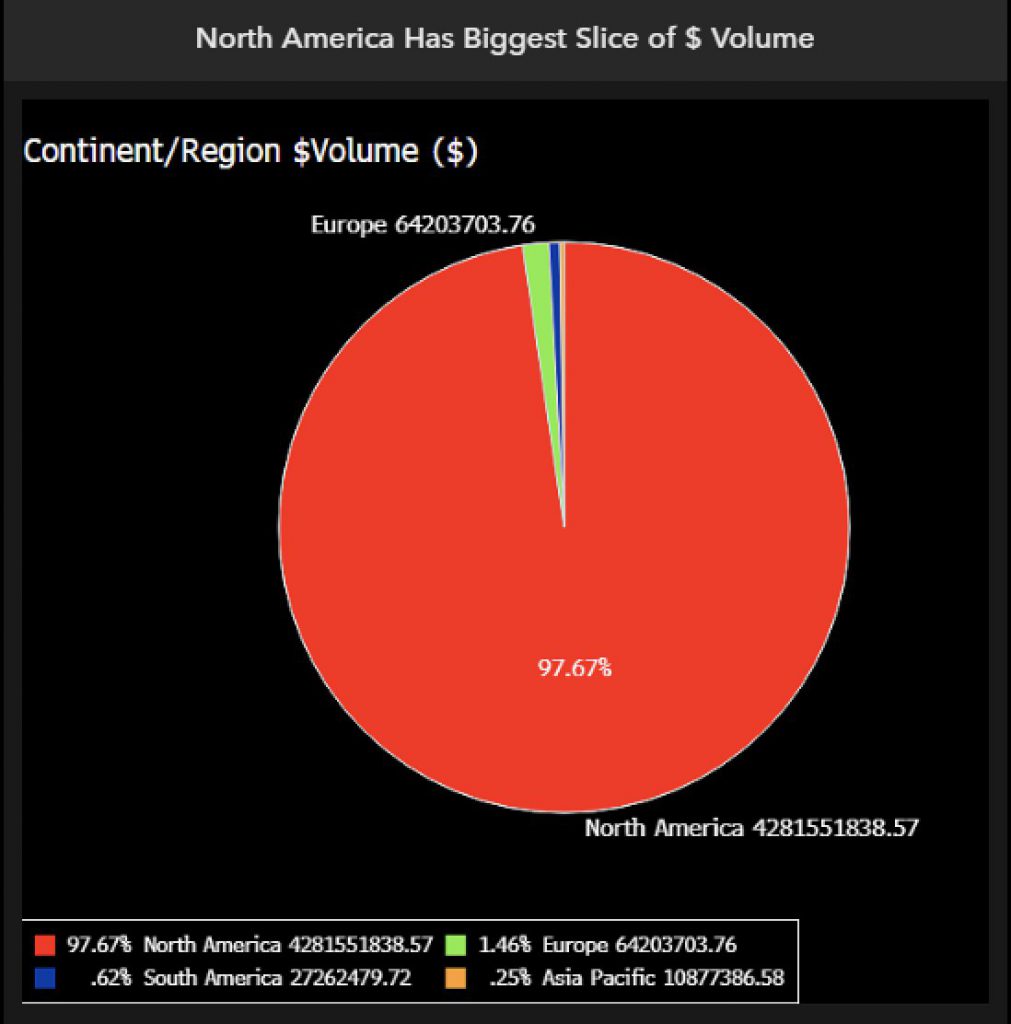 James Seyffart, another analyst, noted earlier that there are U.S. investments in Canadian ETFs. He hinted at the possibility of funds being brought back to the United States. He said,
"There's US institutional money in other areas that might come back if a spot bitcoin ETF gets approved."
Also Read: Multiple Bitcoin ETFs Will Divert 'Smart Money' From Canada to U.S.
Will Ark 21Shares Bitcoin ETF be the first to receive approval?
In June, the first leveraged crypto ETF commenced trading in the U.S. The Volatility Shares 2x Bitcoin Strategy ETF [BITX] recorded about $500k worth of shares traded within the initial 15-minute timeframe. With immense hype around spot Bitcoin ETFs, the first one to garner a green signal will have the upper hand.
Although many individuals within the community are hopeful for simultaneous approval, the disparate deadlines make such an outcome highly improbable. According to Seyffart, an ETF analyst, the verdict about the ARK 21Shares Bitcoin ETF will probably be revealed by the end of August 11 or 12. Despite the official deadline being set for Aug. 13, which falls on a Sunday, there's an expectation that the announcement will be made a day in advance.
Nevertheless, the potential for a delay cannot be dismissed. Numerous community members noted that a delay was more probable than an early approval. At press time, the price of Bitcoin stood at $29,414.10. If approval is granted, the asset would have the potential to surpass a significant barrier of $30,000. Nonetheless, in the event of a delay or even a rejection, Bitcoin's value could potentially decline further from its current position.
Also Read: Matrixport Predicts SEC will Approve Multiple Spot Bitcoin ETFs