Bitcoin (BTC) pleasantly shocked the entire market with its recent surge, reaching the $35,000 milestone. Although it couldn't maintain that level, the cryptocurrency experienced a minor correction and retraced to $34,000. At the time of writing, BTC is changing hands at $34,059.02, reflecting a 1.77% decline for the day. It's worth mentioning that the asset saw a remarkable increase of more than 16% in the past couple of days. As BTC sits at its current value, a report from finder.com provides insights into future expectations, as interpreted by industry experts.
As per a recent report, 31 analysts have come together to offer their projections for BTC's price in 2025. The general agreement among those surveyed indicates that BTC is expected to end 2023 at a price of $30,000. It is anticipated to exceed its previous all-time high of $69,000 and reach a value of $87,000 by 2025.

In the report, these experts engage in discussions about the likelihood of the SEC granting approval for a spot Bitcoin exchange-traded fund (ETF). Notably, a significant 47% of these experts believe that such an approval has the potential to propel Bitcoin to unparalleled heights. Meanwhile, around 60% of the participants foresee the SEC approving a spot Bitcoin ETF by 2024. Manraj Chandok, trader at Wirex, said,
"The approval of a spot BTC ETF could pave the way for substantial structural buying from major asset allocators such as pension funds. This would likely exert upward pressure on BTC's price."
Also Read: JPMorgan: Bitcoin's Rally Tied To Institutional Demand
Bitcoin open positions continue to rise
The recent climb of Bitcoin to $35,000 earlier this week has instilled a sense of positivity among investors, emboldening traders to venture into more adventurous opportunities within the cryptocurrency market. Nevertheless, even as optimism prevails, the cryptocurrency community is keeping a close eye on the imminent Bitcoin Options expiry.
Santiment, an on-chain analytics platform, has noted a substantial increase in both future and open positions for Bitcoin. Open interest has surged impressively, rising by $922 million in the past week, highlighting the growing confidence in Bitcoin's potential.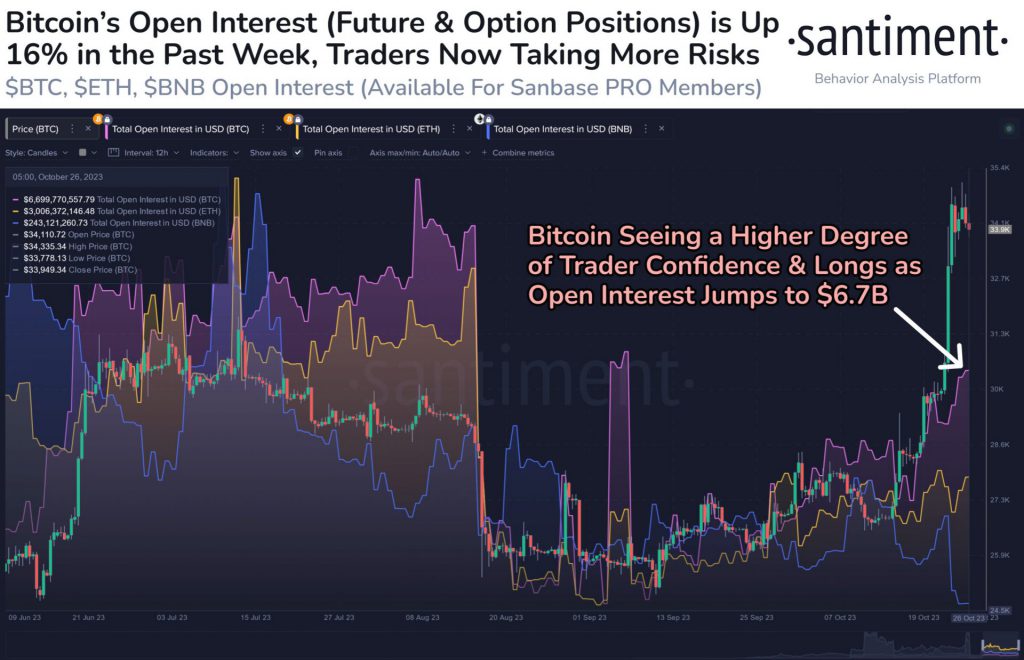 Also Read: Bitcoin To Reclaim ATH Only by Q3 of 2024, Veteran Analyst Claims
Nonetheless, it is crucial to exercise prudence and acknowledge the potential impact of FOMO (Fear of Missing Out) on market behavior. While the recent surge in prices is encouraging, it's vital to remember that the cryptocurrency market is notoriously volatile and susceptible to sentiment-driven fluctuations. This emphasizes the importance of making well-considered decisions for both investors and traders.