Time and again, Bitcoin [BTC] has been compared to gold as they share several similarities. Both these assets have been noted to entail store-of-value characteristics. As skeptics continue to suggest that gold will remain a much more significant investment than BTC, the king coin surged to a high of $28,000 for the first time in months. Amidst this, the correlation between gold and Bitcoin was inching close to its highest level in over 5 years.
Bitcoin and gold's surge was attributed to the ongoing turmoil in the U.S. banking system. The downfall of centralized financial institutions prompted investors to explore other sectors.
This correlation could certainly prove to be beneficial for the king coin. Investor confidence in Bitcoin as a store of value has historically been gauged by examining its connection to gold. From June 2021 through February 2022, the two were strongly correlated, but they changed in March. Additionally, the link is an indication of investors' confidence in the king coin as a safe haven asset.
Bitcoin Fear and Greed Index lands on "Greed"
The Fear and Greed Index is based on the idea that the bitcoin market is significantly influenced by emotions. Two particularly potent emotions that may affect market sentiment and, ultimately, the price of Bitcoin are fear and greed. When investors are unsure about the direction of Bitcoin, panic increases, but greed takes over when the market is experiencing an uptrend. Now that the cryptocurrency industry has been on an upward momentum, the asset hit a greed level of 66.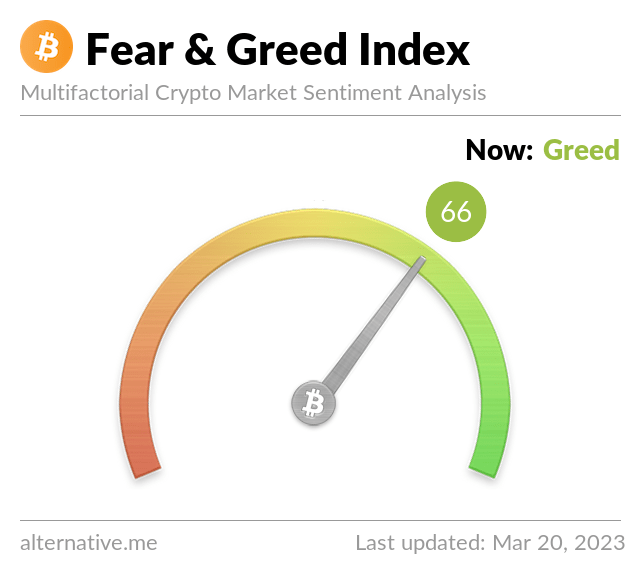 The asset hit this value for the first time in over 16 months. While this is a good indication, it could also mean that a selling spree could be in the making. Selling Bitcoin, when the index is at its maximum position is another way to use the Fear and Greed Index. At press time, Bitcoin was trading for a high of $28,236 with a 3.54% daily rise.