According to a new study, investors are increasingly looking into Bitcoin (BTC) as a safe haven. According to strategists at the Bank of America, the increasing correlation between Bitcoin and Gold (XAU) is a signal that investors' confidence is increasing toward BTC. The BTC and gold correlation has been increasing since September and hit a yearly high in early October.
As per the Bank of America strategists, Bitcoin is a fixed supply asset, and "may become an inflation hedge."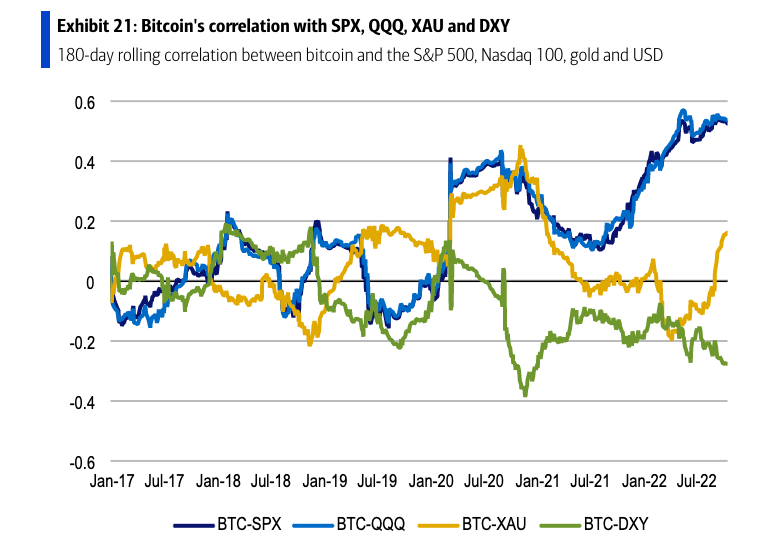 The increase in the BTC/XAU correlation is one symptom of increased investor trust in Bitcoin as a store of value, but it is not the only one. Additionally, the correlation between BTC and popular stocks like the S&P 500 (SPX) and Nasdaq 100 (QQQ) has also grown. On September 13th, the correlation between BTC and both SPX & QQQ was at an all-time high.
Massive Bitcoin transfers from exchanges to private or self-hosted wallets were also highlighted by the analysts. The survey found that the first week of October saw the highest weekly BTC withdrawals from exchanges since mid-June. This marked the third week in a row of outflows. The strategists noted that significant and ongoing outflows to personal wallets suggest limited sell pressure in the short term.
Mega rich from Hong Kong and Singapore eyeing Bitcoin and other cryptos?
Another KPMG report corroborates the fact that investors are increasingly looking into cryptocurrencies despite a bear market. The report found that over 90% of family offices and high-net-worth individuals (HNWI) were interested in digital assets such as Bitcoin and other cryptos. As per the study, "as much as 58% of family offices and HNWI of respondents in a recent survey are already investing in digital assets, and 34% "plan to do so."
30 family offices and HNWIs in Hong Kong and Singapore participated in the poll. A majority of respondents managed assets between $10 million and $500 million.
The widespread interest in digital assets is not surprising given the current economic slump the world has found itself in. Most major currencies are falling against the dollar. Stocks and bonds are not performing that well either. Hence, the ultra-rich have turned to digital assets as a safe haven.