Whether the crypto market is in a bull run or bear run, market participants always want to earn money. Those inclined towards short-term returns usually resort to trading by betting against asset prices, and long-term players typically use this phase to buy more and bring down their average cost.
Bitcoin investors have more options now
Encashing on market participants' growing appetite, crypto companies have been putting to sea tailor-made investment vehicles. 21Shares, for instance, just announced the launch of its 'Crypto Winter Suite' on Wednesday.
The first product introduced in the suite was the 21Shares Bitcoin Core ETP (CBTC). The same was launched today on the SIX Swiss Exchange. The CBTC ETP, as such, intends to give investors low-cost exposure to Bitcoin. Notably, it has a total expense ratio of 21 basis points (0.21%).
Opining on the launch, CEO and co-founder of 21Shares, Hany Rashwan, said,
"We've seen investor demand for low-cost exposure to this asset class – and the 21Shares Bitcoin Core ETP – the first product in our new suite – does just that, at the most competitive pricing in Europe."
Beyond the instrument above, 21Shares will focus on building additional bear-market-oriented products. The exclusive suite aims to provide investors with "a variety of ways" to enter the crypto ecosystem more "risk-controlled manner."
Commenting on the same, 21Shares' Director of ETP Product Arthur Krause said,
"Given the current market environment, many investors are looking to 'buy-the-dip' and generate the maximum potential long-term return. Our Crypto Winter Suite will provide ways for investors to dip their toes in the water at some of the lowest costs on the market."
Another side of the book
Even though investors' interest in the long game of crypto has not wavered much, a particular set of participants have been diverting funds towards 'shorting' vehicles. As highlighted in a recent article, ProShares' short Bitcoin strategy ETF is one investment alternative that has been gaining much traction recently.
In fact, per CoinShares' data, Short Bitcoin digital asset investment products noted a 15.3 million inflow last week. This means that smart money is also being parked in vehicles capitalizing on Bitcoin's dwindling price.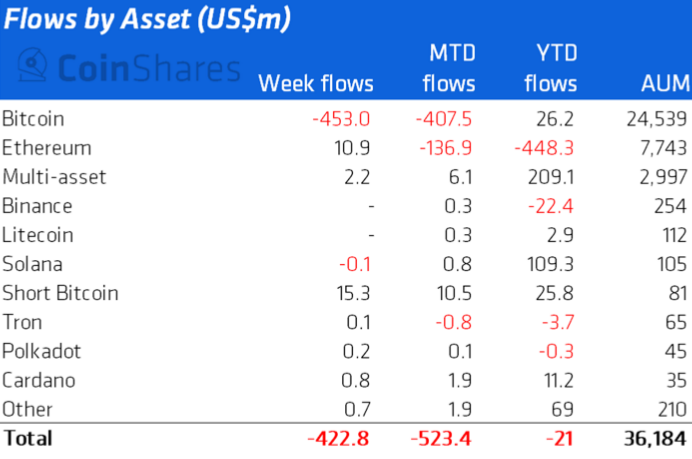 Well, at this stage, it looks like the bear market has something to offer everyone via all the newly launched investment options.