Last year's May is remembered by people from the crypto community for the brutal crash noted on the 19th. The same May crash tradition has extended this year too, but instead of being led by Bitcoin, Terra ecosystem's LUNA and UST have taken charge.
Do Kwon, the South Korean mogul who founded Terra, laid out a recovery plan yesterday. To get back UST's valuation on track, LUNA is being minted, and over the past day, the token's circulating supply is already up by more than 270%.
Alongside, Luna Foundation Guard also sold its Bitcoin HODLings to cater to its liquidity crunch. Per data from Glassnode, the foundation's Bitcoin balance has completely been depleted.
FUD in the minds of South Koreans?
Well, LFG's Bitcoin dump, along with LUNA and UST's woes managed to pull down the prices of most other assets and intensify the state of bearishness in the crypto market. Koreans, at this stage, are however up to something.
Bitcoin's Kimchi premium index has been steadily increasing since the end of March. Curiously, over the last couple of days, it has been attempting to break out and swing to the levels noted back in December last year.
This index, as such, points toward the price gap between South Korean exchanges and other exchanges around the world. A rising number indicates the presence of buying bias. In such a scenario, Korean market participants usually shell out more than usual funds to acquire Bitcoin.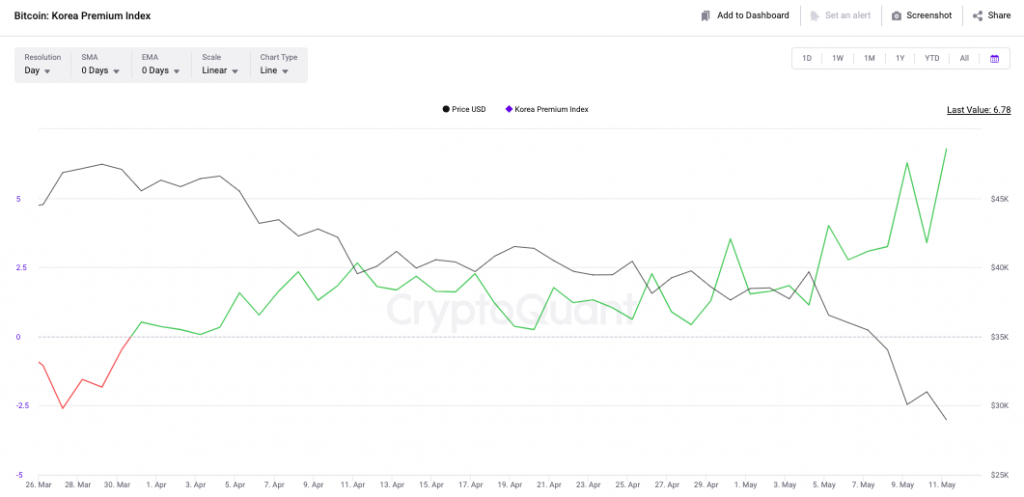 Alongside, it is interesting to note that over the past three days, the crypto transactions taking place in the Eastern hemisphere have noted an incline from 38.5% to 48.2%. South Korea has always been a substantial contributor to Eastern transactions, and the rise in the same, to a fair extent, can be speculatively attributed to Korea.

Yesterday, a couple of Korean crypto exchanges issued warnings about trading LUNA and asked participants to remain wary. Keeping the rising Bitcoin Kimchi Premium Index in mind looks like Koreans have found their safe haven in BTC for now and are no longer interested in diverting funds and accumulating 'discounted' LUNA.
Having said that, the speculative assertion should be taken with a grain of salt because the rising Kimchi Premium Index could perhaps be reflecting lagging data. We will get a proper confirmation only if the consistency of the uptrend is upheld over the next couple of days.