Bitcoin's price had been moving sideways towards the end of July. After experiencing a decline to $28,799 on Aug. 1, the cryptocurrency witnessed a notable recovery, briefly surpassing the $30,000 mark. However, at press time, BTC stood at $29,649 with a daily increase of 2.51%.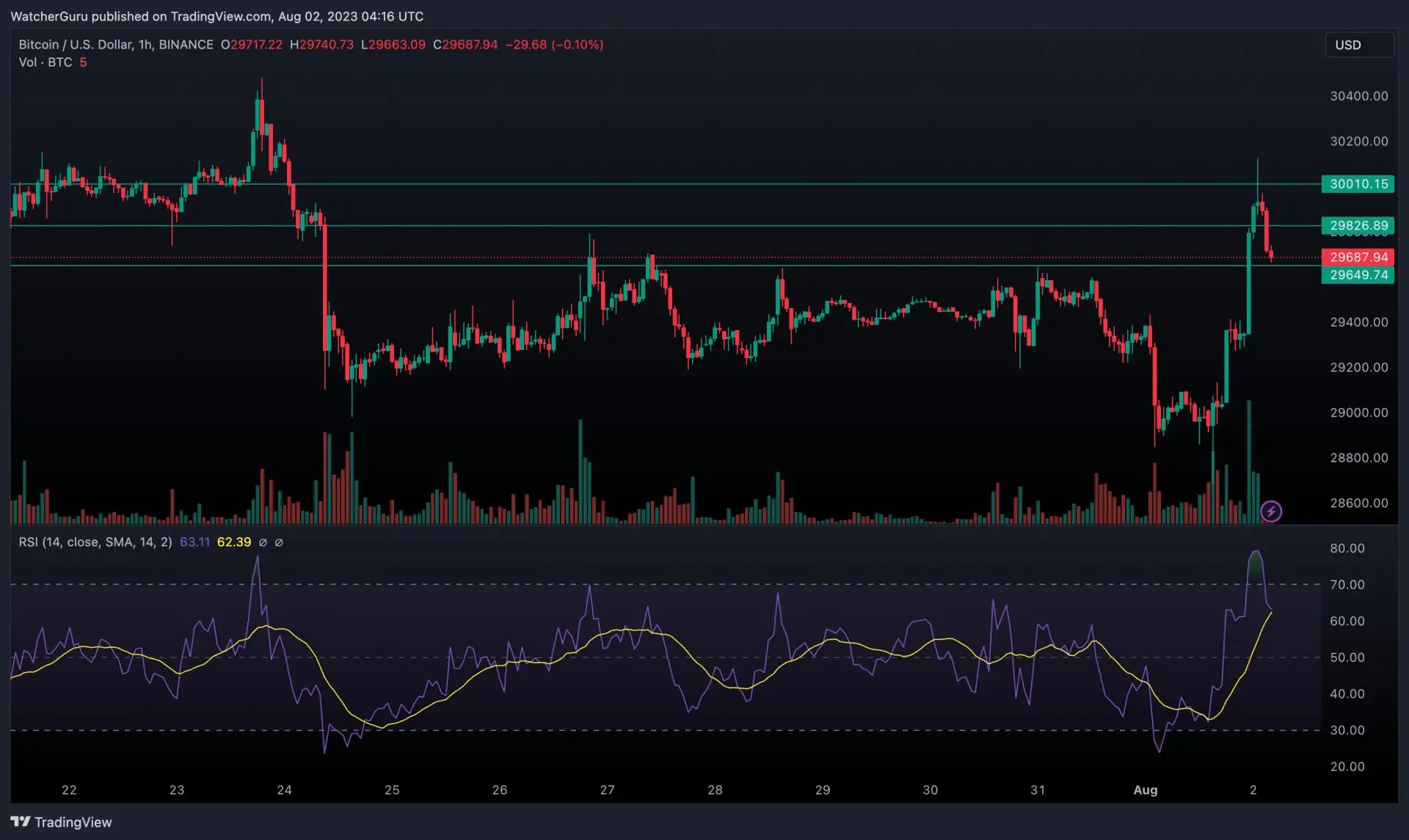 Analyzing the one-hour chart of Bitcoin, it is evident that the cryptocurrency tested multiple resistance levels. BTC managed to surpass $29649, $29836, and $30,000. While it has successfully broken the first resistance level, it still needs to breach the other two once again to continue its upward trend. Additionally, the Relative Strength Index [RSI] indicator showed that BTC was being overbought. Currently, buyers were still residing in the BTC market which is considered a bullish signal.
The abrupt surge in Bitcoin's price was linked to MicroStrategy's recent action. The largest corporate holder of Bitcoin revealed its intention to generate funds of up to $750 million through a stock sale. However, the underlying reason for the sale is speculated to be the driving force behind the recent upward movement in the Bitcoin price. This is because the price of Bitcoin increased by nearly 2% immediately after the announcement.
Also Read: Bitcoin Halving 'Bullish' for MicroStrategy, Not Miners
MicroStrategy To Raise $750 Million in Stock Sale
MicroStrategy kickstarted August by submitting a filing to the Securities and Exchange Commission [SEC]. In this filing, the firm revealed that the company has engaged in a sales agreement with three firms namely, Cowen and Company, Canaccord Genuity, and Berenberg Capital. The agreement pertains to the sale of MicroStrategy's Class A common stock.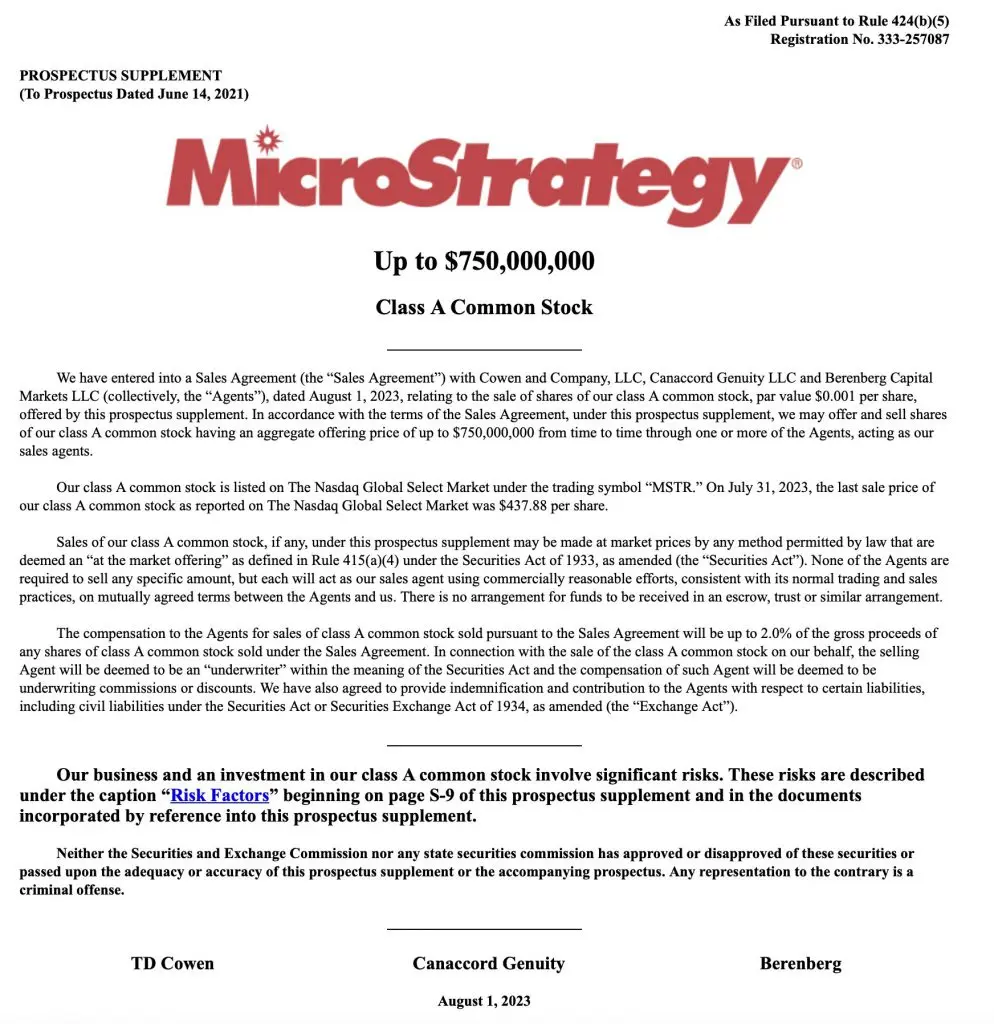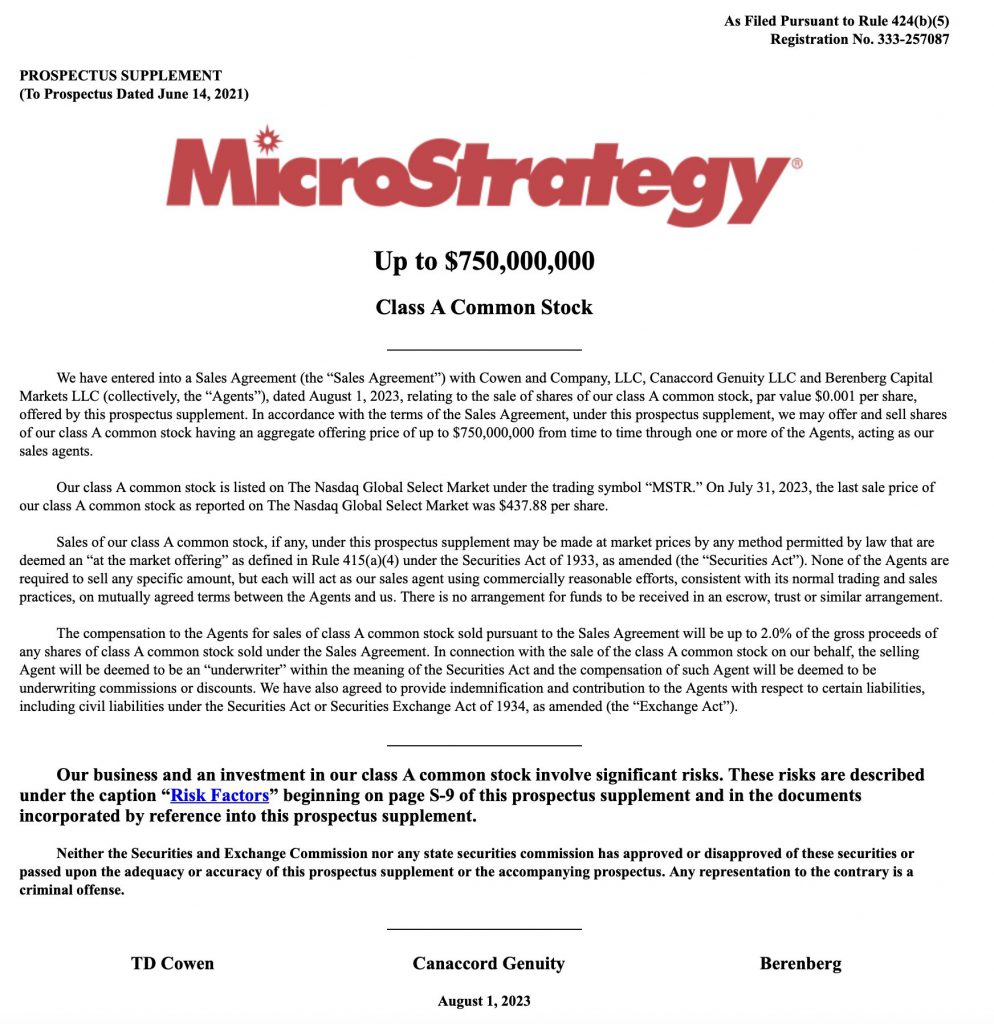 The company is confident that it can generate nearly $750 million through the sale of additional stock. It further intends to utilize the proceeds to acquire more Bitcoin and for working capital purposes. The filing read,
"We intend to use the net proceeds from this offering for general corporate purposes, including the acquisition of bitcoin and working capital, and, subject to market conditions."
It is worth mentioning that MicroStrategy presently possesses 152,800 BTC valued at $4.5 billion. During the second quarter, the company acquired an additional 12,333 BTC, and in July, it added another 467 to its holdings.
Also Read: Bitcoin: MicroStrategy Buys 12,333 BTC for $347 Million