Bitcoin [BTC] mining has been a rather controversial topic. With immense backlash from lawmakers across the globe, the industry was seen moving slower than expected. Yet, miners have been exploring ways to sustainably mine the world's largest cryptocurrency. A recent report curated by the Bitcoin Mining Council [BMC] points out the significant decline in energy usage.
In the report, BMC highlighted mining activity during the first quarter of 2022. The energy consumption of the Bitcoin mining process has been disregarded by many. Environmental activists have expressed concerns over this factor and have in turn thrashed BTC. Now the report pointed out that the mining process employs an "inconsequential amount of global energy (16bps)" and along with this, it generates carbon emissions of just 8 bps.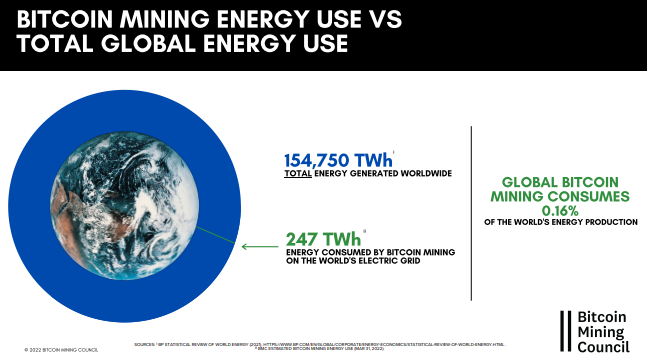 Alongside this, the report also noted that the Bitcoin mining hash rate was up by 23 percent year on year. This in turn pushed the energy usage down by 25 percent. As seen in the above image the energy consumed by the Bitcoin mining process o the entire globe's electric grid was merely 247 TWh. This was just 0.16 percent of the world's energy production.
In addition to this, Michael Saylor of Microstrategy pointed out that Bitcoin mining was the cleanest industry in the world. In a tweet, he compared BTC mining to that of gold and said,
Bitcoin mining's insignificant carbon emissions
The report further detailed that the total carbon emissions generated throughout the world were 34.8 BMt. Out of which, BTC mining accounted for just 0.03 BMt.
Additionally, BTC was at the forefront of embracing sustainability as it entailed a 58 percent sustainable energy mix. This was reportedly higher than an array of countries.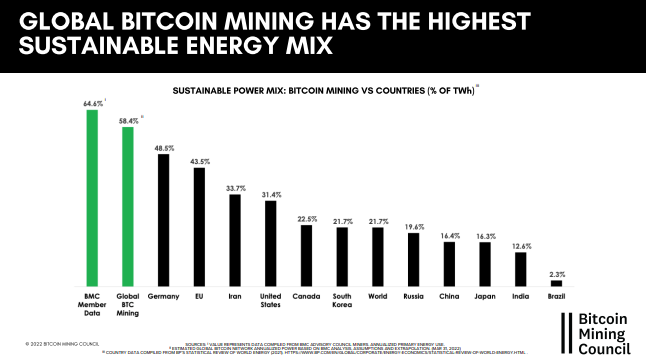 The above-seen data is proof of how the Bitcoin mining industry has become more green. However, lawmakers continue to thrash the industry holding on to the high energy consumption narrative. New York has been yearning to place a ban on proof-of-work which would further put a hold on crypto mining for the next two years. With mining platforms finding sustainable ways to mine the world's largest crypto, governments were urged to go easy on the industry.