Over the past day, several users took to Twitter to reveal that one of China's most popular social media applications, Douyin has started displaying Bitcoin price in real-time. Douyin is China's version of TikTok. Posting a screenshot of the same, Tron founder Justin Sun recently tweeted:
According to Statista, the video-based social networking platform boasted a total of 730 million monthly active users in its home country as measured in November 2022. Parallelly, according to Business of Apps, Douyin had around 780 million annual daily active users in 2022. As tabulated below, the figure has seen a significant rise over the years.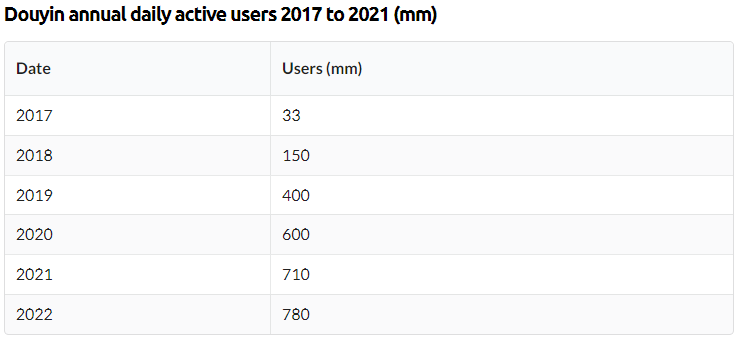 Also Read: 80+ Crypto Firms Eyeing Hong Kong As a Foundation Base
The latest development seems to be fairly unconventional, given China's harsh stance towards crypto. Over the past few years, the country has announced a series of crackdowns forbidding crypto-related activities in the region.
In fact, the Beijing tax bureau reportedly fined one of the biggest Bitcoin mining companies in April for unpaid personal income taxes. According to Chinese Journalist Colin Wu, the Chinese government has "stepped up tax inspections" pertaining to the crypto industry since 2022. It has "especially" been targeting "Bitcoin miners and large traders."
Also Read: Hong Kong Regulators to Assist Crypto Firms with Banking
The Hong Kong Tangent
Here, it is worth noting that Hong Kong remains committed to becoming a crypto hub. In fact, China is allegedly backing its vision. As reported recently, officials from China's Liaison Office have been "frequent guests" at Hong Kong's crypto gatherings. Moreover, their encounters have been "friendly." Alongside, officials have been checking on developments, asking for reports, and in some cases, also making follow-up calls.
Parallelly, the recent collapse in a host of U.S. crypto-friendly banks made it difficult for some Hong Kong firms to sign up for banking-related services. Nevertheless, the reportedly "growing interest among Chinese state-owned lenders in the sector" is another positive takeaway.
Also Read: China's Capital Reportedly Backs Hong Kong's Vision as a Crypto Hub
In the midst of such an environment, community members pointed out that Beijing permitting Bitcoin's price to be displayed on one of the country's largest social network platforms could be an indication that China is perhaps getting intimidated by Hong Kong and could eventually end up softening its stance going forward. Well, looks like that isn't essentially the case.
Colin Wu revealed on Tuesday, April 11, that Bitcoin-related content can no longer be displayed on Douyin. When searched now, Wu highlighted that the following message is displayed:
"According to relevant national regulations, unofficial virtual currencies do not have the same legal status as legal tender. Please invest carefully."