Bitcoin noted a dip to $19.5k during the weekend but managed to climb above $20k right after. Despite the minor bounce-back noted, the odds of the largest crypto pulling off a sustainable recovery seem to be quite low at this point.
As illustrated below, Bitcoin faces quite a strong resistance in the range extending from $20.4k to $29.4k. In this cluster, over 4.56 million addresses have bought over 2.82 million BTC. So as when Bitcoin glides up, it'd continually be resisted, for these participants will be triggered to sell and cash out when they break even.

Bitcoin barely holding on
Alongside the said major hurdle, most of Bitcoin's fundamentals have also been deteriorating at the moment. The average coin dormancy, for starters, has been on the macro decline since the beginning of last year. However, the same has now become even steeper, with no notable reversal peak being noted.
Dormancy, as such, is a lifespan indicator. High values usually indicate that coins that had not previously moved for a long period of time are on the move and vice versa. The current state of this metric ain't encouraging even though the numbers are on the decline because it means that BTC's price is "struggling to hold the line" even with older coins staying in investor wallets.
Per Glassnode,
"If prices were climbing, this would be a very constructive signal, as it shows older coins are staying dormant. As it stands, however, this indicates the reverse…"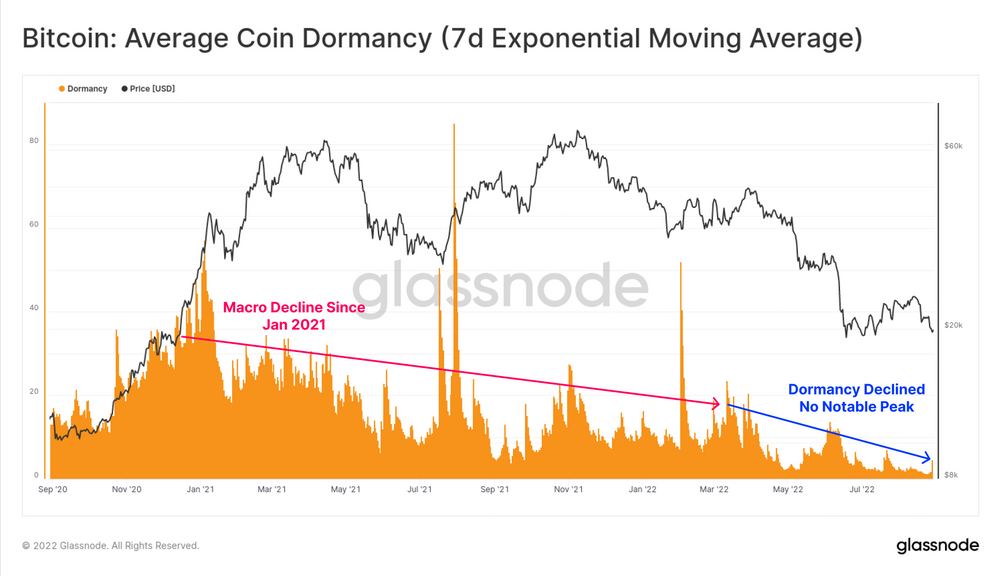 Another interesting metric to look into at this stage is the ASOL. Simply put, it gauges spending behavior. Lower values typically mean that younger coins are dominating transactions and vice versa.
As illustrated below, this metric noted a peak quite recently. However, it couldn't sustain the same. Outlining the implication, Glassnode's report noted,
"Weak price action without a sustained trend higher in ASOL signifies that the available demand can barely hold up the day-to-day sell-side pressure."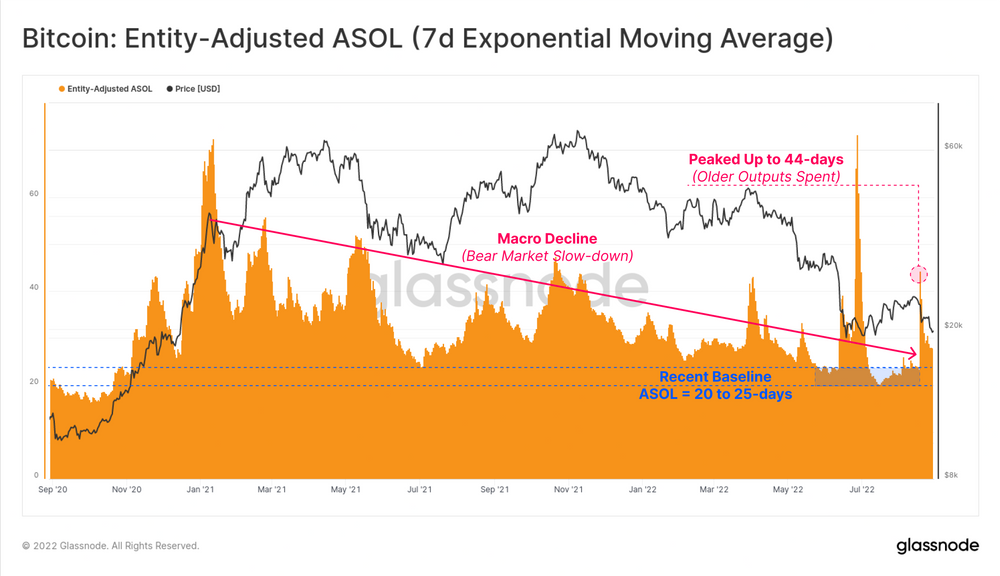 Alongside the said red flags, the aSOPR metric highlighted another discouraging trend. The said metric gauges the average profit or loss on spent coins. More often than not, an aSOPR value of 1 in a bearish trend acts as resistance, because investors sell during the brief rallies and offload their position.
Per Glassnode, this psychologically reflects the mentality of 'getting my money back' on whatever exit liquidity the market offers. As illustrated below, the recent sell-off was kick-started after a retest of 1, when BTC's price was above $24k. However, right after that, it was rejected and started trending lower.
The same essentially confirms that weakness lies on the road ahead as investors have already chosen the exit liquidity path and have started spending coins.