Bitcoin continues to leave exchanges. The latest data from the trading information platform Coinglass revealed that the supply on exchanges shrunk by 109,133 BTC over the past 30 days. The coins were aggregately worth approximately $1.8 billion at press time.
As depicted below, the balance quickly started depleting in the first half of November. Post that, the supply remained relatively stable. Having said that, it should also be noted that a couple of sharp influxes were also registered in the same 30-day period.
With Bitcoin trading at $17.3k at press time, the balance on exchanges stood at the brink of 2 million BTC.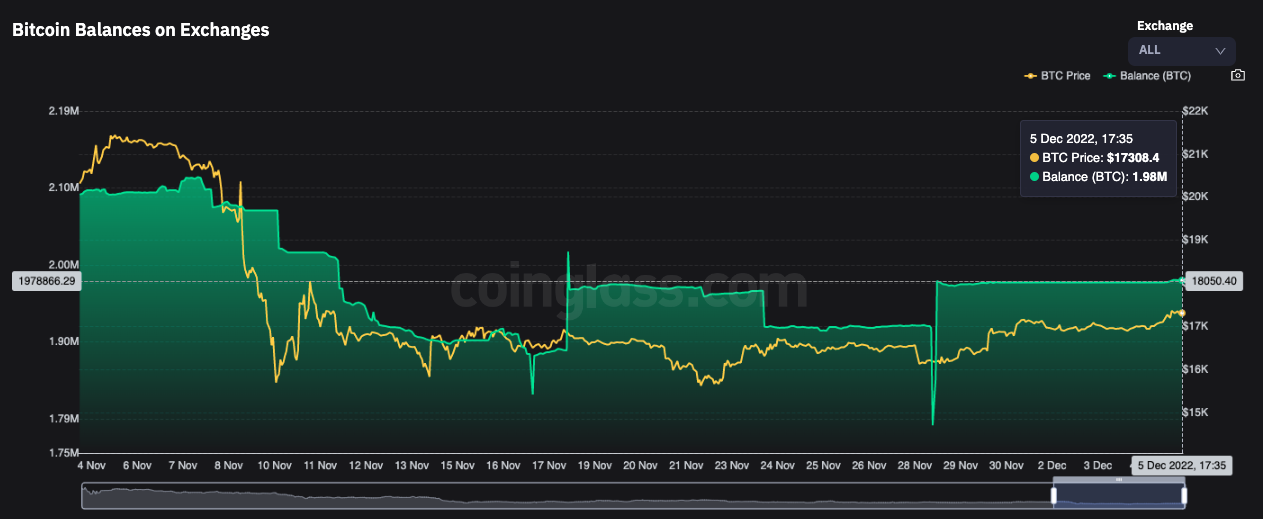 Exchange Wise Breakdown
Binance, the largest exchange by trade volume, noted the most inflows. Over the past month, the exchange supply noted a positive change of roughly 95k BTC. OKX followed suit and its balance noted an upward inclination of around 33k BTC. Others like Poloniex, Coinone, and Huobi tagged along in the same boat. Conversely, from Coinbase Pro, Bitfinex, Gemini, Kraken, Bitmex, Bybit, and Gate, coins left the exchange supply.
With total outflows eclipsing the inflows, the net number stood negative suggesting that the users were adding the largest crypto asset to their portfolios.

Bitcoin has been hovering "deep" inside the value zone, and as a result, investors have been taking advantage of the current trend.
In fact, as outlined in an article earlier today, the number of investors possessing more than 1 BTC reached a new all-time high of 958,909, justifying the said narrative. Furthermore, it is interesting to note that the number of addresses in possession of more than 0.1 coins also reached a new all-time high of 4,109,602 on Monday.
Also Read: Bitcoin Currently Trading In "Value Zone": Time to Accumulate?