A global Bitcoin mining company, Bitfarms Limited, is constructing two new Bitcoin mining facilities in Sherbrooke, Quebec, in Canada. Construction of the farms will be in phases during Q1 and Q2 of 2022.
This new project brings the number of new farms under construction from two to four. There are five operational Bitcoin mining farms 99% powered with environmentally-friendly hydropower located in Quebec. 
Bitcoin Mining Farms With a Total Capacity of 78 Megawatts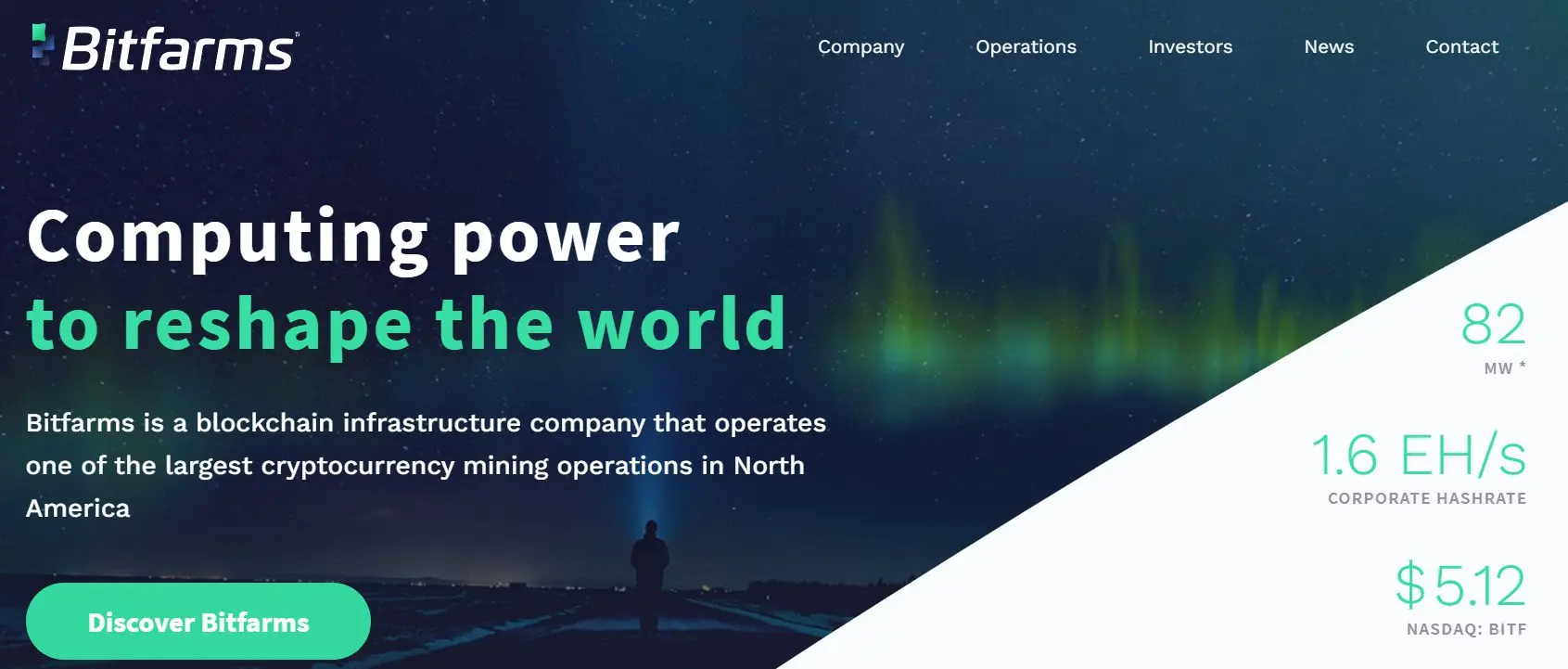 The Canada facilities are to have a combined capacity of 78 megawatts (MW). The two farms will accommodate roughly 21,000 new Bitcoin miners. The facilities will generate approximately 2.1 EH/s (Exahash/second).
These two mining farms are Leger and The Banker. The Leger facility, a 30 MW facility, will deliver approximately 800 petahash/second (PH/s). The construction of this facility will be complete in Q1 of 2022. The facility will have 8,000 miners, which will be operational in Q2 of 2022.
The Bunker facility, which will yield 1,300 PH/s, will house 13,000 miners, generating around 1.3 EH/s.The BTC mining will construct the 48 MW facility within three phases. 
Bitfarms will install 18 MW in an already constructed building in Q4 of 2021. Phase two of the infrastructural work of another 18 MW will begin in Q1 of 2022. The company will work on the remaining 12 MW (phase three) in Q2 of 2022.
The first two phases, which will hold over 9,750 miners, will yield around 975 PH/s. The third phase, which will produce 325 PH/s, will hold 3,250 miners. 
The farms will utilize the existing cost-effective hydropower contracts that all Bitfarms facilities have. Just like Bitfarms' other farms, these new farms will use Canada's climate to passively cool. This will help reduce operation costs and energy consumption.
While speaking on the project, Bitfarms' CEO Emiliano Grodzki mentioned that the new farms would support the company's goal. The company aims at achieving "3 EH/s by the end of Q1 of 2022 and 8 EH/s by the end of 2022."
Bitfarm's Future Plans
Bitfarms plans on eventually retiring their de la Pointe facility in phases. This particular facility has a capacity of 26 MW. The Bitcoin mining company also plans on opening up one more new farm.
When secured, this new farm will have a capacity of 78 MW. This new farm will have monitoring devices outside the facility to report sound emissions in real-time, as well as enhanced sound-reduction design features.
More on Bitfarms
Founded in 2017, Bitfarms is a company that deals with Bitcoin mining operations with onsite technical repair, electrical engineering, installation services, and proprietary data analytics and has its headquarters in Toronto, Canada. Bitfarms is currently the only publicly traded pure-play mining company to be audited by a Big Four audit firm.
The company began trading on the TSX-V in July 2019. The TSX-V honored the company by announcing it to be a Rising Star on February 24, 2021. Bitfarms later started trading on Nasdaq Stock Market in June 2021.