Just a day back, the US Federal Reserve increased interest rates by 75 basis points. The Bank of England has now followed suit. On Thursday, the central bank's monetary policy committee increased the cost of borrowing by the same magnitude to 3% to tackle inflation. The 0.75 BPS hike is the bank's largest single hike since 1989.
The said decision garnered 7 favorable and 2 unfavorable votes. One member voted for a 0.5 percentage point rise while the other preferred a 0.25 increase.
Inflationary concerns
UK's economy is showing no signs of relief. Rising food prices have pushed British inflation back to double digits. As reported recently, the CPI rose to 10.1% in September, from 9.9% in the month of August, the highest in four decades.
Read More: UK Inflation Reaches 4-Decade High of 10.1%
Outlining how the same instigated the bank in raising the rates, the latest released monetary policy report noted,
"Inflation is too high. It is well above our 2% target. High energy, food and other bills are hitting people hard. If high inflation continues, it will hurt everybody. Low and stable inflation helps people plan for the future. Raising interest rates is the best way we have to bring inflation down."
The bank added that higher interest rates will make it more expensive for people to borrow money and encourage them to save. Retrospectively, they will tend to spend less overall. So, when people on the whole spend less on goods and services, prices will tend to rise more slowly and will eventually lower the rate of inflation.
Since December 2021, the bank has in total increased the interest rate from 0.1% to 3% and expects inflation to "fall sharply" from the middle of next year.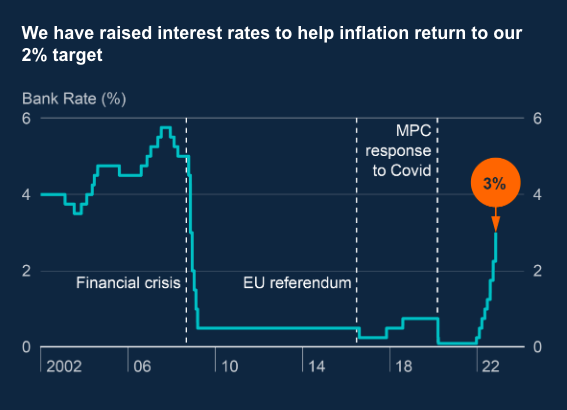 As far as the future outlook is concerned, the MPC said,
"The majority of the Committee judges that, should the economy evolve broadly in line with the latest Monetary Policy Report projections, further increases in Bank Rate may be required for a sustainable return of inflation to target, albeit to a peak lower than priced into financial markets."