Fundstrat Global Advisors' Tom Lee recently made a prediction during a CNBC interview and asserted that the approval of a spot Bitcoin ETF could trigger a five-fold increase in valuation. Specifically, he said,
"I think the demand will be greater than the daily supply of Bitcoin, so the clearing price […] is over $150,000, could even be $180,000."
Tom Lee has made several bold predictions in the past. In this article, we will analyze a few of them and see if they have materialized or not.
Prediction 1
Bitcoin underwent its previous halving in May 2020. This event resulted in the miner block reward being slashed by half to 6.25 BTC. In January 2020, i.e. a few months before the event, he pointed out that the halving had not been priced in yet. Lee said that several positive convergences that enhance the use case and the economic model for crypto and Bitcoin have been noted. Thus, he believed that Bitcoin and crypto's total ROI would exceed that of 2019 in 2020. He added
"We see strong probability that Bitcoin gains >100% in 2020."
Indeed, Bitcoin's performance in 2020 outshined the asset's 2019 performance. In 2019, the asset fetched investors an ROI of 94%, while in 2020, they earned 302%. Thus, this prediction by Tom Lee managed to hold water.

Also Read: 1005 'Virgin' Bitcoins Moved After 13 Years: Is Satoshi Back?
Prediction 2
Next, in February 2020, Fundstrat's Lee predicted that Bitcoin could attain an all-time high of $27k that summer. He pointed out that one bullish technical factor made him "really optimistic" about the asset's short-term potential back then. He explained that January was a great month for Bitcoin because it recovered above its 200-day MA. He added,
"That's a big deal as you know, as anyone who's a trend follower knows — when you're back above your 200-day, you're back in a bull market. Whenever Bitcoin breaks back into its 200-day, its average six-month gain is 197%."
Right after his prediction, Bitcoin shed value. From a level of around $10,000 in February 2010, the asset reached a low of $3717 by March. The asset surpassed $27,000 for the first time only on December 27, 2020. Thus, on the time front, Lee's prediction was not feasible this time.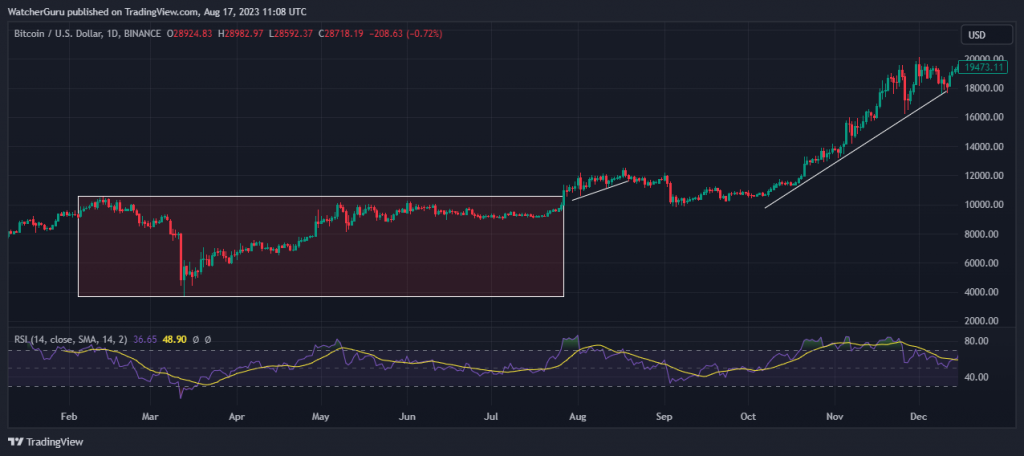 Also Read: Bitcoin Miner Earns 5019590600% Profit After Holding 150 BTC for 13 Years
Prediction 3
Right after, Lee asserted in another CNBC interview that he would not pick the Dow over Bitcoin. At that time, the Dow was trading around its ATH of 29,280, while BTC was priced at $9,800. Making yet another bold prediction, Lee said that he believed that Bitcoin would beat the Dow Jones to 40,000.
As a matter of fact, the Dow has not yet crossed the 40,000 benchmark. However, Bitcoin surpassed $40,000 for the first time in January 2021 and has traded above this level several times in the recent past.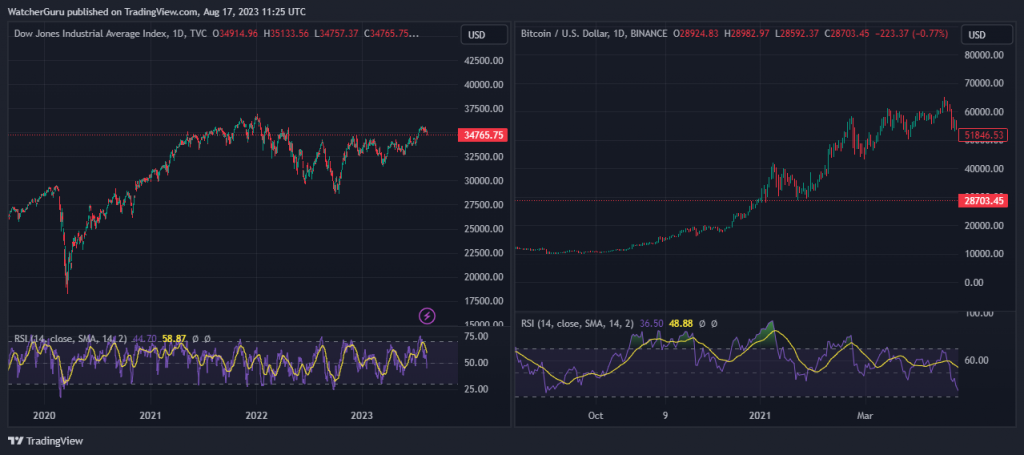 Bottom Line
Apart from Lee, several other prominent entities seem to be bullish on Bitcoin over the long term. Standard Chartered, for instance, expected the king coin to reach $120,000 by the end of 2024.
Despite Lee's optimism, it should be noted that the SEC has already started delaying its decision on BTC ETFs. Parallelly, several in the space, including Michael Burry, have started betting against the broader financial market. During most correction phases in the past, both the stock market and the crypto market have corrected together. Thus, in the midst of the macro turbulence and the SEC's skepticism, only time can tell if the bullish predictions will end up hitting the nail on the head or not.