Gerolamo Cardano, an Italian polymath, inspired the development of the Cardano token, which debuted in 2017. Charles Hoskinson, the creator of Cardano, revealed details about the Alonzo hard fork in August 2021. As a result of this announcement, Cardano's price jumped by 116% the following month.
Like the Ethereum merge, the launch of the Vasil hard fork was one of the team's most highly anticipated updates. Despite some difficulties encountered along the way, the hard fork was a success.
Also read: IMF States Cryptocurrencies Shouldn't Be Granted as Legal Tender
Cardano displayed decent growth in January and February after the bear market of 2022. ADA rose by 50% over the last 60 days. It is trading at $0.3839 at press time with no major fluctuations in value over the last 24 hours. Let us look at the price prediction for Cardano for March 2023.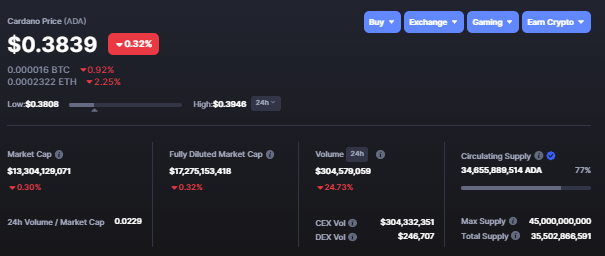 Cardano price prediction for March 2023
Cryptocurrency experts at Changelly have predicted the price of ADA for March 2023. According to the analysts, ADA is forecast to reach a minimum of $0.429957 and a maximum of $0.459954. The average price of ADA is expected to be $0.449955.
Also read: Twitter: How to Keep Your Account Safe
This can vary greatly depending on market sentiment. The SEC's crackdown on cryptocurrency staking sent shockwaves through the cryptocurrency market. However, if the market proves to be bullish moving forward, ADA's price can shoot up. Nevertheless, ADA has a long way to go to reach its all-time high of $3.10.