Cybercriminal activity has been in full swing despite being in a bear market. Over the past three months, many projects have fallen victim to phishing attacks including the likes of Cardano and Binance. From prominent names to not-so prominent ones, attackers have targeted crypto projects across the spectrum.
Per a recent report by VPN provider Atlas VPN, Cardano bagged bronze by ranking third on the top phished crypto projects list. In just the past 90 days [ending June 22], it recorded 191 attacks.
Above Cardano stood Blockchain with 662 attacks and Luno with 277. Poloniex and Magic Eden were placed in the 4th and 5th spot, respectively, post registering 72 and 67 attacks.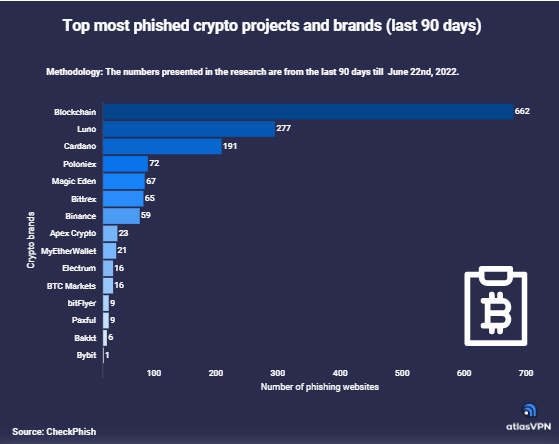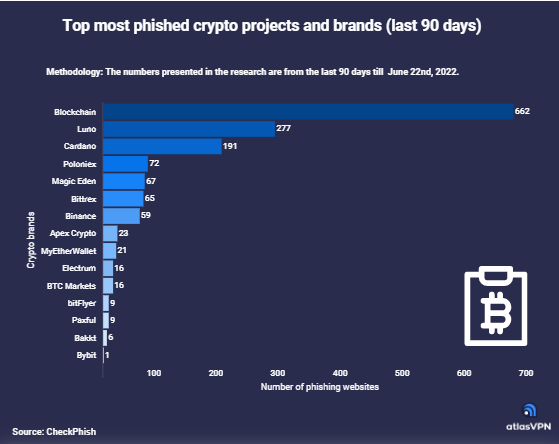 Other prominent names that made it to the list included Bybit, MyEtherWallet, Bittrex, and Magic Eden. With 59 registered attacks, Binance also featured on the list in the first half.
Ever rising numbers
Per Federal Trade Commission's data, scammers have lured out $329 million worth of cryptos in the first quarter of this year alone. As seen below, the number is way higher than the yearly numbers for 2018, 2019, and 2020.
This year's Q1 numbers are almost halfway at par with what was registered throughout 2021.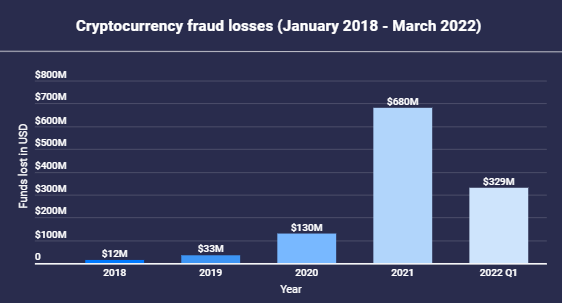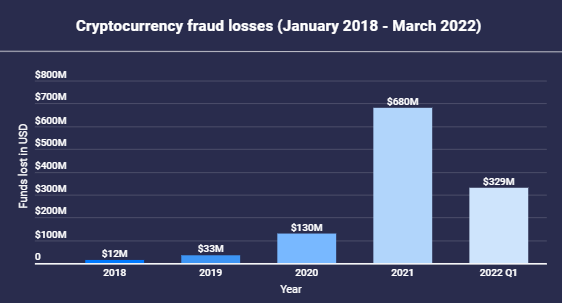 What to make of all this?
During the initial days, tracking down attacks taking place was pretty challenging. Consequentially, the number of non-reported attacks remains to be precise. With the numbers spiking, it can be inferred that tech has been advancing, and so has the number of attack tracking platforms.
The same also points towards the macro rise in the number of attacks. Now, it is a known fact that developers have been working day in and out on top projects like Cardano and Binance. Despite that, they've been a constant target of the attacks, and there has been no solution to put a complete stop to attacks.
Loopholes always exist, and scammers usually find their way in and out. Thus, it is always important for investors to shield themselves from direct exposure to attacks by spotting red flags by researching and not blindly chasing returns.