The Cardano price has bounced higher from the support at $1.19 and was trading at $1.46, at press time. Although it hit $1.51 earlier today, the market was trying to stabilize. ADA has had a magnificent year, packed with the growth of its ecosystem. the digital asset began the year valued at $0.168, however, it has now jumped 797%.
Cardano Foundation CEO Frederik Gregaard also marked this "incredible growth" as he looked back at 2021.
Cardano's 2021
Cardano saw some major developments taking place with the first three phases of its roadmap being deployed. The Byron, Shelley, and Goguen phases enabled diverse ecosystem participation and aided network growth. Another milestone achieved as per the foundation was "the full decentralization of block production and the full scope of application including data storage, asset creation, and smart contract capabilities on Cardano."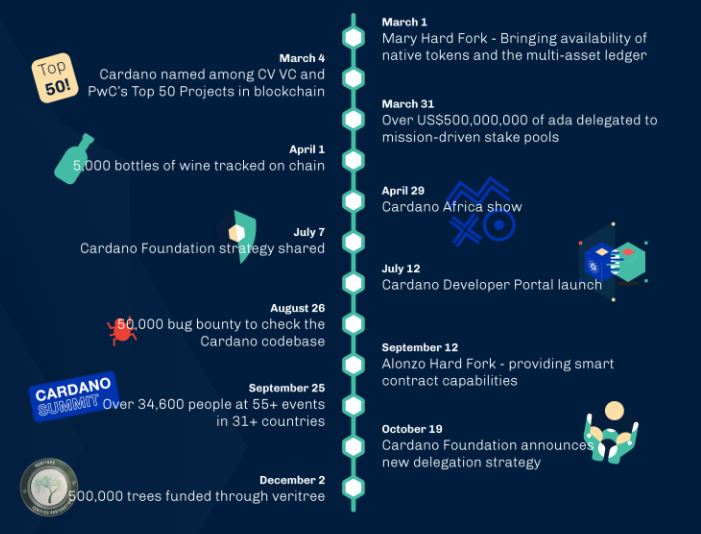 The above chart noted some of the highlights for Cardano.
As per Gregaard, Cardano protocol "sustained growth, technical innovation, community expansion, and partnerships."
The network has witnessed a rise in active addresses throughout the year but between October and November, it quadrupled. CryptoComapre's research stated in October there were 50,506 active addresses on the blockchain. Come November, the total went up to 216,072.
Additionally,on-chain activity has picked up with transaction fees dropping to $0.38. Gregaard noted that the successful launch of the Alonzo hard fork partly contributed to the growth and utility of the ecosystem. Since the hard fork introduced "programmability to Cardano," it gave room to accommodate smart contracts and decentralized applications.
Looking at 2022
Cardano's smart contract phase Goguen pushed ADA's value a great deal and now the ecosystem is looking at the Basho phase. It will be followed by Voltaire.
Gregaard noted,
"Basho's focus will be on scaling the network to billions of enterprise grade transactions, while Voltaire will focus on growing governance on-chain."
As the crypto ecosystem expands, it will be crucial to observe the priorities of the Cardano Foundation in 2022.