The Cardano [ADA] network stands out in its own way, but it has consistently fallen behind in terms of GitHub activity compared to networks like Polkadot and Kusama. However, this notion has been changing recently. According to Santiment's recent report, Cardano has now claimed the leading position for its development activity.
Santiment highlighted that Cardano regained its position at the top for GitHub activity by becoming the sole project with over 500 daily submissions. Polkadot came in second with 492.7 submissions in the past 30 days, while Kusama was notably behind with 402.7 submissions.
GitHub functions as a central platform for developmental activity. It allows numerous developers to collaborate on projects simultaneously. The latest statistics underscore the lively and strong communities of developers supporting all these platforms. The rivalry for GitHub activity among these projects reflects a larger trend in the cryptocurrency sector: a drive for significant technological development and concrete advancement.
Cardano's recent progress in innovation and acceptance has positioned it at the forefront. Although GitHub activity isn't the only measure of a project's success, it acts as a visible sign of the community's involvement and the direction of the project.
Also Read: Cardano Governance Testnet Website Release Signals Major Leap in Development
Cardano sees increased network activity
On a weekly basis, IOHK, the company behind Cardano, issues a report outlining the advancements achieved by the network. The most recent report detailed the updated network statistics of the blockchain. The total number of native tokens on Cardano reached 8.7 million, and the aggregate transactions surpassed 73 million. The blockchain has seen the launch of 137 projects, while over 1270 projects are currently in the process of being developed on the network.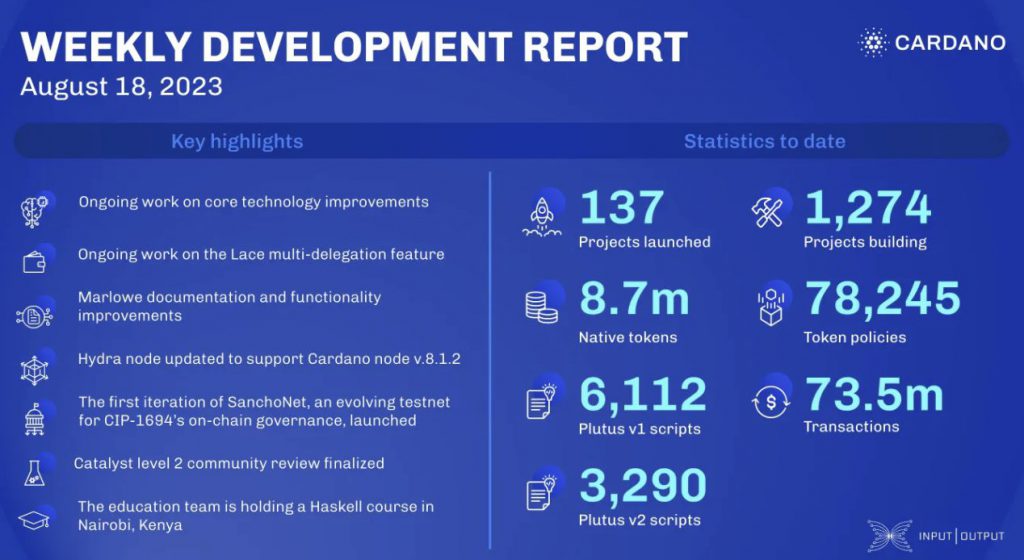 This wasn't all. Cardano's favorable progress wasn't limited to its development activity; it is Total Value Locked [TVL] and the market capitalization of stablecoins is also thriving. Post-2022, the TVL underwent a steady decrease over the course of that year. Nevertheless, the current year unveiled a contrasting scenario, with the chain's TVL moving in an upward direction. Currently, the TVL exceeds $160 million.
Alongside this, the stablecoin market has been expanding as well. However, the below chart highlighted that the upward trajectory of the stablecoin market cap had been more evident compared to that of the TVL. On the price front, ADA was suffering just like its counterparts. At press time, the asset was trading for $0.2588, with a 7.67% weekly drop.