Crypto asset prices have, yet again, derailed over the past day. After noting a 3% dip in 24 hours, the aggregate value of all assets in the market stood around $820 billion on Monday. Top assets like Bitcoin, Ethereum, and Cardano noted 2%-4% downward deviations in the said period.
Despite the slump, users from the space have been increasingly using the Cardano. At press time, it was the most active blockchain and stood ahead of Bitcoin, Ethereum, and other prominent networks. As illustrated below, over $6.4 billion was settled in volume on Cardano in the past 24 hours. Bitcoin and Ethereum's transactional volume, on the other hand, stood at $4.75 billion and $1.84 billion respectively.


The Development Front
Last week, Ardana—a DeFi project built on Cardano—halted development citing funding' & 'timeline' issues. Post the said episode, it seemed like the ecosystem was shaken. Nevertheless, that doesn't seem to be the case.
Per GitHub activity stats, Cardano ranked third in terms of weekly development activity.
Read More: Cardano DeFi project halted due to 'funding' & 'timeline' issues
In fact, a recent update report outlined that the Cardano Improvement Proposal for entering the Voltaire phase was released last week. Other "core technology improvements" were also being worked on. Parallelly, the Lace development was also "progressing."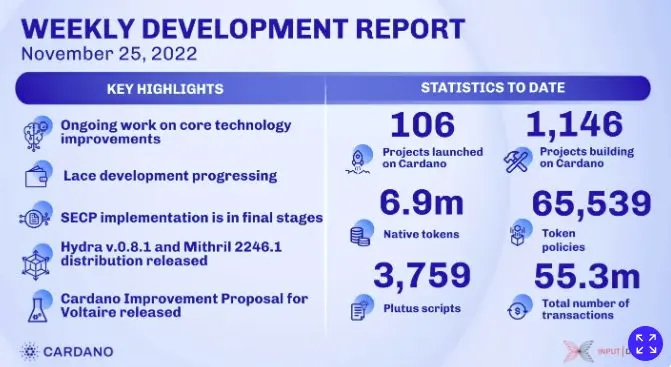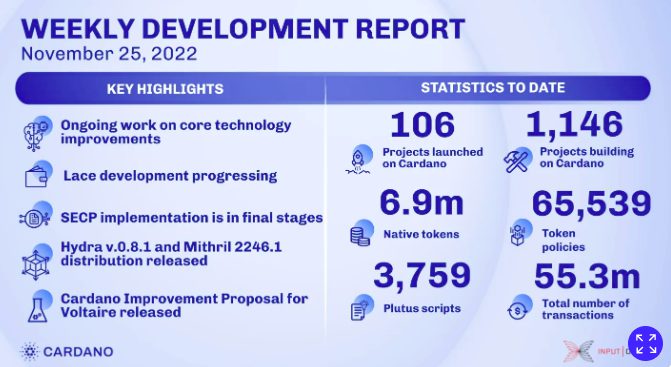 Lace, as such, is a light wallet under development that intends to allow users to primarily manage, control as well as store their cryptos in one place.
Read More: Cardano to launch its own light wallet, Lace; Details
As of now, over 1,146 projects are being built on the blockchain. Currently, over 3,759 Plutus scripts have been deployed and over 106 projects have already been launched on Cardano.
Furthermore, the network has overseen the minting of more than 6.9 million native tokens across 65,539 minting policies as of the end of last week.