Following weeks of consolidation, Cardano whales sprang into action in late October, scooping up 80 million ADA worth about $28 million. The increased accumulation appears to be driving ADA's price breakout.
According to on-chain analytics provider Santiment, wallets holding between 1 million and 100 million ADA grew their holdings from 5.62 billion to 5.7 billion ADA in the past 10 days.
The added 80 million ADA at current prices equates to a nearly $28 million spending spree by these major players. The coordinated purchasing fueled ADA's rise above key resistance around $0.30.
Also read: Nearly Half of CFTC Cases in 2023 Targeted Crypto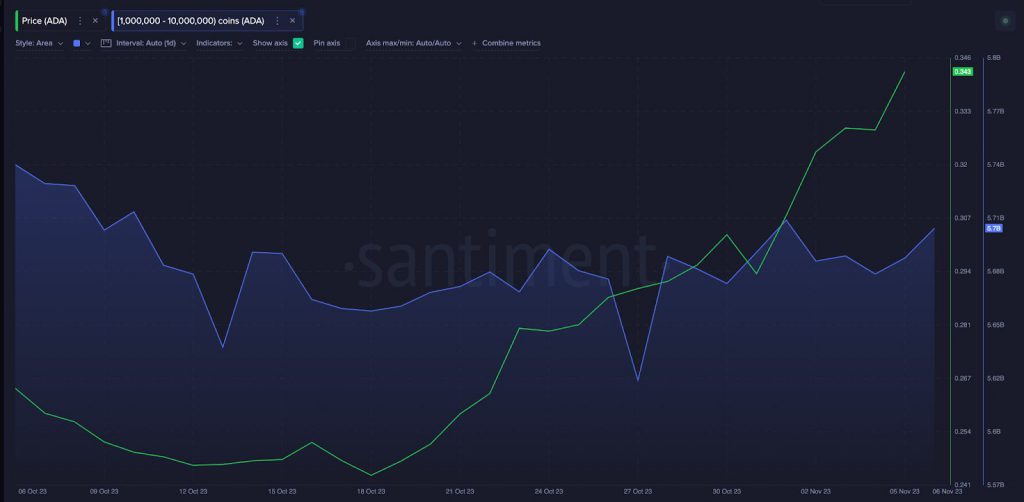 Whale activity aligns with Cardano Summit
This whale activity aligned with last week's high-profile Cardano Summit event held in Dubai. The summit generated a surge in social media and investor interest in ADA.
According to Santiment, Cardano's social dominance spiked to 1.72% on November 7th, a 3-month high. The social dominance figure is its share of discussions compared to top crypto assets. The elevated social volume indicates heightened community engagement.
Also read: Shiba Inu Burn Rate Skyrockets, Surges 36210%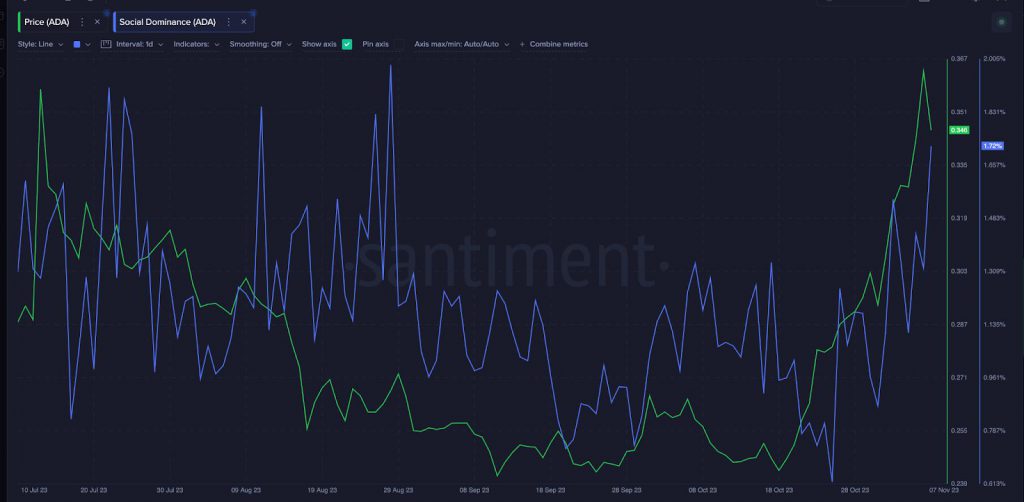 Increased attention to the network following a successful showcase of ecosystem development and adoption progress could bolster bullish sentiment.
Between major whales stockpiling ADA and excitement from the pivotal conference, Cardano appears primed for a sustained price expansion after months of rangebound action.
The combination of strengthening network fundamentals, community enthusiasm, and large-scale investor accumulation provides the necessary ingredients for ADA's next leg up.