From July 2022 to July 2023, Cardano (ADA) has fallen by about 35%. However, ADA's recent price behavior is showing some signs of recovery. Since January 2023, the popular crypto has risen by about 20%.
Analyst Alan Santana opined that while assessing the potential of Cardano, the long-term view should be the main consideration. ADA's price may be driven by a pattern sequence that consists of three stages. According to the analyst, the first two stages have already been finished, and the third stage will likely follow suit.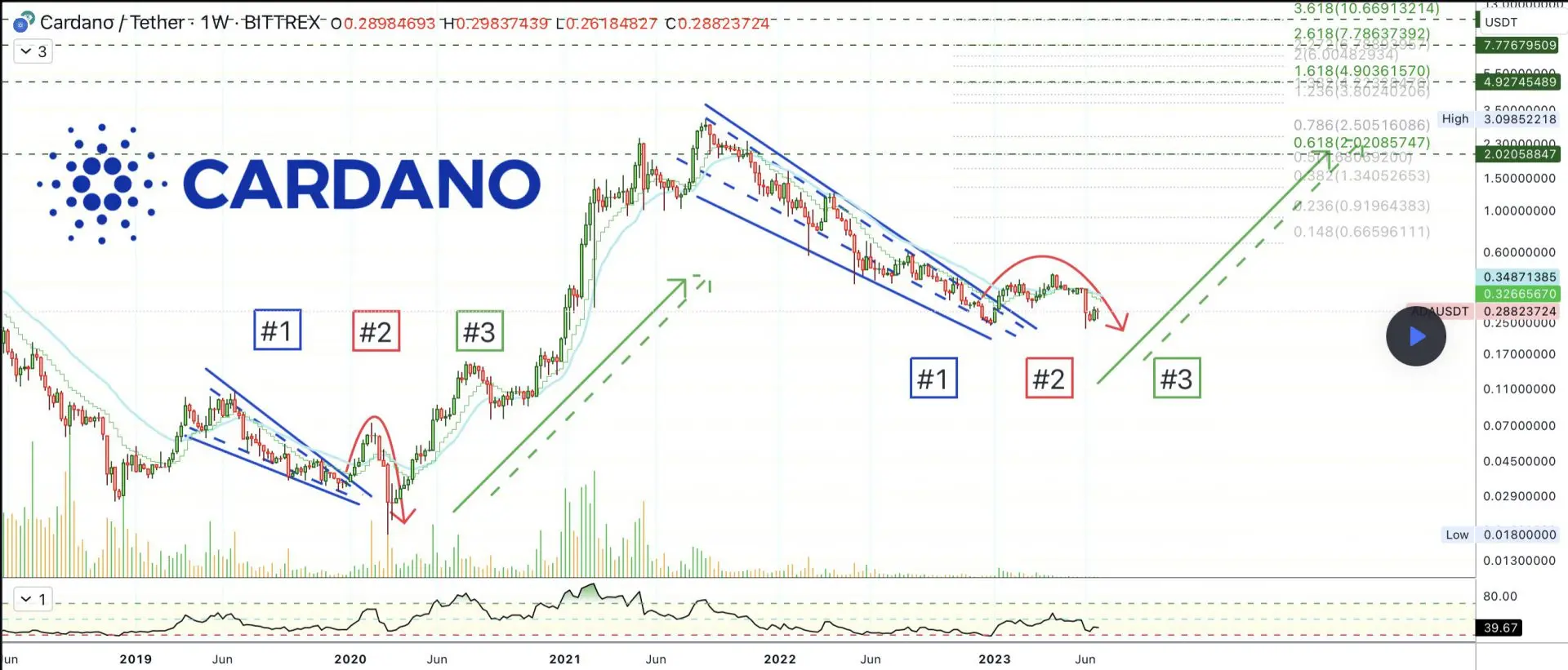 Cardano might rise as high as $1.34 this year and $0.665 on the lower end. If ADA reaches $1.34, it would account for a 362% rise from current levels. Santana also mentioned setting long-term goals of $2 and $2.5. The potential values of $4.9 and $7.77 were also stated, with the prospect of even higher prices in the future. He also mentioned the likelihood of ADA reaching new all-time highs.
Also Read: Solana vs. Cardano: Who Will Come Out on Top in 2023?
However, the journey to the top might not be as smooth as ADA fans might want. Firstly, the regulatory crackdown in the U.S. has caused some firms to delist ADA, along with some other cryptos such as Solana (SOL), Polygon (MATIC), etc. However, SOL and MATIC are riding ahead of ADA with 18.6% and 9.3% weekly growth respectively. ADA, on the other hand, has rallied by 5.2% in the same time frame.
Also Read: Revolut to Delist Polygon (MATIC), Solana (SOL), Cardano (ADA) in the US
Cardano locked-in Defi protocols reach an all-time high
Another positive development for ADA is the fact that the number of tokens locked in Defi protocols reached an all-time high. As per the data on DefiLlama, Cardano has a TVL (total value locked) of 564.74 million ADA. On Jan. 1, 2023, there were 198.65 million ADA locked. The increase represented a rise of 180%. However, the same is not communicated to dollar value due to the falling price of ADA. In dollar value, a total of $165.4 million is locked in Defi protocols.